California Fire Map Update: Thomas Fire Is Second Largest in State History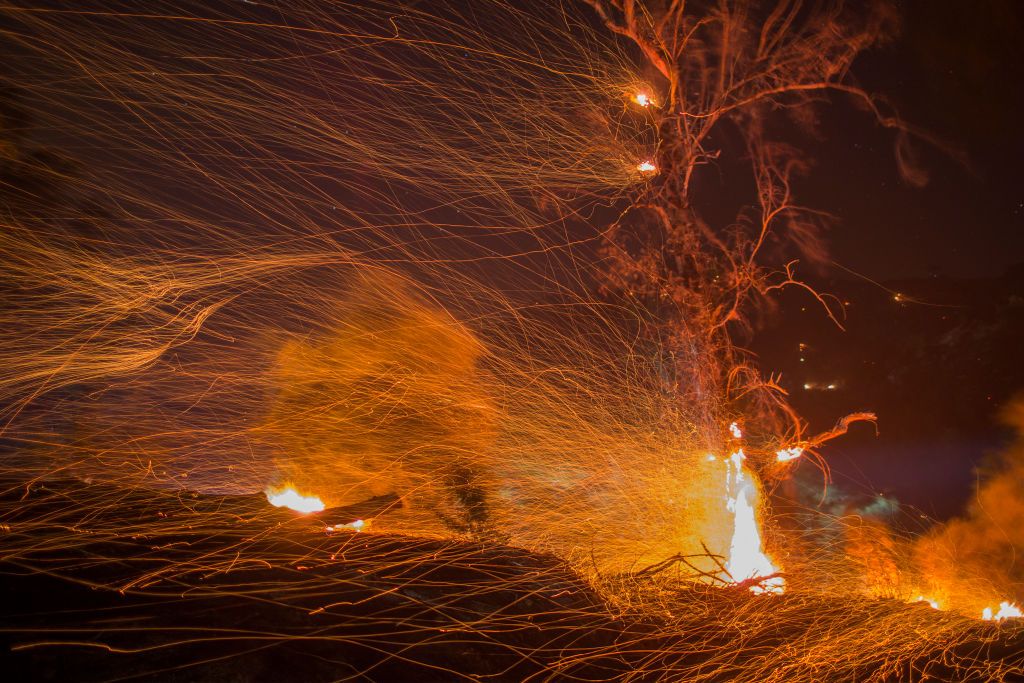 A wildfire in Southern California that sparked devastating blazes across the region remains, as of Wednesday morning, the second-largest fire in California history, with only 55 percent of it successfully contained. The Thomas Fire is not expected to be fully contained until January 2018 and is on track to become the largest fire in California history.
Related: Meet the prisoner firefighters who are battling the flames in Southern California
The Thomas Fire scorched 272,000 acres as of Tuesday night—about 425 square miles, or 19 times the size of Manhattan. As the blaze grows, it is on track to surpass the record-holding 2003 Cedar Fire, which killed 15 people and destroyed 273,246 acres in southern San Diego. The Thomas Fire earned the second-largest wildfire designation on Tuesday by surpassing the 2012 Rush Fire, which burned 271,911 acres.
The Thomas Fire has killed one firefighter and cost the state $74 million to fight since beginning on December 4. The wildfire burned through more than 1,020 buildings, leaving a path of destruction as about 6,800 firefighters battle the blaze. The Thomas Fire originated a series of wildfires across Southern California, which have proved difficult to stop due to the high winds and dry weather in the region.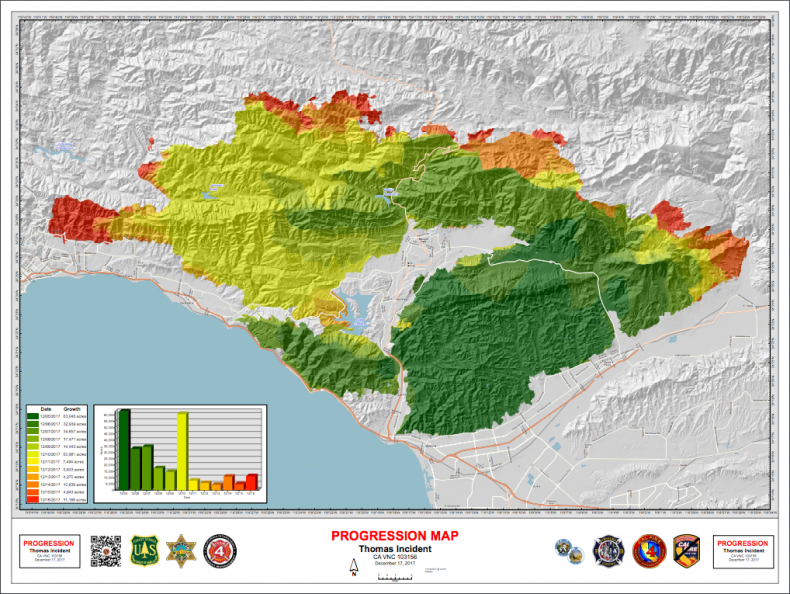 After days of dry conditions fueling the wildfire growth, the weather finally shifted in favor of the firefighters on Monday. An increase in "relative humidity" in the region should keep fire behavior "somewhat moderated" and limit its expansion on Wednesday, according to the California Department of Forestry and Fire Protection. But the powerful winds that pushed the Thomas Fire throughout the region are expected to return on Thursday.
The smaller, corresponding wildfires that have charred Southern California are mostly extinguished, providing relief for firefighters, who have fought the blazes on multiple fronts against hurricane-level winds. The focus has remained keeping the fires away from California's most populated regions while limiting fuel for expansion. The land destruction from the December fires surpasses that of the state's October blazes, which burned 245,000 acres and killed 43 people near Napa Valley.
As the Thomas Fire continues to grow, firefighting organizations are recommending that people donate to community partners in the region, like the Salvation Army and Rescue Mission Alliance, if they want to help in California.