California Gov. Gavin Newsom Promises to Boost Police Funding Amid Shoplifting Wave
California Governor Gavin Newsom has pledged to increase police funding in response to a recent increase in shoplifting and a string of smash-and-grab retail robberies.
Newsom, a Democrat, made the remarks during a speech at a COVID-19 vaccination event in San Francisco on Monday. He described multiple high-profile Bay Area robberies, including the organized storming of a Nordstrom luxury department store on Saturday, as "unacceptable" before noting that California had recently reestablished a retail theft task force.
Newsom said the task force had resulted in almost $20 million in stolen merchandise being returned after over 770 investigations and hundreds of arrests. The governor said that the state would be "stepping up" efforts to combat retail theft "substantially" in the 2022 budget, providing funding for law enforcement in affected cities to address the issue.
"We have been working with cities up and down the state, including San Francisco, Walnut Creek and others that were impacted over this weekend by these organized retail theft operations," Newsom said. "We are going to be more aggressive still in this space to help support cities and the prosecution of folks."
"We want to protect people and we want to respect people's rights, including small business owners," added Newsom. "I say this knowingly—my business has been broken into three times this year. I have no sympathy, no empathy for these folks and they must be held to account."
The governor's San Francisco wine shop, PlumpJack, has been broken into multiple times this year. Newsom founded PlumpJack, which also includes restaurants and retail stores, years before entering politics in 1992. He put the company into a blind trust after becoming governor.
Saturday's Nordstrom theft, in the affluent San Francisco suburb Walnut Creek, was an organized effort by a group of around 80 thieves outfitted in ski masks and carrying crowbars. Viral video of the thieves leaving the store after the brazen theft has been viewed millions of times.
A Nordstrom spokesperson told Newsweek that the robbery had been carried out by "a large, coordinated group" and that the company was working with the Walnut Creek Police Department on an active investigation.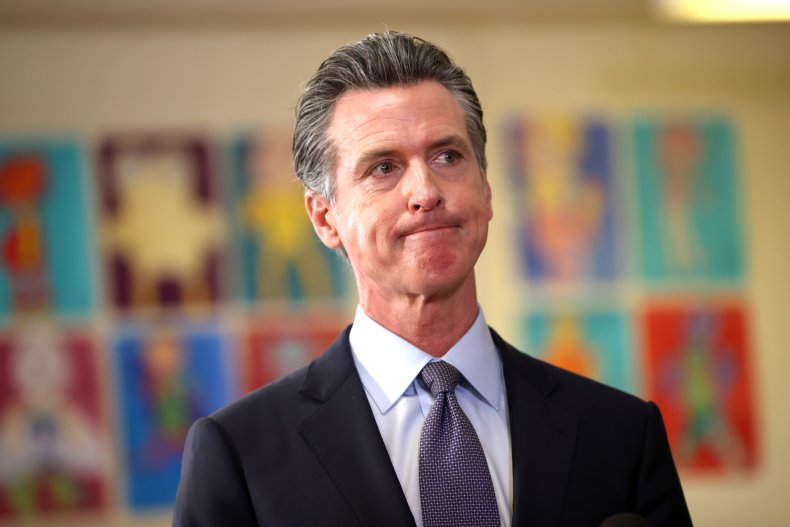 There have been several other reported robberies of luxury stores in the Bay Area recently, including a Louis Vuitton store that was looted by an organized mob in San Francisco's Union Square on Friday.
A similar robbery happened at a Nordstrom in Los Angeles on Monday night, with a mob of at least 20 thieves smashing their way into the store shortly after it closed and exiting with handfuls of stolen merchandise. Three arrests were made following a police chase.
Newsweek reached out to Newsom's office for comment.