California Heat Wave Is Another Warning for Renewable Energy Switch
The extreme heat currently plaguing California is playing havoc with the state's power grid, amid warnings rising temperatures could undermine the renewable energy transition worldwide.
Power outages were narrowly avoided on Monday by deploying additional supplies, including temporary gas-fired power plants, according to Bloomberg. Electricity usage hit its highest level in five years as temperatures soared, reaching 114 degrees at Sacramento airport, boosting air conditioning use and increasing the risk of power plant failure.
California has moved to aggressively reduce its reliance on natural gas in recent years, passing a 2018 law mandating that 60 percent of the Golden State's electricity be generated by renewables by 2030.
However, in 2021, natural gas still accounted for two-fifths of California's electricity supply, with non-hydroelectric renewable sources and nuclear energy providing 34 and 10 percent, respectively.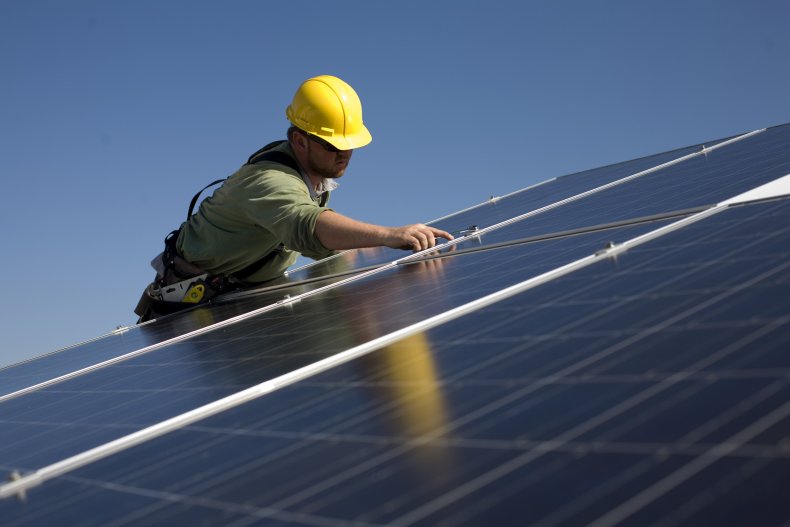 Dr. Fatih Birol, executive director of the International Energy Agency, warned that heat waves, which he expects to intensify, will make it harder to meet "electricity demand while also decarbonising the electricity supply."
Rising temperatures cause a double impact of increasing power demand and hampering supply, Birol explained in an IEA summary last summer.
He wrote: "Heatwaves put pressure on electricity systems in multiple ways. They increase demand as people turn up air-conditioning and as some appliances have to work harder to maintain cool temperatures. At the same time, higher temperatures can also squeeze electricity supplies by reducing the efficiency and capacity of traditional thermal power plants, such as coal, natural gas and nuclear."
"Extreme heat can reduce the availability of water for cooling plants or transporting fuel, forcing operators to reduce their output. In some cases, it can result in power plants having to shut down, increasing the risk of outages," Birol said.
Monday's Bloomberg report found closing down gas power stations had left California "increasingly dependent on solar farms that go dark late in the day just as electricity demand peaks."
Drought produced by the heat wave has also reduced water levels, cutting electricity production from hydropower.
Earlier this month, in a bid to maintain power supplies, California state legislators approved plans to keep Diablo Canyon, the state's last functioning nuclear power station, open for another five years until 2030. Gov. Gavin Newsom has already signed the bill, which received cross-party support, into law.
There are similar concerns about the impact of intensifying heat waves on the renewable energy switch in Europe. The continent saw temperatures surge in July, reaching a high point of 116.6 degrees in Portugal in the middle of the month.
On July 19, the U.K. recorded its hottest day ever, with temperatures reaching 104.5 degrees in Lincolnshire in the east.
Yale academic Daniel Esty, editor of A Better Planet: 40 Big Ideas for a Sustainable Future, said Europe's current energy problems show how challenging the transition to renewables will be.
"Europe's current energy crisis clearly demonstrates that there will be bumps in the road on the way to deep decarbonization and a clean energy future," Esty told Newsweek after the hottest summer on record in the Contiguous United States last year.
"The shortfall in wind-based electricity experienced in the past few months highlights some of the challenge all nations will face as they ramp up their reliance on renewable power generation."
Christian Egenhofer, from the Brussels-basecd Center for European Policy Studies think tank, told Reuters in July: "Heatwaves push the system to the limit." Simone Tagliapietra, a research fellow at Bruegel, another Belgian think tank, said in the same report: "The situation is a stress in general, even under normal conditions."
"It is even more so now, given the situation where we are with the gas prices, with the overall tight conditions of the market," Tagliapietra said.
The ongoing California heat wave has been described as "one of the worst in modern history" by Colin McCarthy, an expert on extreme weather events.
Several major wildfires are rampaging across the state. The blaze in Fairview, Riverside County, has already killed two and burned through 2,000 acres.