California Man Arrested after Drone Crashes into Police Helicopter
A man has been arrested after a drone crashed into a police helicopter over Los Angeles.
The Los Angeles Police Department (LAPD) aircraft, which was responding to reports of a burglary in the Hollywood area of the city, was forced to make an emergency landing after the mid-air crash involving an unmanned aerial vehicle.
Court filings said the helicopter's nose, antenna and bottom cowlings were damaged in the incident.
"If the drone had struck the helicopter's main rotor instead of the fuselage, it could have brought the helicopter down," the papers added.
Andrew Rene Hernandez, 22, was arrested by FBI agents on a misdemeanor count of unsafe operation of an unmanned aircraft.
Fox News 11 reported that was the first time that charge had been brought anywhere in the U.S.
The incident happened during the early hours of September 18 after LAPD officers requested support from the police helicopter.
The pilot saw the drone and attempted to manoeuvre out of its path but was unable to avoid it. Parts of the device were found on the ground and a vehicle was damaged as it fell from the sky.
The U.S. attorney's office said police were able to identify Hernandez as the operator of the drone after the camera and memory card were located.
According to court papers seen by Fox 11, Hernandez said he flew the drone "to see what was going on" after he heard a helicopter and police vehicles at around midnight on the evening of the crash.
Kristi Johnson, assistant director of the FBI's LA field office, warned of the risk of more incidents involving drones due to their increasing popularity.
"It's important for parents and for the general public to just be aware," she said. "We don't want critical incidents happening. We don't want lives at stake over people operating drones."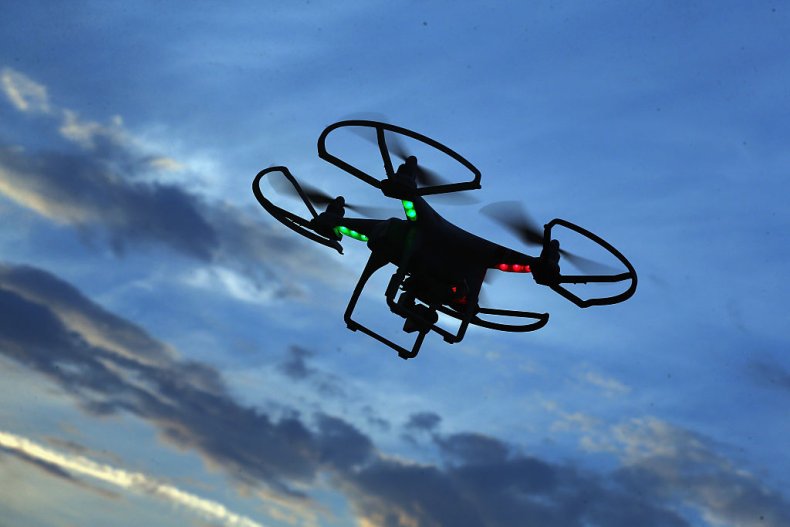 There are strict rules for the roughly 160,000 drone pilots and 1.5 million drones which are registered with the Federal Aviation Administration (FAA).
They include a stipulation to always avoid manned aircraft, keeping your drone within sight, not operating more than one drone at a time and not flying a drone over people unless they are directly participating in the operation.
Federal law also requires drones to be registered with the FAA and for operators to obtain a special license if the drone's intended use is commercial.
Last year, a Georgia man was sentenced to four years in federal prison for attempting to fly an unregistered drone into a prison in order to conduct a drug deal.