A California plan to financially compensate the descendants of enslaved African Americans could potentially see 2.8 million people in the state receive reparations, though details of the plan are not yet available.
California's Task Force to Study and Develop Reparation Proposals for African Americans published its interim report on Wednesday about the state's historic role in slavery.
That report did not outline how a program of reparations would work but a detailed plan is expected in the task force's final report due out in 2023, which will have potentially major implications for California's African American population.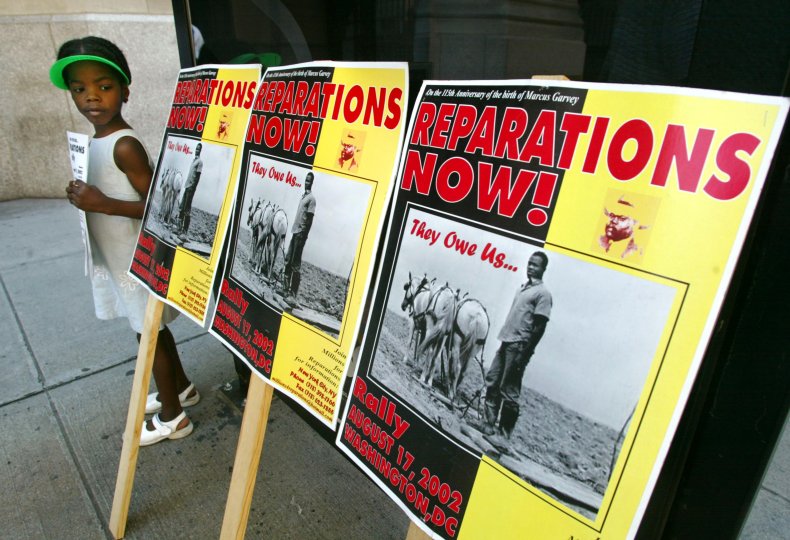 There are around 2.8 million African Americans in California—less than 6 percent of the state's population—but it's not yet clear how many would qualify for reparations payments.
In March, the reparations task force voted to limit reparations to those who are descended from free and enslaved persons who were living in the U.S. during the 19th century. Some advocates had called for reparations to include all Black people in the state.
It is not yet known what form the reparations might take or how much individuals may receive in financial restitution.
One of the task force's recommendations suggests the creation of a cabinet-level position to oversee a new African American Affairs agency. That agency would assist people in filing claims for reparations and would include a genealogy branch "to support potential claimants with genealogical research and to confirm eligibility."
California Attorney General Rob Bonta welcomed the interim report, saying in a statement: "Without accountability, there is no justice. For too long, our nation has ignored the harms that have been—and continue to be—inflicted on African Americans in California and across the country."
"California was not a passive actor in perpetuating these harms," Bonta said. "We must double down on our efforts to address discrimination in our state and nation and take a hard look at our own history, including at the California Department of Justice."
"This interim report is a historic step by the State of California to acknowledge the insidious effects of slavery and ongoing systemic discrimination, recognize the state's failings, and move toward rectifying the harm," the attorney general said.
California is the first state in the nation to move forward with potential reparations for the descendants of enslaved people. Governor Gavin Newsom signed legislation creating the task force in 2020.
In March 2021, Evanston, Illinois became the first city in the U.S. to pay reparations for slavery. The initial phase of Evanston's plan involved paying 16 city residents $25,000 for home repairs or property costs. The overall program was set to cost $10 million.
The California task force's report comes less than three weeks before Juneteenth, a holiday that commemorates June 19, 1865 when Major General Gordon Granger of the Union Army announced to the enslaved people of Galveston, Texas, that they were free. Texas was the last former Confederate state that still had institutional slavery.