California Sheriffs Tell Gov. Newsom They Will Not Fully Enforce Stay-at-Home Order
A number of sheriff offices in Southern California have warned Governor Gavin Newsom that they will not be strictly enforcing the new stay-at-home order which is expected to be imposed across the state.
The new strict order will see the closure of non-essential businesses such as hair salons, movie theaters and other indoor recreational facilities. Restaurants will only be able to serve takeout, with outdoor dining also banned, and retail operating at 20 percent capacity.
Newsom said that the stay-at-home order is needed as the state of California is currently at the "tipping point" in its fight against the virus.
Newsom announced on Thursday that the state of California will be split into five sections and all counties within that area will abide by the same coronavirus guidelines. The new order will be triggered if a region's intensive care unit bed availability drops below 15 percent.
Southern California is currently at around 20.6 percent ICU availability, with Newsom warning that the area is expected to hit the trigger point by Saturday. Northern California, Greater Sacramento and San Joaquin Valley are also expected to follow suit.
Newsom's new order officially goes into effect on Saturday, December 5 at 1 p.m. Once an area drops below the 15 percent threshold, it will have 24 hours to implement the necessary arrangements.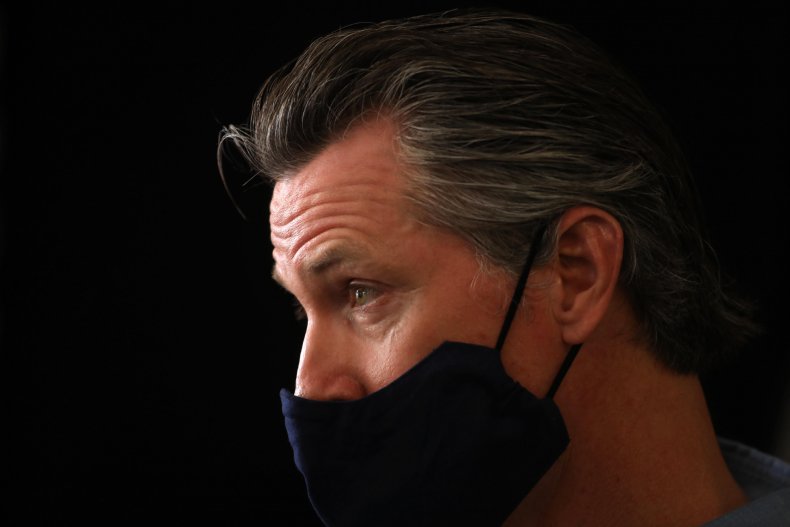 Speaking to Fox 11, L.A. County Sheriff Alex Villanueva said his deputies will not go out of their way to punish businesses already hugely affected by the pandemic.
"I want to stay away from businesses that are trying to comply the best they can," Villanueva said.
"They've bent over backwards to modify their entire operation to conform to these current health laws, then they have the rug yanked out from under them. That's a disservice, so I don't want to make their lives any more miserable."
Villanueva added the LASD will instead be focusing on super-spreader events and large groups of people gathering.
Last month, several sheriff departments in California said they would also not be enforcing a 10 p.m. to 5 a.m. curfew previously imposed in dozens of counties by Newsom.
Discussing the latest COVID-19 order, Ventura County Sheriff Bill Ayub said that the department's approach to enforcement of the "continuously evolving health orders" has not changed from the start of the pandemic.
"Our approach is one of educating the public of the health orders and encouraging compliance with them," Ayub said in a statement to FOX 11.
"Enforcement has always been an option for our staff to use with considerable discretion. However, our primary goal is to seek voluntary compliance whenever possible."
Sheriffs from Orange and Riverside counties said their stance also has not changed, with Sheriff Don Barnes stating in November that they will not be "responding to requests for face-coverings or social-gatherings enforcement."
The San Bernardino County Sheriff's Department added: "As has been the case since we were initially faced with the difficulties of living and working through this pandemic together, our goal is to educate and gain voluntary compliance regarding Public Health orders.
"We will continue to partner with our communities and deliver the law enforcement services they deserve while keeping the health and safety of our staff and those we serve as a top priority."
Newsom has been contacted for comment.