Is California's Water Crisis Over?
As a slew of storms batters California, the U.S. Drought Monitor map shows a promising forecast that indicates California's water crisis may be nearing its end.
Two atmospheric rivers recently dumped excessive precipitation on the state in less than a week, following an uncommonly wet winter in California. The weather patterns have eased drought throughout the state, removing all of California from the extreme and exceptional drought categories, as documented by the Drought Monitor map. Now, more than 44 percent of the state is completely free from drought.
Recent weather patterns have fueled hope that California's years-long water crisis is ending, but experts doubt if one wet season is enough to replenish the state's water reserves.
"If it's any other state, I'm saying it's over, but this is California," AccuWeather Meteorologist Paul Pastelok told Newsweek.
California's high population and the state's agricultural water needs may lead to a quick decline in the recent progress on the drought, despite how the recovery appears.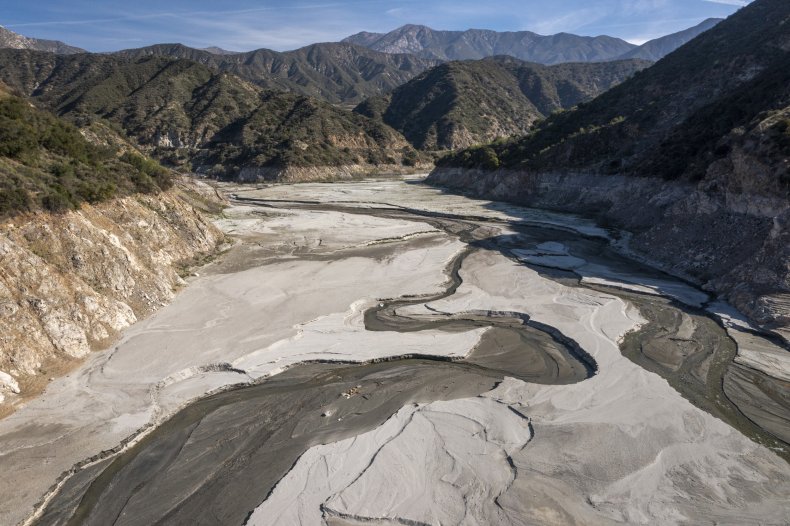 "There's a ton of people, maybe too many people," Pastelok said. "It's hard to say that [the drought is over] because of the fact that we haven't been through this situation and the population continues to increase. Is it enough water? Is all this enough to supply drinking water and agricultural needs in the state of California?
"We are always going to want more," he said.
Pastelok expects the excessive precipitation from this year's wet season to cover the state's water needs through the year, but he's not sure what the future may bring.
"Odds are, it doesn't happen this way [next winter] and we get into another crisis again," he said. "At AccuWeather, we believe there's a little more than weather needed to figure out the water crisis in California."
Many experts have said in the past that rain is not enough to lift California out of the years-long drought and that less water use by the state's residents and agriculture sector is the only long-lasting solution to the state's ongoing water crisis.
University of California, Davis, professor Jay Lund previously told Newsweek that the only way the state will escape the drought is if people use less water.
Recent cuts have been implemented in several states' allocations from the Colorado River, an attempt by the federal government to ease the water crisis as drought and overuse stress the region's waterways.
"We might get lucky with the weather, but the idea of the system recovering is really hard unless you reduce water use in that basin," Lund said.
The rain has still proved to be extremely beneficial for California's water crisis. Reservoirs are overflowing for the first time in years, so much so that floods have become a new threat for nearby communities. Snowpack melt is expected to further benefit water levels later this year.
"Effectively, yes, drought is over in California for the time being," U.S. Department of Agriculture meteorologist Brad Rippey told Newsweek.
There is hope that a second wet season may be in California's future. Weather patterns forecast another wet winter for the state. Rippey said there's a 60 percent chance or higher that California will see El Niño conditions begin to develop in the late summer or fall, which would typically mean wet weather in the southwestern part of the state.
"Assuming we have a fairly typical transition to El Niño next fall or winter, we could see another wet year for a lot of California's key watershed areas," Rippey said. "So the short answer is yes, the drought is over."
Lingering effects of the drought from the past decade remain, despite the deluge of rain and snow the state has seen this season. Some of the effects, such as dead or dying trees and groundwater levels, will not recover after only one wet season.