The joint midseason update for Call of Duty: Warzone Pacific and Call of Duty: Vanguard is rolling out this week and will lay the groundwork for both games crossing over with Attack on Titan.
Warzone and Vanguard were officially integrated together back in December 2021, when the new Caldera map debuted. This means that certain items will carry over between the two experiences and that your progression in one game is reflected in the other. To provide an even greater sense of continuity, Warzone has even gone back in time to WW2 and introduced a few of Vanguard's operators into the mix, including Arthur Kingsley.
Given that these titles are now so tightly interconnected, it makes sense that their updates be synchronized as well. On that note, both games are now approaching their midseason event, which will introduce a new operator, new weapon blueprints and a crossover bundle with the Attack on Titan anime series.
Here is everything you need to know.
When Is the 'Call of Duty: Warzone' and 'Vanguard' Midseason Update?
According to the official Call of Duty blog, the midseason event for Warzone and Vanguard does not officially commence until January 13 at 12 p.m. ET. For those in other time zones, this translates to 9 a.m. PST and 5 p.m. GMT.
However, you will be able to install the respective game's update in advance of this start time, so that you can get stuck in right away.
In the case of Call of Duty: Vanguard, the update file is already available to download. Meanwhile, the Warzone Pacific version will be ready at midnight on Thursday, January 13.
'Attack on Titan' Crossover Bundle Contents and Release Date
Following their respective midseason updates, both Call of Duty titles will debut a new Attack on Titan — Levi Edition bundle.
This tracer pack features 10 items overall, with the contents ranging from new weapon blueprints to emblem customization options and even a themed skin. In terms of the latter, those with the Daniel Yatsu operator will be able to dress him in a Survey Corps uniform, like the characters in the Attack on Titan anime series (which is now in its final season). It is specifically fashioned after the gear worn by Captain Levi Ackerman, after whom the bundle itself is named.
While the costume is only compatible with Daniel Yatsu, the rest of the Attack on Titan cosmetics can be used by any given operator. There is a new finishing move to try out, a highlight intro, a weapon charm and even a sticker that references a popular meme from the show.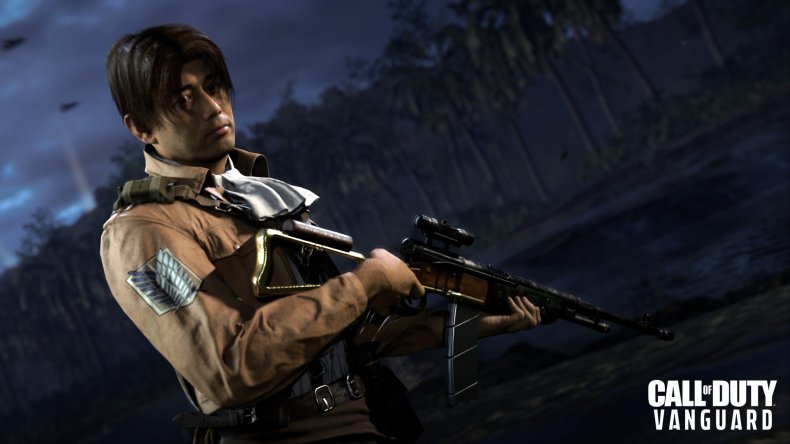 Not to mention, you will also be treated to three unique weapon blueprints as part of the bundle. The "Titan Piercer" is a melee weapon that evokes the blades used to slay cannibalistic giants in the world of anime. Meanwhile, the "Historia" SMG is ideal for those who favor a run-and-gun approach, and the "Yimir Curse" assault rifle is ideal for when you need more precision (on account of its nine-attachment configuration, negligible horizontal recoil and incredible range).
The full contents for the Attack on Titan — Levi Edition bundle are listed below. The pack will be available to purchase a little over a week after the midseason update has been rolled out, launching on January 20.
If we look at the precedent set by previous crossover bundles (like those for First Blood and Die Hard) it will cost somewhere in the region of $19.99.
Attack on Titan — Levi Edition Bundle Contents
Survey Corps Legendary Operator Skin (For Daniel Yatsu only)
Titan Piercer Weapon Blueprint
Historia SMG Weapon Blueprint
Ymir Curse Assault Rifle Weapon Blueprint
Steel Cut Finishing Move
Vertical Maneuver Highlight Intro (Call of Duty: Vanguard exclusive item)
Ultrahard Steel MVP Highlight Animation
Secret Keeper Charm
One Hot Potato Sticker
Wings of Freedom Emblem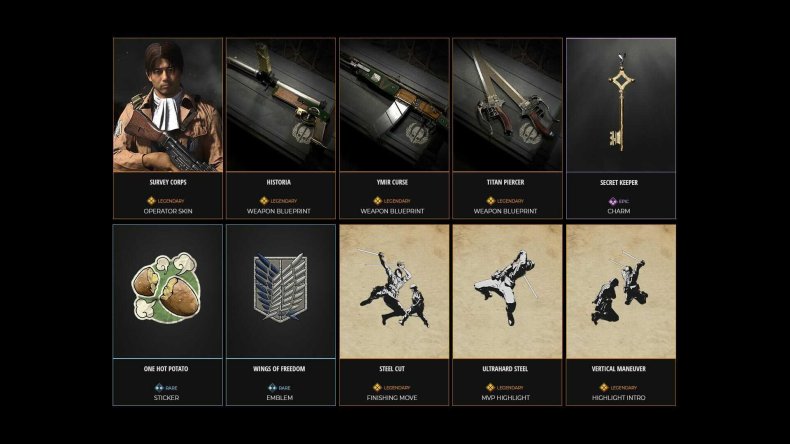 New Operator and Weapon for 'Call of Duty: Warzone' and 'Vanguard'
For those who aren't interested in Attack on Titan, there is still plenty to get excited about with the Call of Duty midseason updates.
For a start, a new operator, named Isabella Rosario Dulnuan Reyes, is coming to both Warzone and Vanguard. A specialist in close-quarters battle (CQB), she will be available to purchase as part of her own "Wild Rose" bundle.
You will also be able to unlock Isabelle's favorite weapon, that being the Welgun SMG. According to the patch notes, this firearm will be capable of downing opponents in just 3 or 4 shots and can be upgraded with extended magazines to double its ammo capacity.
Finally, there are several updates for the Call of Duty: Vanguard zombies mode on the horizon. Among other things, there will be an additional void objective, new tiers of artifact upgrades, three unique pack-a-punch camos, support killstreaks and extra weapon unlock challenges.
The Attack on Titan bundle is not the first pop-culture collaboration for Call of Duty: Warzone. For Halloween in 2021, the game introduced content themed around both Scream and (bizarrely) Donnie Darko.