Johnny Depp's attorney, Camille Vasquez, has shot down rumors she is dating her famous client, branding such speculation "sexist."
Along with fellow lawyer Ben Chew, Vasquez successfully represented Depp during his recently-concluded defamation trial against ex-wife Amber Heard.
As the former couple battled it at Virginia's Fairfax County Circuit Court, all elements of the trial were combed over on social media, with countless clips going viral on such platforms as TikTok, Instagram and Twitter.
During the intense scrutiny applied to all details surrounding the proceedings, some social media users erroneously interpreted Vasquez and Depp's friendly working relationship as having romantic undertones.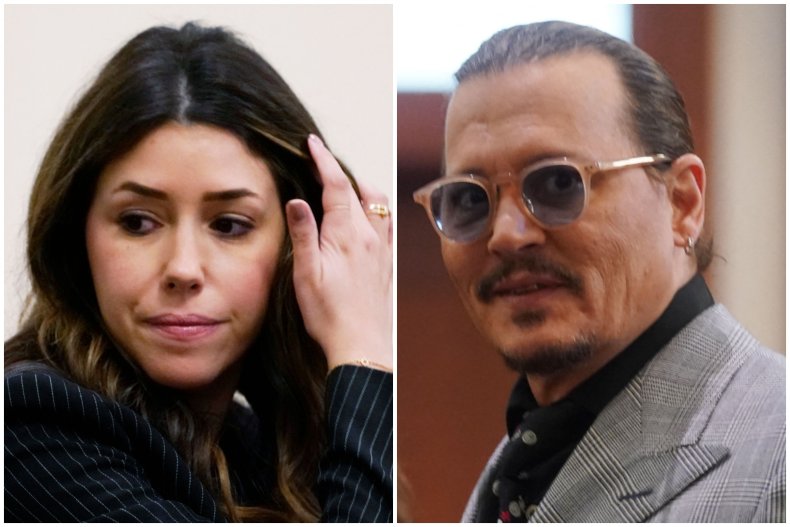 Addressing the matter in a new interview with People, Vasquez said: "I guess it comes with the territory of being a woman just doing her job."
She continued: "It's disappointing that certain outlets kind of ran with it or said that my interactions with Johnny—who is a friend and I've known and represented for four-and-a-half years now—that my interactions in any way were inappropriate or unprofessional. That's disappointing to hear."
"I care very deeply about my clients, and we have obviously become close," she added. "But when I say we, I mean the entire team, and of course that includes Johnny. And, I'm Cuban and Colombian. I'm tactile. What do you want me to say? I hug everyone. And I'm not ashamed about that."
During the trial, Heard and Depp hurled accusations of domestic abuse at one another, which each party denied.
Recounting her six weeks in the courtroom with Depp, Vasquez said: "This man was fighting for his life and it broke my heart to see him day in and day out have to sit there and listen to the most horrific allegations being made against him.
"And if I could provide any bit of comfort, then of course I would do that, whether it's holding his hand or letting him know that we were there and we were going to fight for him because he deserved it."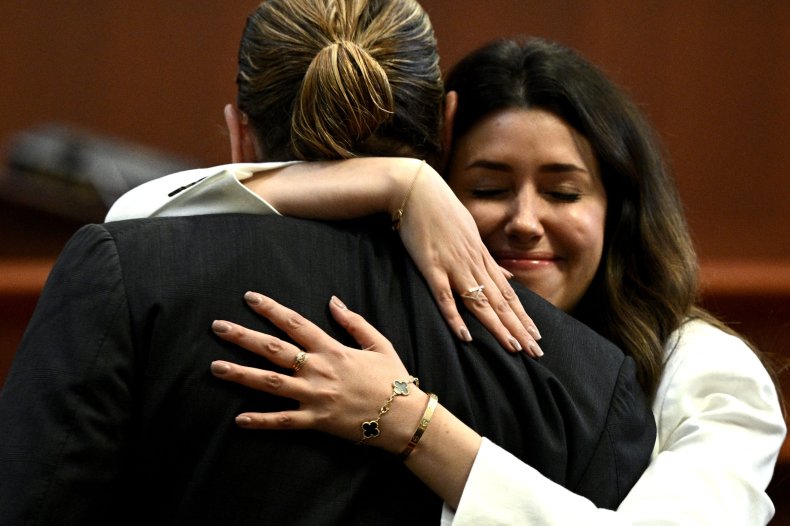 Vasquez, who has a boyfriend, insisted that she is "very happy" in her relationship, as she also pointed out that it is "unethical for us to date our clients."
"It's also an unethical charge being made. It's sexist," she said during her interview. "It's unfortunate and it's disappointing, but at the same time it kind of comes with the territory. I can't say I was all that surprised."
As the trial continued, Vasquez became something of a social media sensation, with Depp supporters sharing a stream of posts, tributes and videos about her.
"It's funny, but also it's surreal," she said of the burst of attention. "It's overwhelming, but I really believe that to the extent that I could inspire young women to stay in school, work hard and maybe pursue a career in law, then it was all worth it because that's what's important at the end of the day.
"And [TikTok is] the new medium for communication and that's how young people and people in general really communicate and absorb news and become inspired. So if that's the forum, so be it."
Depp launched a $50 million lawsuit against Heard over a 2018 op-ed she wrote for The Washington Post, in which she said that she was a domestic abuse survivor.
The jury largely sided with Depp, awarding him $10 million in compensatory damages and $5 million in punitive damages on June 1. The judge adjusted the punitive damages to $350,000, per Virginia's legal cap.
Heard, who had countersued for $100 million, was awarded $2 million in compensatory damages by the jury, which found that Depp's former attorney, Adam Waldman, had made defamatory comments about the Aquaman star.
Following the verdict, it was announced that Vasquez had earned herself a major promotion at her law firm, Brown Rudnick.
"We are pleased to announce that Camille Vasquez has been elevated to partner. She was a key member of the litigation team that won a jury verdict last week for actor #JohnnyDepp in his defamation trial against ex-wife Amber Heard," read a tweet from the firm earlier this week.
According to a press release issued by the law firm, "Vasquez joined Brown Rudnick's Orange County office in 2018 as an associate in the Litigation and Arbitration practice. She has more than 10 years of experience as a trial lawyer in high-stakes disputes, including defamation cases, contract disputes, business-related torts and employment-related claims."