Johnny Depp's lawyer Camille Vasquez has addressed the viral photo of her hugging her client in court during his successful legal battle, insisting that the actor simply needed comfort.
Along with fellow lawyer Ben Chew, Vasquez successfully represented Depp during his recently-concluded defamation trial against his ex-wife, Amber Heard.
The attorney was widely praised for her performance in court during the high-profile defamation trial, becoming a celebrity in her own right, becoming the subject of dozens of viral moments, and being awarded a promotion following her success in the courtroom.
The blockbuster trial received unprecedented attention on social media with countless clips going viral on such platforms as TikTok, Instagram and Twitter which led to the friendly working relationship between Vasquez and Depp sparking romance rumors.
On the last day of the trial, Vasquez gave her rebuttal closing argument before sitting down and embracing Depp.
Earlier in the trial, a clip of the attorney comforting Depp in the courtroom delighted fans on social media.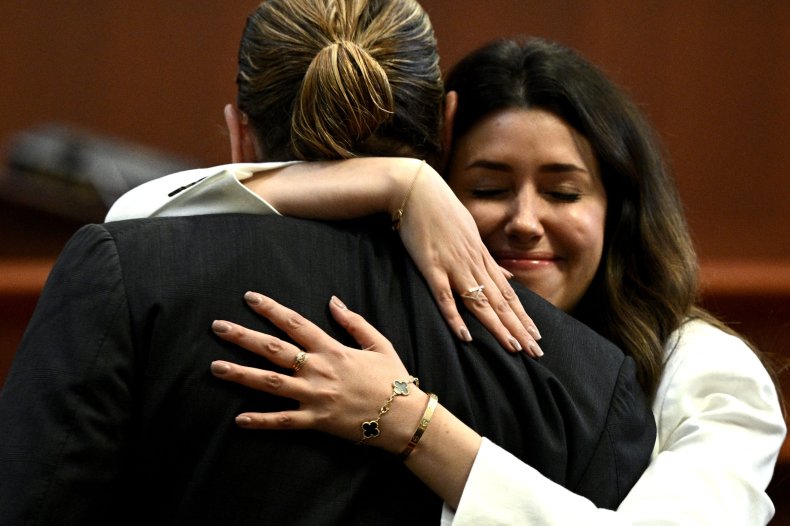 However, having previously described the romance rumors as "sexist," Vasquez has now opened up about the situation again.
"Of course, I did [hug him]. He's my friend, but he's my client first, and he was going through something very difficult," Vasquez said in an interview with Univision, per Spanish outlet Marca.
"I love my clients very much and I am Hispanic, I like hugging and touching people, not kissing. But I did give him a hug because he needed it."
Vasquez previously told People that she is "tactile" and "hugs everyone" when asked about the situation.
"I guess it comes with the territory of being a woman just doing her job," Vasquez said earlier this month.
"It's disappointing that certain outlets kind of ran with it or said that my interactions with Johnny—who is a friend and I've known and represented for four-and-a-half years now—that my interactions in any way were inappropriate or unprofessional. That's disappointing to hear," she continued.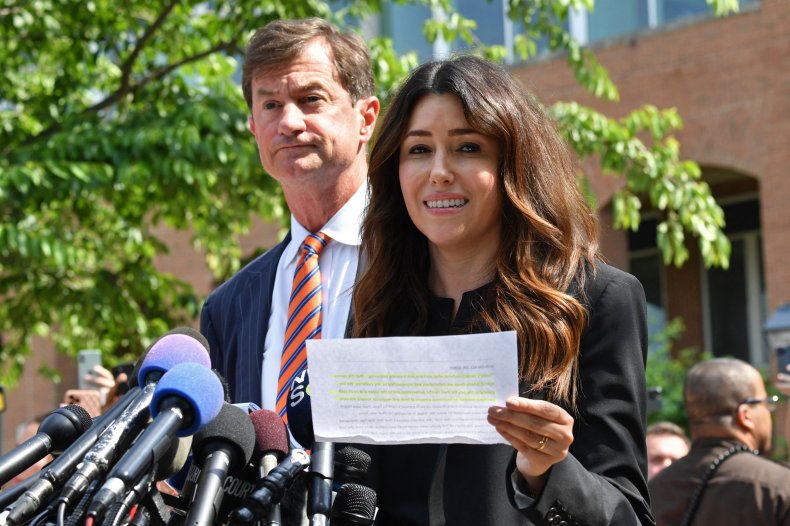 "I care very deeply about my clients, and we have obviously become close," she added. "But when I say we, I mean the entire team, and of course that includes Johnny. And, I'm Cuban and Colombian. I'm tactile. What do you want me to say? I hug everyone. And I'm not ashamed about that."
Heard and Depp had been embroiled in a weeks-long trial after the actor sued his ex-wife for $50 million, accusing her of defaming him by writing an op-ed in The Washington Post in 2018 in which she said that she had been the victim of domestic violence. Though Depp was never named in the piece, his lawyers argued that it was clear who she was referencing.
Millions of people all over the world tuned into the trial from Fairfax, Virginia as the proceedings were televised daily.
The trial ended with a jury finding that Heard had defamed Depp with actual malice. She was ordered to pay him $10 million in compensatory damages and $5 million in punitive damages, though the punitive damages were reduced to $350,000, due to a Virginia law that caps punitive damages at that amount.