Can Tunisia's Border Barrier Stop Extremism Entering from Libya?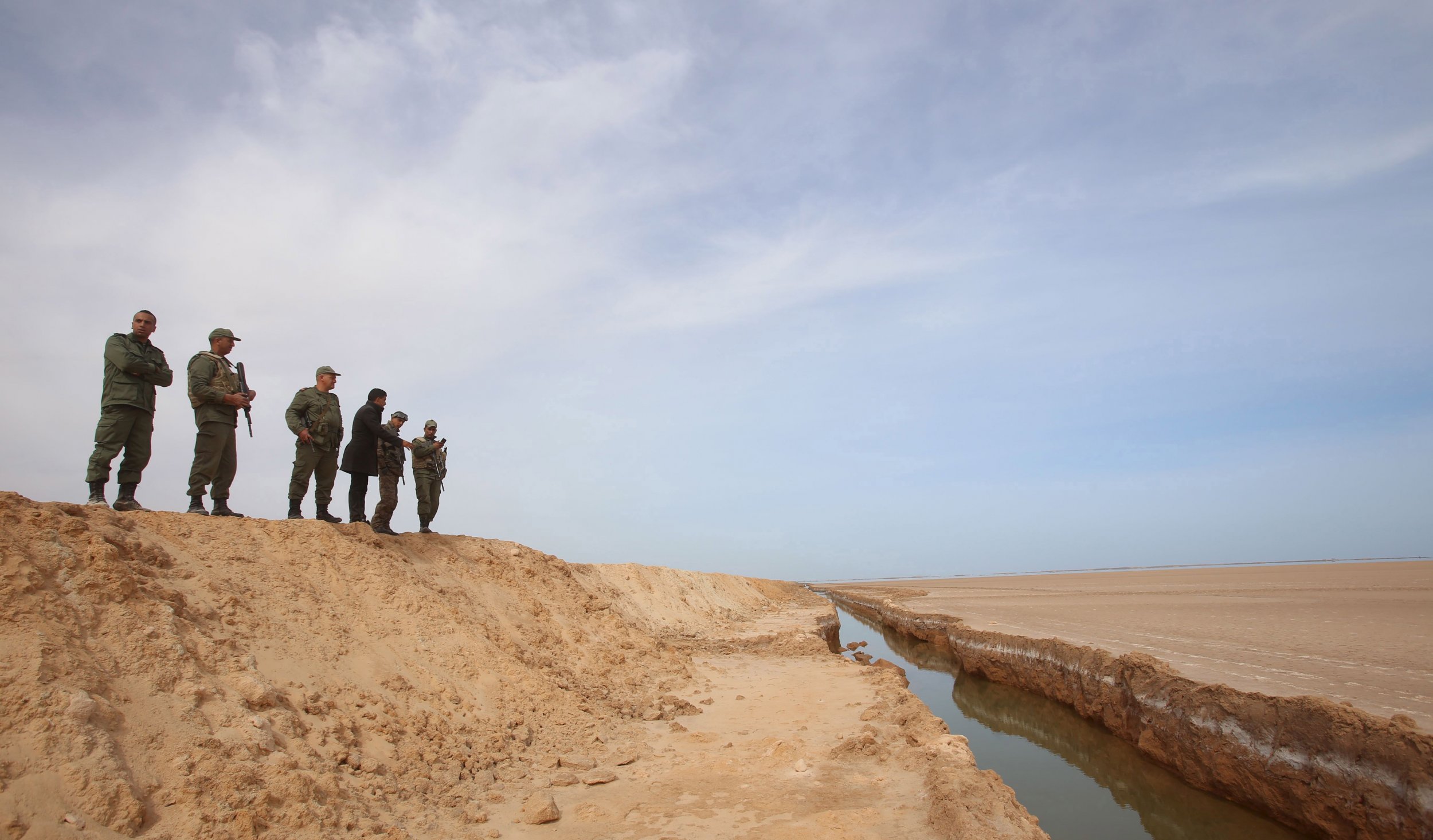 Tunisia has announced it has completed the first stage of a barrier stretching hundreds of kilometers along its border with Libya.
The 125-mile barrier—which consists of water-filled trenches and sand banks—is designed to prevent militants from moving from Libya into Tunisia, according to Tunisian Defense Minister Farhat Hachani.
It lies 1.2 miles back from the Libyan border and Hachani said that European and U.S. military trainers would be deployed to improve surveillance skills among Tunisian troops, with plans afoot to also install cameras and radar equipment.
Instability has engulfed Libya since the fall of former military dictator Muammar el-Qaddafi in 2011. The country has two rival governments: an internationally recognized parliament in the eastern city of Tobruk and the Tripoli-based General National Congress (GNC). Despite years of negotiating, the two bodies have so far been unable to implement a United Nations-backed peace agreement aimed at creating a unified government.
In the absence of political stability, the Islamic State militant group (ISIS) has established a foothold in Libya, taking control of the coastal city of Sirte in 2015. ISIS is believed to have as many as 6,500 fighters in the North African country, with a Libyan intelligence official telling the BBC recently that top commanders in the group see Libya as a "safe haven" away from international bombing campaigns directed against ISIS in Syria and Iraq. The problem in Libya is becoming so acute that the U.S. is reportedly considering limited military action to slow the group's spread.
The barrier was conceived in July 2015 following a series of attacks in Tunisia, the deadliest coming in June 2015, when Seifeddine Rezgui shot and killed 39 tourists, mostly from the U.K., on a beach in the tourist resort of Sousse. ISIS claimed responsibility for the attack but Tunisian Prime Minister Habib Essid said that the Tunisian gunman probably trained with the Ansar al-Sharia group in Libya before returning to his homeland. A March 2015 attack at the Bardo museum in the capital Tunis, also claimed by ISIS, resulted in more than 20 people being killed.
The border barrier works on a two-way principle, according to Philip Stack, North Africa analyst at risk consultancy Verisk Maplecroft. Stack says there are an estimated 1,500 Tunisians fighting with ISIS in Libya and that the barrier is as much aimed at preventing people from leaving Tunisia to go to Libya than the other way round. "In their recruiting, ISIS have been making it clear that for Tunisians the easiest place to get to is Libya, it's far easier than Syria," says Stack. "The last thing the Tunisians want is their citizens moving in there [to Libya], getting radicalized and then coming back into the country."
Tunisia has proven a hotspot for radicalization. A December 2015 report by the Soufan Group found that Tunisia contributed the largest number of foreign fighters to extremist groups in Iraq and Syria—including ISIS—with approximately 6,000 Tunisians joining Salafist groups in the countries where ISIS is attempting to establish its caliphate. Stack says the barrier will only be effective as part of a broader strategy, which includes counter-radicalization. "On its own, it [the wall] is no panacea," says Stack.
The home of the Arab Spring, Tunisia faced relatively few security challenges prior to the 2011 uprising that displaced long-time leader Zine al-Abidine Ben Ali, who ruled from 24 years. That means that the country's security forces are unprepared to deal with the major security threat it is now facing from ISIS and other groups, says Michael Horowitz, a North Africa specialist at the Levantine Group. Tunisian authorities only decided in November 2015 to set up a national intelligence agency to monitor and tackle terrorist threats; such an agency, according to Horowitz, is "something that the country just simply didn't need as it has not faced these kind of security threats since it was created."
While he views it as a potentially significant step, Horowitz says that the barrier's effectiveness will come down to the capacity of those patrolling it. "A fence is never enough to stop any kind of terrorist activity," he says. "With a fence in itself, you can always climb it, you can always go around it. The main problem in Tunisia is that the security forces are not built to tackle the level of threat and the number of jihadists that are operating in Libya and the number of Tunisians operating in Libya."