4 Times Justin Trudeau Impressed, and 5 Times he Disappointed
Canadian Prime Minister Justin Trudeau is seeking a new term of office in the upcoming election on Monday, September 20.
Trudeau called the election in mid-August hoping to capitalize on his government's handling of the COVID-19 pandemic to secure a third term. But the short election campaign has instead raised some hope for Canada's Conservative Party, headed by Erin O'Toole.
The 170 seat majority Trudeau needs to secure his term is threatened, with O'Toole approaching neck and neck in the polls with the prime minister.
According to a September 16 report by Canada's CBC News Poll Tracker, support for Trudeau was at 31.7 percent, while support for O'Toole was at 31.2 percent at the time of reporting.
Speaking to Newsweek, the president of Canadian pollster Angus Reid Institute, Shachi Kurl, said on September 17 that the campaign "still looks very tight" and so far closely mirrors the result of the 2019 election, which saw the Liberals win a minority government with Conservatives increasing their seat count.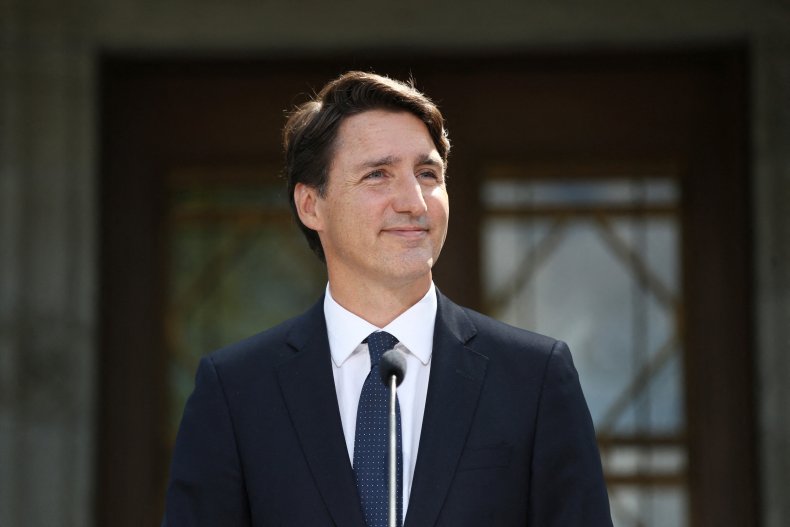 Trudeau, who is the son of the late Canadian Prime Minister Pierre Trudeau, became the darling of liberals worldwide after he took office in 2015. His comments on feminism, Canada's indigenous peoples and racism as well as refugees, climate change and other issues, starkly contrasted with other world leaders, including former U.S. President Donald Trump.
But his premiership has lost much of its initial lustre. Kurl told Newsweek: "This is [Trudeau's] third election. He has been prime minister for six years. No matter how popular a politician is, the longer he or she is in office, the more things will stick to him or her."
Kurl said that Trudeau's best days were at the beginning of his term, when his approval ratings were "very high," scoring between 60-70 percent and "they stayed there for more than a year."
However, over time Trudeau's scandals "ate away at his popularity," said Kurl.
Here, Newsweek tracks some of the moments when Trudeau impressed and others when he did not.
Moments When Trudeau Impressed
Gender equality
Back in 2015, Trudeau swore in 30 cabinet members, 15 of whom were women, marking the country's first gender-balanced federal cabinet. Asked why gender balance in the cabinet was important, the prime minister said at the time: "Because it's 2015."
In response to gender-based violence, his government announced a strategy in June 2017 titled "It's Time: Canada's Strategy to Prevent and Address Gender-Based Violence."
The government had overhauled its judicial appointments system in October 2016 in a bid to promote more diversity among candidates and created a more transparent process.
CBC reported in 2019 that 2016 marked the first year more women than men were appointed as judges, which could play a role in sexual assault cases.
Refugee Policy
Immigration has been a focus of the Liberal Party in recent years and in 2018, Canada was reported to have resettled more refugees than any other country in the world, according to a 2018 report from the UNHRC (United Nations Human Rights Council).
UNHCR's Melanie Gallant previously told Canada's CTV News: "The Canadian experience is definitely one of generosity and has shown how welcoming refugees really contributes to Canada's economy and communities and we hope that Canada can continue to play this leadership role."
Climate Change Focus
Climate change and the environment has been a key issue for Trudeau's government from the start. Catherine McKenna, who in 2015 became the first female Member of Parliament (MP) for Ottawa Centre, was appointed as Canada's Minister of Environment and Climate Change in the same year, marking the first time the term "climate change" was noted in the cabinet title.
Canada was among the first countries in the world to sign and ratify the Paris Agreement, committing to reduce greenhouse gas emissions by 30 percent below 2005 levels by 2030.
In 2019, the government introduced a carbon tax ("price on carbon pollution"), noting "there's a clear cost from a changing climate, so it can't be free to pollute."
Long-Form Census Reinstated
Among the first measures that Trudeau's administration took was the restoration of long-form census (which was scrapped by Conservatives back in 2010). The reinstatement was announced just a day after Trudeau and his new cabinet were sworn in.
The move marked a commitment to promoting transparency and accountability in government policy.
Trudeau said at the time: "We committed to a government that functions based on evidence and facts and long-form censuses are an important part of making sure we're serving constituents in our communities," CBC reported in November 2015.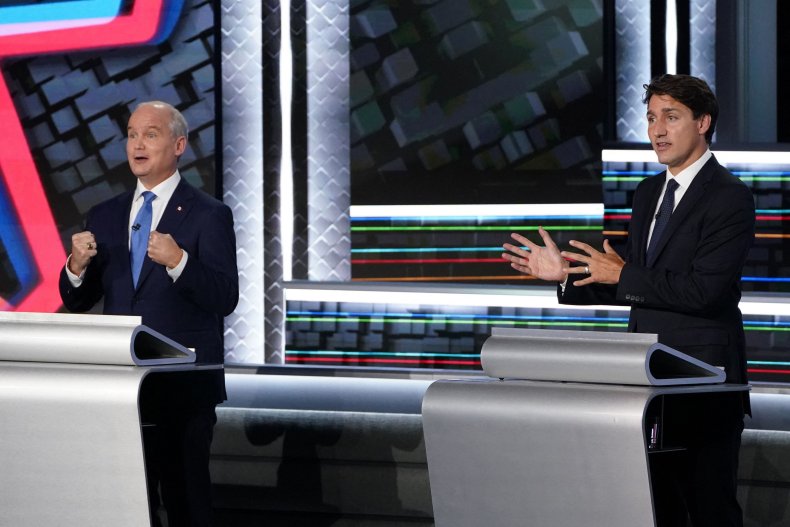 ...And Others When He Did Not Impress
Below we take a closer look at some of the aforementioned scandals and other incidents where Trudeau failed to impress.
Calling Snap Election Amid COVID-19
Trudeau called the latest election in mid-August, allowing a campaigning period of only 36 days, the minimum length permitted by Canadian law.
The prime minister has faced criticism for not only calling an early election but also for doing so amid a pandemic, which opposition leaders say was for "selfish" reasons.
According to an Ipsos poll conducted for Canada's Global News reported on September 17, 69 percent of votes feel the election should not have been called amid the COVID-19 pandemic.
At a French-language debate on September 8, Jagmeet Singh, leader of the leftist New Democrat party, said to Trudeau: "The only reason you called an election was a selfish reason, to obtain more power."
Back in August following the time of the announcement of the election, O'Toole said in a video on social media: "Canadians are worried about a fourth wave of Covid-19 [...] Now is not the time for an election. We can all wait and go to the polls when it's safe."
Over 77 percent of those aged 12 and older have been vaccinated in Canada, the Associated Press reported on September 9.
Ethics Investigations
The prime minister has faced three ethics investigations in his term so far.
Vacation on the Aga Khan's private island
In January 2017, Canada's ethics watchdog launched an investigation of Trudeau's vacation and use of a helicopter in the Bahamas on the private island of the Aga Khan, a philanthropist and spiritual leader to Ismaili Muslims who Trudeau says is a family friend.
In December 2017, country's former ethics commissioner, Mary Dawson said in a report that the prime minister violated laws prohibiting a government minister from accepting gifts or advantages that could reasonably be seen as influencing government decisions.
Trudeau said at the time: "I fully accept the report of the commissioner."
Helping Major Firm Avoid Criminal Prosecution
In August 2019, Canada's ethics commissioner said Trudeau had breached ethics rules by improperly pressuring Jody Wilson-Raybould (a former attorney general and justice minister) to halt the criminal prosecution of SNC-Lavalin, a major Quebec engineering firm, AP reported at the time.
The criminal conviction of SNC-Lavalin would have barred the company, which employs 9,000 employees in Canada and about 50,000 worldwide, from receiving any federal government business for 10 years.
Ethics commissioner Mario Dion said Trudeau "directly and through his senior officials, used various means to exert influence over Ms. Wilson-Raybould.
At a news conference at the time, the prime minister said: "What happened over the past year shouldn't have happened" and that he took responsibility "for everything."
Family Links to Government-Funded Charity
In July 2020, Trudeau faced a third ethics investigation for conflict of interest after it emerged that members of his family were paid hundreds of thousands of dollars by the WE Charity. The government had awarded a substantial contract to WE Charity for a C$900 million student-work program.
Trudeau issued a public apology at the time saying: "I made a mistake in not recusing myself immediately from the discussions, given our family's history, and I'm sincerely sorry about not having done that." Trudeau was cleared by the ethics commissioner in May 2021.
Allegations of Shutting Down Parliament to Cover Up Scandal
In August 2020, Trudeau was accused of proroguing parliament amid the WE Charity ethics investigation at the time in an attempt to cover up the scandal.
A prorogation of parliament would suspend all government business, including the WP Charity investigation.
At the time, Trudeau said the prorogation was because of the pandemic. "We are taking a moment to recognize that the throne speech we delivered eight months ago made no mention of COVID-19, had no conception of the reality we find ourselves in right now," he told journalists in Ottawa at the time. He said his government would be putting together a new plan, taking the pandemic into consideration, The Guardian reported in August 2020.
Trudeau in Brownface Photo
Trudeau came under attack in September 2019 after a photo of him in brownface at a costume party two decades ago emerged.
The image was published by Time magazine, which said it was taken from a yearbook from the West Point Grey Academy, a private school in British Columbia where the prime minister worked as a teacher before his political career.
In the photo, Trudeau, who was 29 years old in the picture, was captured at an "Arabian Nights" party wearing a turban and robe with dark makeup on his hands, face and neck. The prime minister said he was dressed as Aladdin.
Trudeau said at the time: "Darkening your face regardless of the context or the circumstances is always unacceptable because of the racist history of blackface. I should have understood that then, and I never should have done it.
"I have always acknowledged I came from a place of privilege, but I now need to acknowledge that comes with a massive blind spot," he said at the time.
Trudeau Allegedly Elbowed Female MP in Parliament
Back in May 2016, the prime minister was accused of elbowing a female MP in the breast after "manhandling" a male MP in a heated session at the House of Commons.
In a video from the House of Commons, Trudeau was seen walking toward MP Gord Brown among a group of MPs, grabbing his arm in a bid to reportedly move him toward his seat so that the procedural voting could begin.
Trudeau was accused of elbowing MP Ruth Ellen Brosseau in the chest as he led Brown away from the group.
The Guardian reported the prime minister apologized for the incident at the time, saying: "I admit I came in physical contact with a number of members as I extended my arm, including someone behind me who I did not see.
"If anyone feels that they were impacted by my actions, I completely apologise. It was not my intention to hurt anyone," he said.
Brosseau said at the time: "I was elbowed in the chest by the prime minister and then I had to leave," adding, "It was very overwhelming and so I left the chamber to go and sit in the lobby. I missed the vote because of this."
Her remarks prompted Trudeau to stand up to apologize to Brosseau directly, saying: "I want to take the opportunity ... to be able to express directly to [Brosseau] my apologies for my behaviour and my actions, unreservedly."
Newsweek has contacted Prime Minister Trudeau's office, Canada's Liberal Party and the country's Conservative Party for comment.