Canadian Mayor Rips Ted Cruz Months After Australian Official Does Same
Months after an Australian minister slammed Senator Ted Cruz for criticizing the nation's COVID-19 vaccine mandates, the mayor of Vancouver also hit back against the Texas Republican for knocking the city's handling of the anti-mandate "Freedom Convoy" protest in Canada.
The clash between Cruz and Kennedy Stewart began this weekend when the mayor told protesters fighting government-mandated vaccines that the city doesn't "want them" and to "make your point and go home."
The protests started last month when a group of truckers in Ottawa dubbed the "Freedom Convoy" began fighting a new requirement that drivers entering Canada must either be fully vaccinated or face testing and quarantine protocols. The protests have since expanded across the country, with thousands of Canadian citizens joining the cause to seek an end to all pandemic-related restrictions.
On Friday, Cruz responded to Kennedy's statement by tweeting: "Mayor says 'Vancouver doesn't want' truck drivers there. Folks might feel differently with empty shelves."
In response, Kennedy hit back against Cruz and noted that 90 percent of Canadian truckers are fully vaccinated.
"Can someone tell @tedcruz our store shelves are fine thanks to the 90% of Canadian truckers who are fully vaccinated. Too busy high-fiving all the awesome folks in #Vancouver that are helping push back against the #hateconvoy," Kennedy wrote.
The online sparring was not the first time Cruz weighed in on another country's vaccine ideology. In October, he was blasted by the chief minister of Australia's Northern Territory for calling a vaccine mandate for frontline workers and public-facing employees "COVID tyranny."
"Nearly 70,000 Texans have tragically died from COVID. There have been zero deaths in the territory. Did you know that?" Chief Minister Michael Gunner tweeted. "We don't need your lectures, thanks mate. You know nothing about us. And if you stand against a life-saving vaccine, then you sure as hell don't stand with Australia. I love Texas (go Longhorns), but when it comes to COVID, I'm glad we're nothing like you."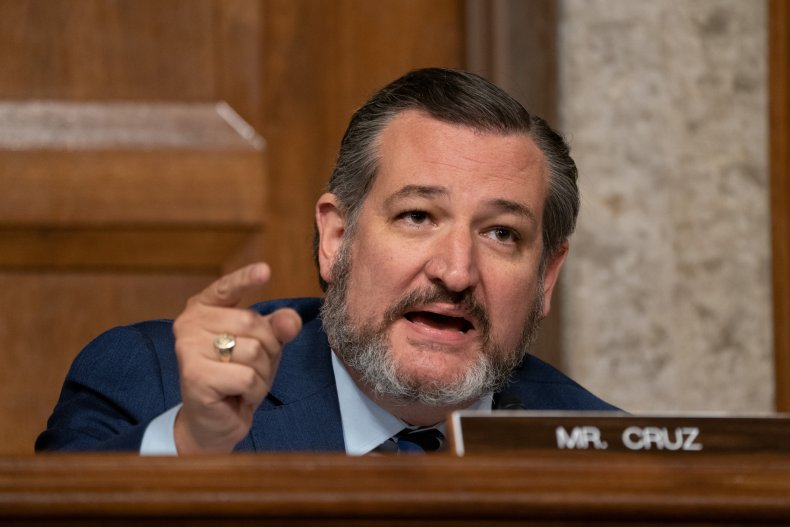 Cruz has long stood in opposition to COVID mandates and has frequently slammed initiatives by President Joe Biden's administration to mandate vaccines as "authoritarian."
He's not the only Republican who has chimed in on the demonstrations in Canada. Others, including former President Donald Trump and Georgia Representative Marjorie Taylor Greene, have also signaled their support for the protesters.
Trump said in a statement Friday, "The Freedom Convoy is peacefully protesting the harsh policies of far left lunatic Justin Trudeau who has destroyed Canada with insane Covid mandates. Now, thankfully, the Freedom Convoy could be coming to DC with American Truckers who want to protest Biden's ridiculous Covid policies."