Candace Owens and Tucker Carlson have spoken out in support of Nicki Minaj, as she continues to face a backlash over her comments about the COVID vaccine.
The rapper, real name Onika Maraj, kicked off a conversation about the vaccine on Monday, when she tweeted that the recent Met Gala required this year's guests to be vaccinated—something she was unwilling to do just to attend the event.
But it was her follow-up tweet that sparked furious debate, when she stated that a family friend in her native Trinidad had an adverse reaction to the vaccine.
She wrote: "My cousin in Trinidad won't get the vaccine cuz his friend got it & became impotent. His testicles became swollen. His friend was weeks away from getting married, now the girl called off the wedding. So just pray on it & make sure you're comfortable with ur decision, not bullied."
And while Minaj later clarified her stance, stating that she would likely take the vaccine as she will "have to go on tour, etc," the star has faced a storm of criticism, with a number of detractors accusing her of using her platform irresponsibly.
But during an appearance on Fox News' Tucker Carlson Tonight, Owens added her name to the list of Minaj supporters as she spoke out in the star's defense.
Speaking with titular host Tucker Carlson, the conservative commentator lashed out at Democrats, saying: "These are the people, by the way, that... go around and get them to endorse them. They go around to Cardi B, they go around [to] Nicki Minaj, they try to get them to speak on behalf of them.
"And Nicki Minaj is not playing that game with them—and now people are seeing in real time what these elitists actually think of them. Look at the way they spoke down to her. 'She's stupid'—the headlines were insane. The headlines were like, 'She's so dumb, she thinks it's gonna make your testicles fall off.'
"Whatever they said—complete lies, by the way—denigrating her because at the end of the day what they actually think, the Democrats, is that these people are stupid. They like to come around every four years for the votes.
"But at the end of the day, they think Nicki Minaj and all rappers are very stupid. And Nicki Minaj, right now, is proving them otherwise. She's not afraid."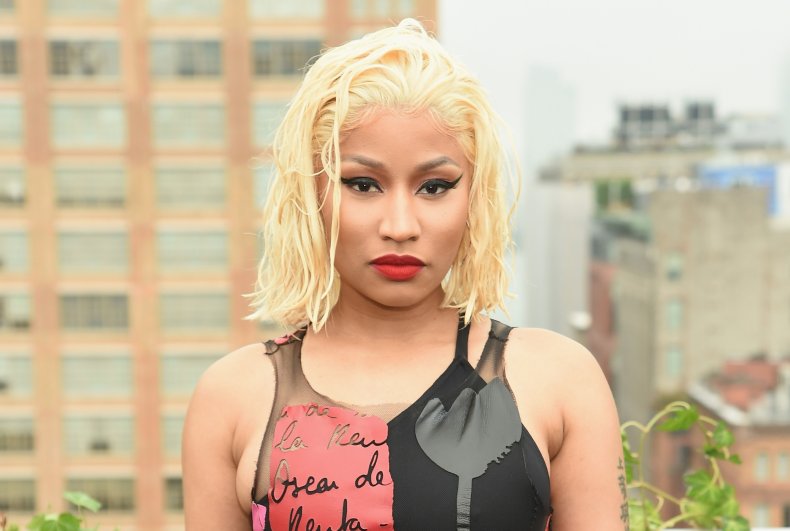 Laughing in agreement, Carlson said: "No, she's definitely not afraid. She's a savage, actually! I'm not on Twitter, it made me wanna get on Twitter. It was just so good."
"It's not even about if the vaccine works, or whether it's good for you, or her cousin's friend's testicles," continued Carlson, "it's about whether you have dominion over your own body, whether you're a free person, whether you're a citizen and a human being.
"And you've got to kind of wonder if people like this standing up might awaken others that [will say]: 'I don't have to be pushed around, actually.'"
Owens, who has spoken out against taking the COVID vaccine, responded: "Right, and that's what it really comes down to. It's about body autonomy, no matter what side of the aisle you're on. I personally believe, from the bottom of my heart, that more people would get the vaccine if they just had an honest conversation.
"There's so much gaslighting going on, especially people that have already gotten the vaccine. People have gotten the vaccine and said, 'Oh, you know, it made my arm itch,' and people are going, 'You're a liar." Or [saying] to Nicki Minaj, 'You're a liar, that never happened. How dare you say that?'
"These people are on your side, vaccine industry! You're gaslighting people that actually listened to you. Why not just have a meaningful conversation and say: 'You know what, this might be rare, maybe this does happen, but you're gonna be just fine.' They won't do that, and that is why people do not trust them at this moment."
"It's totally true," replied Carlson. "There are about eight people in the country who are against all vaccines. No one's against vaccines, they just don't wanna be lied to or bullied. They do wanna pray on it and make their own decisions. Nicki Minaj is right about that, whatever the condition of her cousin's friend's genitalia."
On Wednesday, Minaj said that she would not be returning to Twitter, after claiming that she had been blocked by the micro-blogging platform over her vaccine tweets.
However, a spokesperson for Twitter told Buzzfeed in response: "Twitter did not take any enforcement action in the account."