'Candy': What Happened to Betty Gore's Husband Allan and Where is He Now?
Candy explores the shocking true story of Betty Gore's death at the hands of her friend Candy Montgomery, who killed her after striking her 41 times with an ax.
Montgomery (Jessica Biel) was charged with her murder and at her trial she pleaded not guilty, saying the attack was in self-defence after Gore (Melanie Lynskey) confronted her over an affair she had from 1978 to 1979 with the victim's husband Allan.
Here, Newsweek will explore what happened to Allan (played by Pablo Schreiber in the Hulu true crime drama) and where he is now.
What Happened to Betty Gore's Husband Allan and Where is He Now?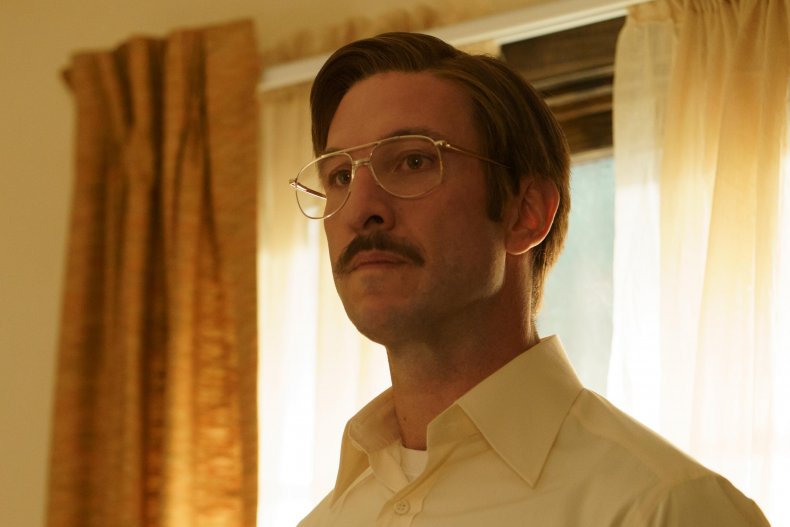 Montgomery first met Gore and her husband at church after she and her husband Pat moved to Wylie, Texas, in 1977, per Texas Monthly.
The housewife and her husband had a comfortable life but Montgomery was said to be feeling "bored crazy" by her daily routine, and it was in 1978 that she decided to propose she and Allan have an affair.
Montgomery came up with the idea after bumping into Allan during a volleyball match and thinking he "smelled sexy," the publication reported, and several weeks later she got into Allan's car after choir practice and told him matter-of-factly that she was attracted to him.
On her twenty-ninth birthday Allan called Montgomery to say he would also be interested in having an affair, and by the end of 1978 the pair were meeting every two weeks to have sex in a motel.
The pair embarked on their affair into the early months of 1979 when Montgomery suggested they end it because things were getting too serious between them, but in the end they continued their extramarital relations until shortly after the birth of Allan's second daughter Bethany in July that year.
In their book "Love and Death in Silicon Prairie, Part II: The Killing of Betty Gore," Texas Monthly writers Jim Atkinson and John Bloom said it was Montgomery who ended the affair officially after Allan showed signs of wanting to stop the relationship but didn't say anything.
According to Atkinson and Bloom, she told Gore's husband: "Allan, you seem to be leaving it up to me. So I've decided, I won't call. I won't try to see you. I won't bother you anymore."
On Friday June 13, 1980 Montgomery went to the Gore family home to pick up a swimsuit for their daughter Alisa, who was staying at her house, and she claimed this was when Gore asked if she was having an affair.
Montgomery claimed that after she admitted they'd once had an affair but stopped "a long time ago," Gore picked up an ax and told her not to see Allan ever again and she attacked her with the weapon when Montgomery apologized.
Montgomery claimed that after a struggle she hit Gore with the ax in self-defence and only stopped at the point of "utter exhaustion," a shocking response that was said to be triggered by childhood trauma, psychiatrist Dr. Fred Fason said in court.
The jury found Montgomery not guilty after deliberating the case for just over three hours, it was reported by the United Press International agency at the time.
Per Dallas News, Allan remarried quickly after Gore's death and moved away from Wylie, though the publication claimed that marriage ended in divorce.
Allan and Gore's daughters Alisa and Bethany were raised by her parents instead of him, according to the publication.
Candy is being released as a 5-day event on Hulu, with the finale airing on Friday, May 13.