In a new interview, D.C. Metropolitan Police Officer Daniel Hodges said former President Donald Trump "set us up" on January 6, referring to himself, fellow officers, members of Congress and former Vice President Mike Pence.
Hodges made the comments Wednesday morning to NBC's Andrea Mitchell following the testimony provided Tuesday by Cassidy Hutchinson, an aide to former White House Chief of Staff Mark Meadows, to the House committee investigating the January 6, 2021, Capitol riot.
She made major claims during a surprise hearing, alleging that Trump not only lunged at a Secret Service driver in the presidential limousine but also didn't care that his supporters were brandishing weapons.
"It's not surprising," Hodges said Wednesday when asked about Hutchinson's testimony. "The president revealed his character a long time before January 6 and a long time before he was even president. So, him knowing that the crowd had weapons and sent them to the Capitol anyway—it just demonstrates how he doesn't really care about anything other than himself."
NBC reported that Hodges was in the hearing room during Hutchinson's testimony, later saying he hopes "the truth keeps coming...and that the Justice Department is listening."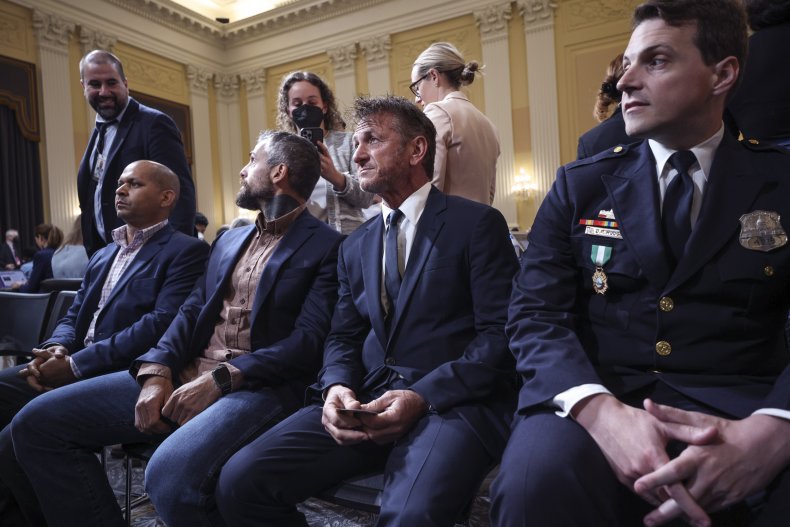 In a tweet posted Tuesday afternoon while Hutchinson was testifying, Hodges quoted her testimony with Trump's alleged own words, "They're not here to hurt me," after the president was allegedly told about guns carried by his supporters at the Ellipse rally.
Hutchinson's claims have been rebuked by Trump, who on his social media website Truth Social said he "hardly" knows who she is and claimed he "heard very negative things about her." The former president said her testimony was conducted in retaliation for Trump's personal request that she not join his team in Florida at the conclusion of his four-year term.
In addition to Trump, the U.S. Secret Service has reportedly commented that it wants to testify to refute Hutchinson's claim about the limo. Secret Service agent Bobby Engel previously testified privately about January 6 and, as legal experts have pointed out, could possibly corroborate Hutchinson's statements.
In July 2021, Hodges and Capitol Police Officer Harry Dunn, Sergeant Aquilino Gonell and Officer Michael Fanone spoke to the committee about their experiences during the Capitol riot. During his testimony, Hodges referred to the rioters as "terrorists."
"I saw the 'thin blue line' flag, the symbol of support for law enforcement, more than once being carried by the terrorists as they ignored our commands and continued to assault us," he said as part of his opening statement nearly a year ago.