The House committee investigating the January 6, 2021, attack on the Capitol is looking to discover whether Texas Representative Ronny Jackson had any links or contact with people facing some of the most serious charges related to the incident.
Leader Stewart Rhodes and 10 other members or associates of the far-right Oath Keepers militia group were charged earlier this year with seditious conspiracy for their alleged roles in the attack. While hundreds have been charged in connection to the riot, as reported by the Associated Press, the conspiracy charges were the most serious to be unveiled in the year since the attack when they were announced in January. Two of the individuals charged with seditious conspiracy have since pleaded guilty, with the most recent plea coming this past Friday, according to NPR.
Several encrypted messages sent by Rhodes and other Oath Keepers on January 6, detailed in a letter sent to Jackson on Monday by the House committee, showed that the Republican lawmaker may have had some type of relevance to members of the militia group on that day. Now, the committee is requesting Jackson's testimony and cooperation in order to find out why.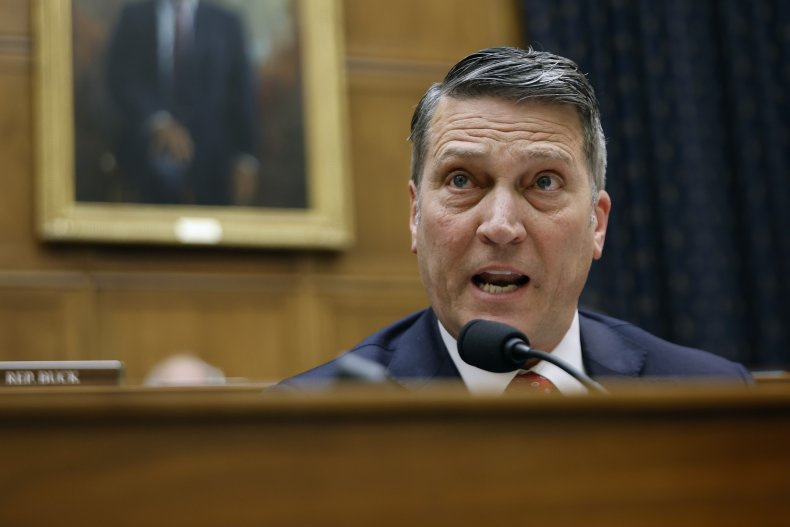 At about 3 p.m., an individual referred to in the letter as User #1 wrote an encrypted message that read: "Ronnie (sic) Jackson (TX) office inside Capitol-he needs [Oath Keeper] help. Anyone inside?" Another individual referred to as User #2 responded several minutes later: "Hopefully they can help Dr. Jackson."
User #1 wrote back at 3:08 p.m.: "Dr. Ronnie (sic) Jackson–on the move. Needs protection. If anyone inside cover him. He has critical data to protect."
According to the letter, Rhodes initially responded to User #1's first message asking what Jackson needed help with, and then responded again to User #1's second message: "Give him my cell."
"As you likely know from public disclosures, individuals in these groups have been charged with seditious conspiracy. Several of these individuals are alleged to have plotted the violent overthrow of the United States and allegedly staged weapons at a location near Washington D.C. for that purpose," the letter read.
It said that the exchange of messages raised several questions pertaining to Jackson.
"Why would these individuals have an interest in your specific location? Why would they believe you have 'critical data to protect?' Why would they direct their members to protect your personal safety? With whom did you speak by cell phone that day?" the letter asked.
"The Oath Keepers and Proud Boys had contacts with a number of other individuals with whom you may also have been in contact. If you had no contact with the individuals who sent these messages, who else would have informed them of your security needs or your location?" it added.
In a statement shared with Newsweek, Jackson denied having any contact with the people who exchanged the messages and decried what he described as the committee's "malicious" agenda. He also said that he "will not participate in the illegitimate Committee's ruthless crusade against President Trump and his allies."
"It speaks volumes that the Committee would choose to share its letter with the media before it was shared with me. I do not know, nor did I have contact with, those who exchanged text messages about me on January 6. In fact, I was proud to help defend the House Floor from those who posed a threat to my colleagues," he said.
"The Committee's witch hunt against me is nothing more than a coordinated attempt to do the media's work on taxpayers' dime. Their attempt to drag out a manufactured narrative illustrates why the American people are sick of the media and this partisan Committee's use of January 6 as a political tool against conservatives they do not like," he added.
The letter to Jackson also said that in the hours before the attack on the Capitol, he posted pictures of himself at the rally at the Ellipse held by former President Donald Trump and tweeted: "American Patriots have your BACK Mr. President! We will FIGHT for YOU and we will fight OUR country!!"
The committee said that it wanted to speak to Jackson about how and when he returned from the Ellipse to the Capitol, and what contacts he may have had with any rally participants or others who marched to the Capitol from the Ellipse.
The committee also requested testimony and cooperation from two other GOP members of Congress on Monday: Arizona Representative Andy Biggs and Alabama Representative Mo Brooks.
Newsweek reached out to the House committee for comment.