What Became of the Jan. 6 Rioters Whose Photos Went Viral
Since the January 6 attack on the Capitol, a total of 675 people have been arrested in connection to the disorder, with prosecutors warning that many more could still follow.
According to an update marking 10 months from the attack, the Department of Justice said more than 120 individuals have pleaded guilty to a variety of federal charges, from misdemeanors to felony obstruction.
While hundreds of Donald Trump supporters were part of the attack on the Capitol, only a handful became recognizable for their actions that day.
Below, Newsweek has compiled what happened to the Capitol riot defendants whose photos went viral.
QAnon Shaman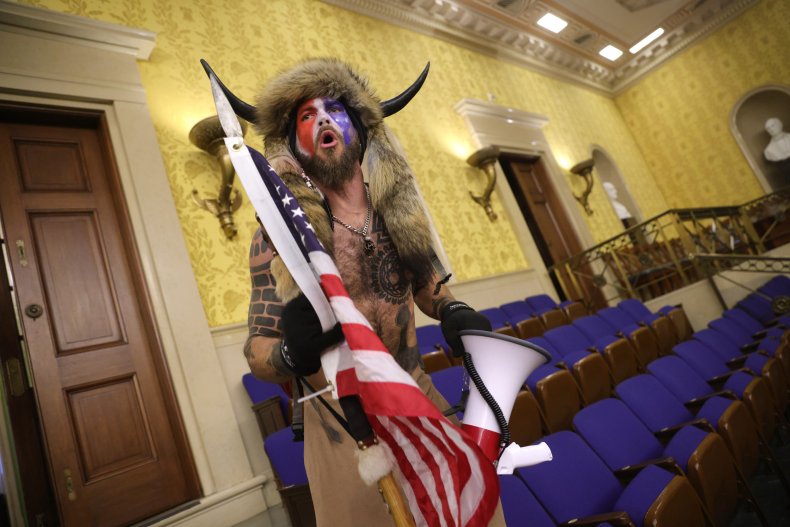 Arguably the most prominent and well known of all those who stormed the Capitol on January 6 is Jacob Anthony Chansley, aka Jake Angeli, better known as the QAnon Shaman.
Images of the shirtless Chansley wearing a horned Viking hat, carrying a spear with his face covered in paint went viral across the world in the wake of the attack.
Inside the Capitol, he was seen flexing his bicep on the dais of the U.S. Senate, as well as yelling "freedom" on the chamber floor.
Chansley also left a note on the Senate Chamber dais for Mike Pence, where the then vice president had been sitting while certifying the 2020 Electoral College results, warning "it's only a matter of time, justice is coming."
Chansley was arrested January 9 and was held in custody until his sentencing on November 17. He was given a 41-month jail term after pleading guilty to obstruction of an official proceeding.
In a statement read out in court, the QAnon Shaman denied that he was violent or intended to stop the certification of the 2020 election results during the riot.
"I may be guilty of this crime, but I am in no way, shape or form a dangerous criminal," Chansley said. "I am not a violent man. I am not an insurrectionist. I am certainly not a domestic terrorist. I am a good man who broke the law," he said.
Upon sentencing, Judge Royce C. Lamberth told the 34-year-old that what he did was "terrible."
"You made yourself the epitome of the riot," Lamberth added. "What you did here was actually obstruct the functioning of the whole government. It's such a serious crime."
In addition to the prison term, ordered Chansley to pay $2,000 in restitution and must also serve three years of supervised release after his release from jail.
"Lectern Guy"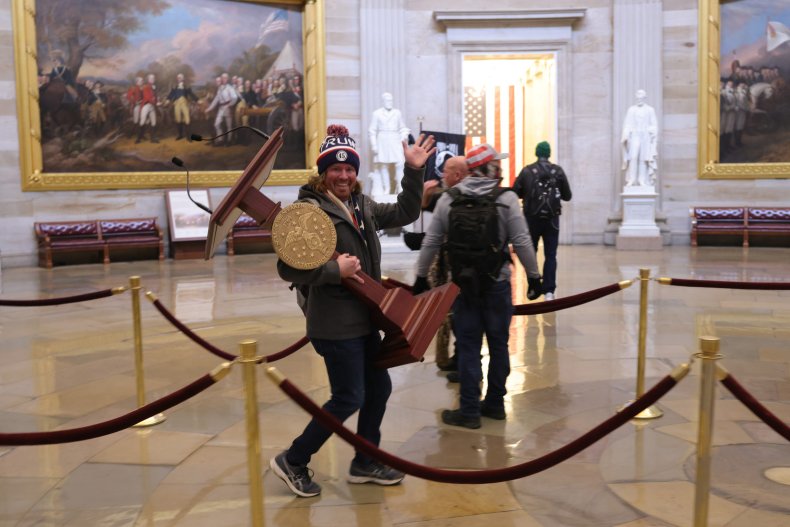 Another Capitol riot suspect whose image went viral across the world was Florida man Adam Johnson, who was pictured waving while carrying off House Speaker Nancy Pelosi's lectern.
On November 22, Johnson pleaded guilty to one count of entering or remaining in a restricted building in connection to the Capitol riot.
Although Johnson was seen appearing to take Pelosi's lectern, it was later found undamaged in a hallway on the Senate side of the Capitol.
Following his arrest, Johnson's lawyers said that 36-year-old's crime should not be thrown in with those who were in the Capitol on January 6 in an alleged attempt to overthrow the government.
"He wasn't involved in any coup. He wasn't involved in any planning of any entering of the Capitol," his attorney David Bigney told CNN in January.
"Things got out of hand. You saw the pictures. He was not there for any destruction, any treason. He was just there to witness history."
Johnson is due to be sentenced on February 25 and is not expected to receive a custodial sentence following his guilty plea.
He is also expected to be ordered to pay $500 restitution for his share of the damage at the Capitol.
Confederate Flag Suspect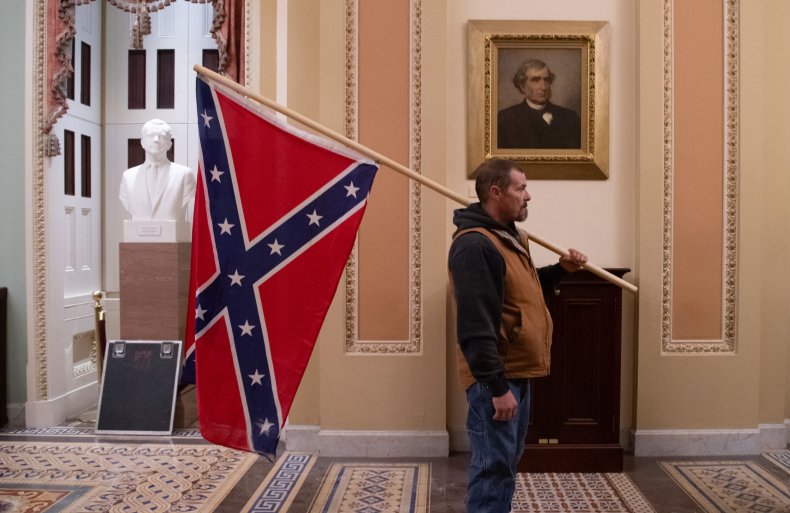 Kevin Seefried is better known as the suspect who was seen with a Confederate flag in the corridors of the Capitol on January 6. He was arrested along with his son, Hunter Seefried.
Kevin Seefried explained to prosecutors that he brought the Confederate Battle Flag to Washington D.C. from his home in Delaware, where it was usually displayed outside
The defendant was charged with knowingly entering or remaining in any restricted building or grounds without lawful authority; violent entry and disorderly conduct on Capitol grounds.
He pleaded not guilty to the charges against him and is due to stand trial on December 7.
"Zip-Tie Guy"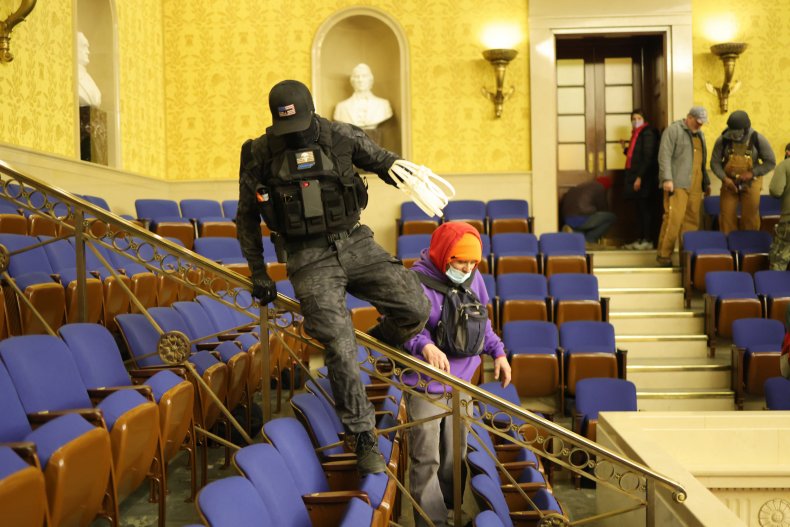 One suspect who is facing a number of serious charges is Tennessee man Eric Gavelek Munchel, who was seen carrying plastic hand restraints while dressed head to toe in military-style attire.
"In my experience, flex cuffs are used by law enforcement to restrain and/or detain subjects," prosecutors wrote in Munchel's original affidavit. "And the person who appears to be Munchel appears to have a cell phone mounted on his chest, with the camera facing outward, ostensibly to record events that day."
Munchel was charged, along with his mother Lisa Eisenhart, with a number of offenses including obstruction of an official proceeding, conspiracy to commit obstruction and violent entry or disorderly conduct in relation to the Capitol attack.
He was released from custody after pleading not guilty to the charges on March 29 and is currently awaiting trial.
In September, Munchel was accused of violating his bail conditions for drinking alcohol "excessively," reported 11 Alive.
"Camp Auschwitz" Suspect
Another man who gained notoriety in the wake of the Capitol riot was Virginia man Robert Packer, who was seen walking through the corridors of the Capitol building with a "Camp Auschwitz" top.
The anti-Semitic black hooded top Packer he was pictured wearing also contained a skull and crossbones and the words "Work brings freedom", an English translation of "Arbeit macht frei," the phrase displayed at the entrance of the Nazi concentration camp.
He was arrested on January 13 on suspicion of entering and remaining in a restricted building, violent entry and disorderly conduct and parading, demonstrating, or picketing in a Capitol building.
He pleaded not guilty to the charges on February 24. In August, CNN reported that the Justice Department offered Packer a plea deal as he is not accused of any violent offenses.
Packer appeared before another hearing in October where it appears no deal was reached.
"Balcony Guy"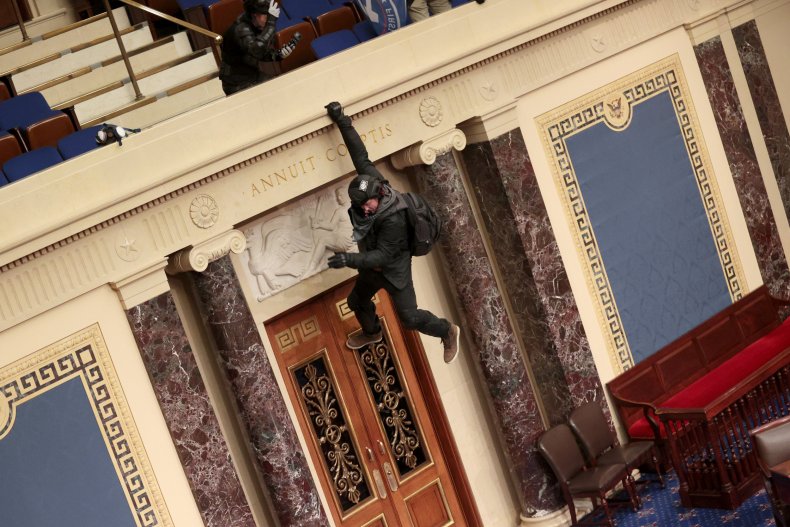 The fate of an Idaho man who was seen dangling from the balcony of the senate floor and sitting in Pence's chair during the January 6 riot is still to be determined after he pleaded guilty to one charge.
Josiah Colt, 34, was originally charged with obstruction; aiding and abetting; entering and remaining in a restricted building; disorderly and disruptive conduct in a restricted building; violent entry and disorderly conduct in a Capitol building in connection to Capitol attack.
He pleaded guilty to one count of obstruction of an official proceeding in July while agreeing to cooperate with prosecutors.
He also admitted to joining up with fellow suspects Ronald Sandlin and Nathan DeGrave, who arrived in D.C. for the election protests with a cache of weapons and ammunition, although none were charged with weapon offenses.
According to a statement of facts, Colt boasted on social media in the wake of the Capitol riot that he was the first person to sit in the House Speaker's Pelosi's chair, as well as calling her a traitor.
However, the seat Colt was actually photographed sitting in was the one used by vice president Pence.
No sentencing date has been set for Colt, but he faces between 51 months to 63 months in jail, and a fine of anywhere from $20,000 to $200,000, reported CBS News.
DeGrave and Sandlin have pleaded not guilty to all charges against them, including obstruction of an official proceeding, and assaulting, resisting or impeding certain officers.