Captain 'Sully' Backs Mitch McConnell's Opponent as Polls Show Her Trailing
Chesley "Sully" Sullenberger—a retired Air Force fighter pilot and airline captain who gained fame for the "Miracle on the Hudson" plane landing—backed Kentucky Senator Mitch McConnell's opponent in her efforts to unseat the Republican incumbent as recent polls show her trailing.
Sullenberger endorsed Amy McGrath, who is running as Kentucky's Democratic candidate for U.S. Senate. McGrath is a fellow former Marine fighter pilot.
Sullenberger is best known for piloting U.S. Airways Flight 1549 on January 15, 2009, when it struck a flock of Canadian geese shortly after taking off from New York's LaGuardia Airport. The plane lost power in both engines, and Sullenberger made the decision to pilot the plane to a crash landing on the Hudson River. All 155 people on board survived and were helped to safety by nearby boats.
"Years of experience and dedication allowed me to step up in that crucial moment, and today I want to ask you to do the same at this most important time in our nation's history," Sullenberger said. "As a former Republican and a veteran, I proudly endorse Lieutenant Colonel Amy McGrath."
McGrath posted the nearly two-minute video to her Twitter account Saturday morning, thanking Sullenberger for his support.
"Everything is on the line," McGrath wrote. "We will write this ship."
Sullenberger's endorsement comes just three days before the November 3 election. Polls continue to show McGrath trailing McConnell, who currently serves as Senate Majority Leader.
The most recent poll, conducted by Bluegrass Community and Technical College, showed McGrath behind the incumbent McConnell by 10 percentage points. Another poll conducted by Cyngal on October 19 and 20 also found McConnell ahead by approximately 10 points. According to the survey, 50.2 percent of voters in Kentucky said they'd vote for McConnell, while 39.9 percent said they'd vote for McGrath if the election were held today.
Sullenberger offered sharp criticism of McConnell in the video ad, insisting the Republican "has shown us time and again that he will put his own interests and partisanship before the interests of the American people."
"This is not a time to waiver," Sullenberger said. "It's a time to be bold, and elect a new generation of leaders who will put the good of our country above party loyalty."
The former captain highlighted the stakes of the election, pointing to health care, the economy and "the future of our democracy itself" as key issues.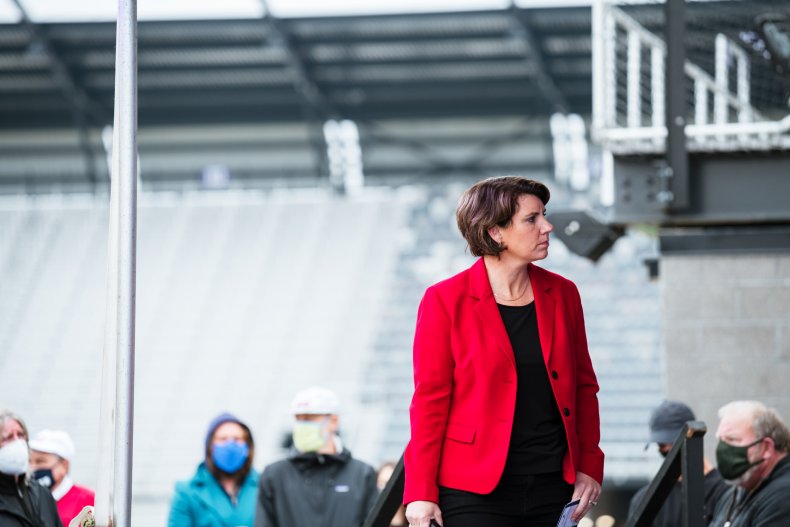 McGrath is not the only Democratic candidate Sullenberger has publicly endorsed. He partnered with the Lincoln Project and Vote Vets on a video ad in late September to voice his support of Joe Biden.
Sullenberger contrasted his experiences as a leader to President Donald Trump's job in office, arguing Trump has failed in "the highest calling of leadership," or "serving a cause greater than oneself."
The military veteran assailed Trump, urging viewers to "overcome his attacks on our very democracy." Sullenberger mentioned the "quarter million Americans" who won't have a voice in this year's election, paying homage to the more than 205,000 people who had died of COVID-19 in the U.S. at that point. Today—just one month later—more than 280,000 Americans have died as a result of the virus.
Sullenberger called the deceased "casualties of [Trump's] lethal lies and incompetence," perhaps referencing the fact that Trump was revealed to have knowingly downplayed the threat of coronavirus to the American people.
"I wanted to always play it down," Trump told journalist Bob Woodward. "I still like playing it down...Because I don't want to create a panic."
Updated 11:36 AM ET, with additional information.