Cara Delevingne Makes First Public Appearance Since Jay-Z Jet Concerns
Cara Delevingne was photographed exuding glamour at Paris Fashion Week on Tuesday, in her first public appearance since concerns were raised over her appearance onboard a private jet linked to Jay-Z.
The British supermodel and screen star, 30, stepped out in style to celebrate the launch of her collection with late fashion designer Karl Lagerfeld, at a soirée called "Cara Loves Karl" in the French capital. Lagerfeld died in February 2019.
Looking happy and healthy, Delevingne donned a black oversized tuxedo jacket, which was cinched at the waist with a belt. A matching web belt worn around her neck as part of the ensemble, which was rounded out with thigh-high black boots.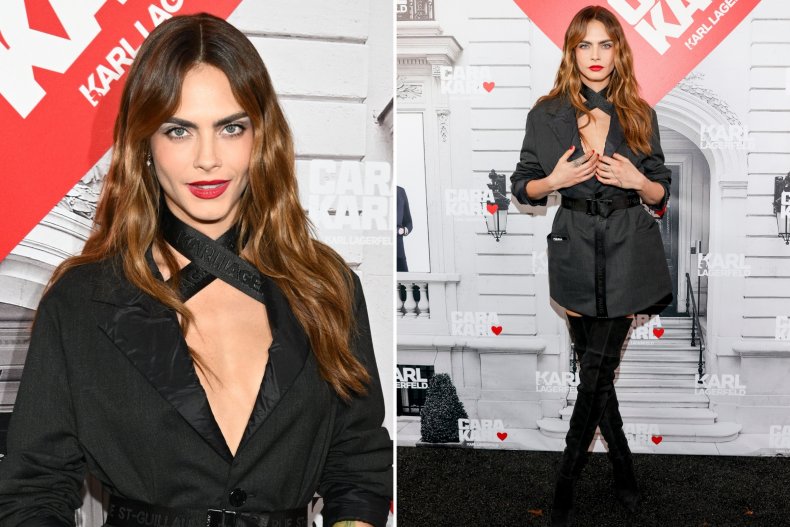 Delevingne shared another look with her more than 40 million Instagram followers, with the gallery of photos clocking up over 750,000 likes in a matter of hours.
London-born Delevingne had skipped a New York Fashion Week event to celebrate the launch of her collection on September 12.
The Only Murders in the Building star's stylish appearance on Tuesday stood in stark contrast to the photos that the Daily Mail published of her on September 6.
In the images, which the publication reported were taken on September 5, the model was seen standing shoeless and slumped over before an SUV at Los Angeles' Van Nuys Airport.
It was reported that she boarded a Gulfstream GV that sportswear giant Puma is reported to have been convinced by Jay-Z to purchase for use by its endorsed athletes. Jay-Z, whose real name is Shawn Carter, serves as Puma's creative director for basketball.
Delevingne was pictured boarding the aircraft with her dog, Alfie. Per the report, she left the plane after 45 minutes of sitting on the tarmac, before disembarking. Her bags were also reportedly removed before she was driven away.
In video footage from that day, which has been viewed more than 2.2 million times on Twitter, Delevingne was shown barefoot and fidgety as she spoke on the phone.
A little over a week later, the Daily Mail published photos of Delevingne's Suicide Squad co-star Margot Robbie leaving the model's rented Los Angeles home in tears.
While Delevingne has not publicly commented on the images, she retweeted a September 16 Elle Australia op-ed that criticized the coverage of her apparent woes, likening the attention to treatment of Britney Spears in the late aughts.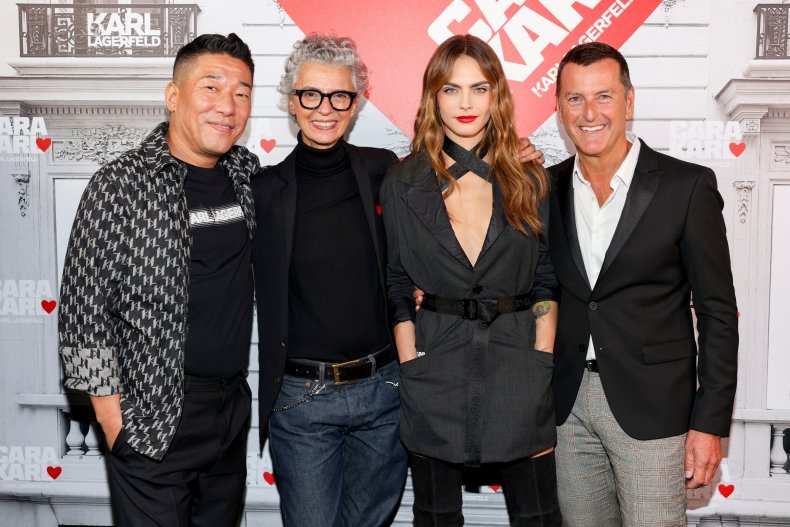 In July, fans noted she seemed to act strangely at the 2022 Billboard Music Awards, where she spent the night helping rapper Megan Thee Stallion on the red carpet. As a guest on The Tonight Show Starring Jimmy Fallon that month, she explained that she was just enjoying being the rapper's hype woman for the night.
"I was standing behind her and then she was trying to [do] the thing with fashion [where you] flick your [dress], and she couldn't really," she said, referring to Megan Thee Stallion's outfit, a black and beige Mugler miniskirt with a halter top and flowy scarf that hung from the side. "I was helping her and going like, 'Yeah, go!' Like hyping her up, being her hype woman."
"And then I was getting on the floor taking pictures," she continued. "That's what I do, I don't know. I was just really excited. I'm like, 'Let me get my angle, guys! I'm a photographer.' It was so fun."
"I was living my best life, but people found it a little bit odd," she said. "People find me odd, but that's me. No shame."