Ted Cruz Earns Support of Former GOP Candidate Carly Fiorina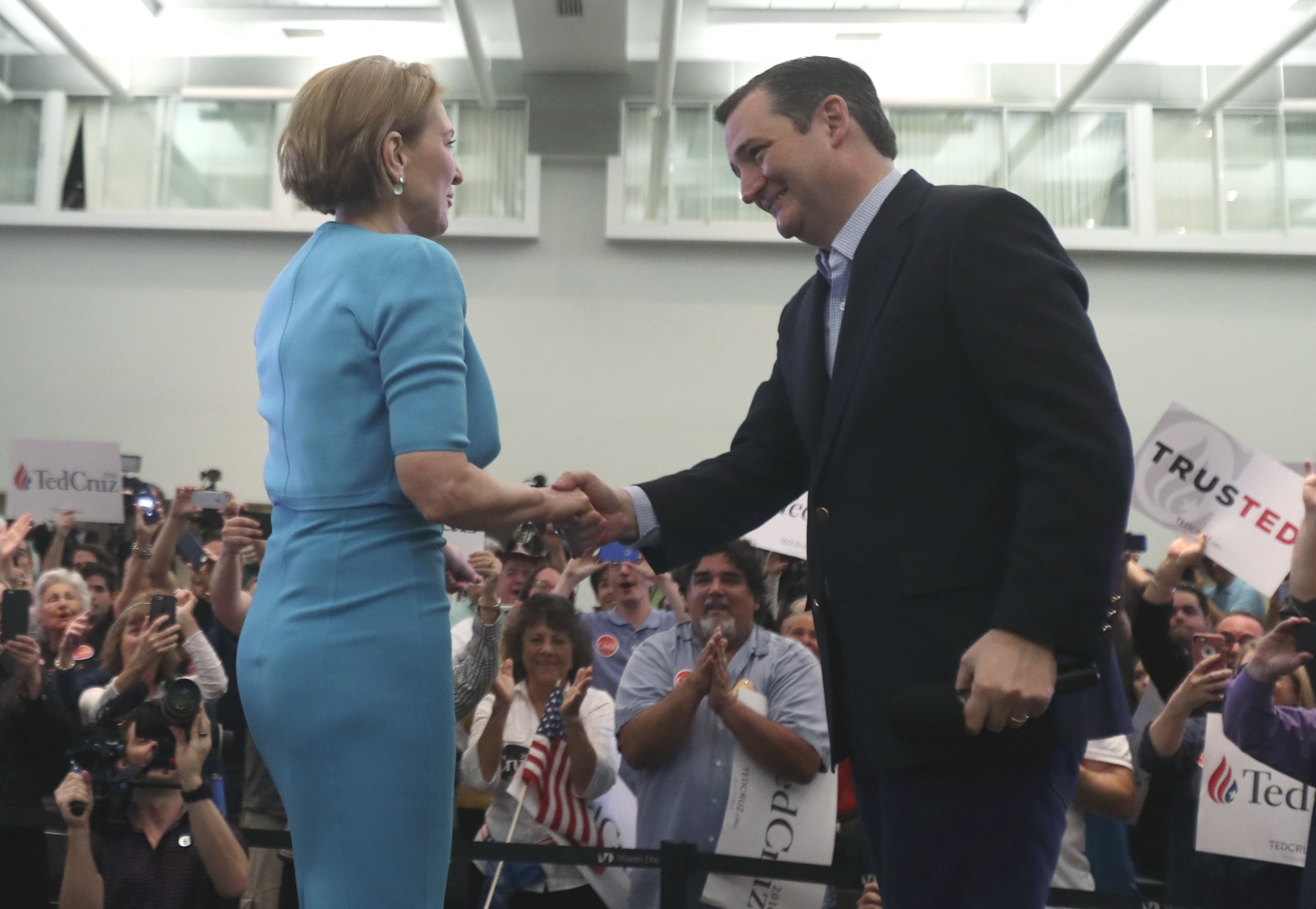 Carly Fiorina, a former Republican presidential candidate who dropped out of the race last month, on Wednesday endorsed Ted Cruz to be the next commander-in-chief of the United States.
"We're going to have to beat Donald Trump at the ballot box. And the only guy who can beat Donald Trump is Ted Cruz," she said during a surprise appearance at his campaign rally in Miami. "It's time to unite behind Ted Cruz."
Fiorina, the former chief executive officer of Hewlett-Packard, praised the Texas senator as a political outsider. She suspended her campaign after she placed seventh out of eight major candidates at the February 9 New Hampshire primary. Former Texas Governor Rick Perry, who also once was in the presidential race, previously endorsed Cruz for the Republican nomination for president.
Cruz's Miami rally took place less than a week before the crucial March 15 primary in Florida. He will meet his three GOP challengers—Trump, Marco Rubio and John Kasich—in the city on Thursday for the party's 12th debate.
"We will beat Donald Trump over and over and over again," Cruz said after he took the stage. After saying he was "humbled" and "privileged" to have Fiorina's support, he touted his eight wins so far this primary season. The previous night, the Texas senator won Idaho, but front-runner Trump took victories in Michigan, Mississippi and Hawaii.
"The only force strong enough to restore this nation is 'We the People,'" Cruz said, seemingly mocking the real estate mogul's motto of "Make America Great Again."
He continued his ridicule: "I don't have any steaks to sell you. I don't have any wine. I don't have any cleaning products. This isn't about us. This is about you. This is about your children. This is about the future of this country."
"The only hand-raising I'm looking forward to is on January 20," he said, referencing the right-handed salute Trump's supporters gave at a rally on March 5 in Orlando, Florida. Some critics have compared the gesture to Hitlergruß used by the Third Reich in Nazi Germany—though Trump has called such a comparison "ridiculous."
Other former GOP contenders who have thrown their support behind presidential hopefuls include New Jersey Governor Chris Christie, former Pennsylvania Senator Rick Santorum and South Carolina Senator Lindsey Graham.