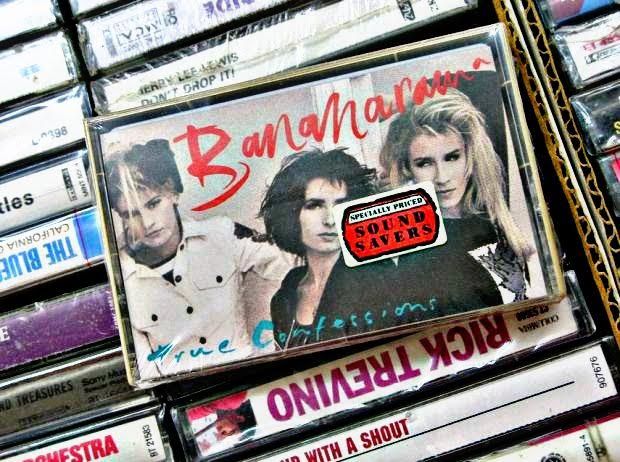 A great '80s song isn't necessarily a song released between 1980 and 1989. It's also a category of sounds ('80s synths, '80s drums, '80s reverb, '80s hooks) and sentiment (longing, infatuation, intoxication). It's a state of mind.
Eighties-inspired music is in right now. Carly Ray Jepsen's E•MO•TION, released last week, plays out like a glossy, retro-pop response to Taylor Swift's similarly inspired 1989—and the "Call Me Maybe" singer navigates the style well. As Billboard notes, even the track titles "appear to be ripped from a lost John Hughes soundtrack."
Pitchfork, probably by coincidence, chose the same week to unveil a countdown of the 200 best songs of the '80s, topped with the usual suspects: Madonna, Michael Jackson, New Order, Prince (though it's not the Purple Rain track you might guess).
So here's a celebration of the 15 best '80s songs that aren't actually from the 1980s. Some honorable mentions that almost made the cut: "D.A.N.C.E." by Justice (a Michael Jackson pastiche that pays tribute to Quincy Jones's arranging genius nearly as much as it does MJ lyrical snippets), "Softkiss" by Lemonade (a stuttering, sublime '80s dance-pop groove) and "Rapper's Delight" by The Sugarhill Gang (because old-school '80s hip hop emerged four months before the 1980s with this 1979 hit). And no, get lost, we didn't include Bowling for Soup's "1985"—these are songs in the spirit of the '80s, not songs about the '80s. Enjoy.
1. THE ARCADE FIRE, "SPRAWL II (MOUNTAINS BEYOND MOUNTAINS)" (2010)
The most obvious reference point for the Arcade Fire's "Sprawl II" actually missed the '80s by a year: Blondie's great 1979 hit "Heart of Glass." (Blondie's Debbie Harry fittingly joined the band for both tracks at Coachella 2014.) But Arcade Fire replaced Blondie's skeletal disco backbeat with a heavier '80s thump, kaleidoscope synths and wistful lyrics about, you know, getting out while we're young. On The Suburbs, it's a revelatory and thematically appropriate closer. Live, it's even better, with entire stadiums dancing and the "I need the darkness / Someone please cut the lights!" cue often taken literally.
Sell it in one tweet:
2. BEASTIE BOYS, "INTERGALACTIC" (1998)
In 1998, fresh off the Tibetan Freedom Concert and the Buddhist-inspired Ill Communication, the Beastie Boys decided to be goofy again. Or maybe it wasn't a conscious decision; it's fun to think of "Intergalactic" as having arrived fully formed, like Ad-Rock woke up one morning and this pitch-shifting space odyssey was there waiting for him. The track recaptures all the fun and three-MCs-and-one-DJ feel of 1986's Licensed to Ill (especially "Brass Monkey") with none of the homophobia or sophomoric entitlement. It's here that the trio began finishing each other's lines again, just like on "Fight for Your Right." Plus, it's got that robot-voice breakdown—"ANOTHER DIMENSION! ANOTHER DIMENSION! ANOTHER DIMMMmmmmm"—along with very '80s-sounding record scratches and drum programming.
Sell it in one tweet:
3. BECK, "DEBRA" (1999)
Beck went full Prince on 1999's absurdly campy Midnite Vultures and, having apparently gotten it out of his system, never made another album even remotely like it. This track features extended falsetto squeals, porn-soundtrack wah-wah guitar and one of the best seduction refrains ever: "I wanna get with you / Ooooohhhh! / And your sister / I think her name's Debra." What more is there to say about it? (You could argue this style of slow jam is more '70s than '80s, but remember that Marvin Gaye's "Sexual Healing," Prince's "Do Me, Baby" and Rick James's "Super Freak" didn't appear until the very early '80s.)
Sell it in one tweet:
4. BELL BIV DEVOE, "POISON" (1990)
This is cheating, right? This is surely cheating: "Poison" was released in early 1990 and almost certainly recorded during the waning months of the '80s. But its release date qualifies it (barely) for this list, and the classic party cut still feels like a relic from an earlier and slightly more innocent era, when new jack swing—and not gangsta rap—seemed primed to take over the still-nascent hip-hop genre. The stuttering call-and-response beat is practically a hook unto itself, a machine gun that pops funk instead of bullets, and if you don't recognize it within half a second of that intro, you'll be held in contempt for the rest of the party.
Sell it in one tweet:
5. BRIAN ENO AND JOHN CALE, "LAY MY LOVE" (1990)
Neither Brian Eno nor John Cale is known for making bright, gorgeous synth-pop, so it's curious that this is what emerged from their 1990 collaboration album, Wrong Way Up. "Lay My Love," the opening cut, is what Leonard Cohen's "First We Take Manhattan" might sound like if it were airy and light instead of ominous and forbidding. It's a fabulous track that wrings a sugary pop hook from Eno's generous vocal harmonies and Cale's viola. (See also: "One Word" and "Spinning Away" from the same LP.)
Sell it in one tweet:
6. BON IVER, "BETH/REST" (2011)
Let's be honest: Bon Iver's much-acclaimed sophomore release was a weepy, overproduced snore. But it contains one song that is so overstated and ridiculous in its schmaltz that it transcends its way to a higher plane. "Beth/Rest," the closing track, is irresistible. It sounds like the pale, distant echo of an Air Supply B-side that was too new age-y to make it onto a record. It apes the intro from REO Speedwagon's "Can't Fight This Feeling," then spends five minutes floating along a soupy mix of soft-rock guitar solos and pedal steel whines. It is glorious. When the aliens come to Earth and discover Bon Iver, let them find "Beth/Rest."
Sell it in one tweet:
7. CARLY RAE JEPSEN, "LET'S GET LOST" (2015)
Q: Should we be mad that Carly Rae Jepsen nabbed an Elliott Smith title for E•MO•TION's inevitable sleeper hit? A: No, because the Jepsen song is better. "Let's Get Lost" has a chorus that's pure serotonin rush, but it stashes its secret weapon for a whole two and a half minutes: that goddamn smooth saxophone breakdown at the end. The '80s pop influence crops up in bits and pieces on E•MO•TION—a slap-bass effect on "Boy Problems," a club-ready boom-clap beat on "Your Type"—but nothing matches the "Let's Get Lost" outro. Whoever gave Jepsen a state-issued license to put a David Sanborn-style sax breakdown on her record, good thinking.
Sell it in one tweet:
8. THE COOL KIDS, "88" (2008)
Before Taylor Swift captured the pop of 1989 with an album called 1989, a Midwest hip-hop duo called Cool Kids (Sir Michael Rocks and Chuck Inglish) paid respects to the old-school hip-hop of 1988 with a track called "88." (Swift was born in '89; Mikey Rocks was born in '88.) It's a convincing paean to minimalist beats, emcee braggadocio and period fashion: "I'm on my '88 shit / Cuban link chains and Cazal frame lense / Guess Jeans, stone-washed / Rocking top 10 kicks."
Sell it in one tweet:
9. THE DARKNESS, "I BELIEVE IN A THING CALLED LOVE" (2003)
Oh, did we say "great" songs? Right: Forget that. "I Believe in a Thing Called Love" is so campy, it's outrageous. Keep it away from infants and the elderly. But the song is such a dead ringer for a mid-'80s hair metal anthem that it belongs on this list on gumption alone. With its falsetto wails and jumpsuit-clad video, the song is a gift from the karaoke gods. The band has described the writing of the song thusly: "We had some booze, smoked some 'Joe' and tried to write the most '80s song we could." Scroll Twitter today, 12 years later, and you'll still find listeners shocked to learn that the song is from 2003 and not 1985.
Sell it in one tweet:
10, DESTROYER, "SONG FOR AMERICA" (2011)
Truth be told, pretty much any track from Destroyer's excellent 2011 effort Kaputt might qualify. But it's a callback to a slightly different era, compared with much of this list. Destroyer's Dan Bejar seems enamored not with the synth pop of the mid- to late '80s but with the velvety smooth pop that came right before it. Think Toto or Roxy Music circa 1982, when "quiet storm" ruled the radio formats and thumping disco bass lines seemed to blow with the wind. But what really stands out about "Song for America" is its smooth call-and-response sax line—it's filthy! You can practically taste the cocaine and feel the handlebar mustaches. The horns grow more feral and the lyrics turn dark, but Bejar—God bless him—never breaks character.
Sell it in one tweet:
11. DJ JAZZY JEFF & THE FRESH PRINCE, "SUMMERTIME" (1991)
Did no one tell Will Smith that the 1980s had ended? That earnest rhymes about "riding around in your jeep or your Benzos" were out and grunge was on its way in? That he was supposed to be spending the decade making blockbuster movies about aliens (Independence Day) and, um, more aliens (Men in Black)? Not that I'm complaining. Almost too chill for its own good, "Summertime" is a summer-barbecue-flavored last gasp of Smith's fading '80s rap stardom.
Sell it in one tweet:
12. M83, "MIDNIGHT CITY" (2011)
By 2011, M83 had been nailing the big, bursting, dreamy synth-pop category for a while, especially with tracks like "Kim & Jessie" and "Skin of the Night" (both from 2008's Saturdays = Youth). So why was "Midnight City" the one that broke through? Why is "Midnight City" the template track for overdramatic movie trailers and teen make-outs? The answer is obvious: It's the synth hook. It's just four simple notes on loop throughout the chorus, but the Pavlovian bliss they inspire can't be overstated. Like many of the tracks on this list, "Midnight City" captures the thick, overprocessed glory of Depeche Mode/Tears for Fears-era synth-pop. It's a textbook example of how sonic textures that are unmistakably fake can conjure emotions that are very real.
Sell it in one tweet:
13. CHAIRLIFT, "I BELONG IN YOUR ARMS" (2012)
Nostalgia often seems to travel in 20-year waves, and so the late 2000s/early 2010s marked a high point for indie bands incorporating a glossy, retro synth-pop sheen. Chairlift's "I Belong in Your Arms" came at the end of the cycle and topped much of what came before it. Caroline Polachek's vocal hooks are sweet and soaring, matched with a fluttering keyboard blare and danceable beats. See also: "Kids" by MGMT and "Real Life" by Tanlines.
Sell it in one tweet:
14. TAYLOR SWIFT, "OUT OF THE WOODS" (2014)
It's hard to remember now, but there was a brief moment, after "Shake It Off" blew up but before "Bad Blood" became the embittered karaoke anthem du jour and "Blank Space" set a new bar for Swift videos, when it seemed like "Out of the Woods" might be one of the biggest songs from 1989. And it deserved it, too! The fast-talking chorus is huge, the chord changes appropriately monumental, the lyrics packed with instant Swifticisms like "You took a Polaroid of us, then discovered / The rest of the world was black and white / But we were in screaming color." Most of all, "Out of the Woods," with its booming '80s drum cues and those heavily overlaid choral vocals at the end, best encapsulates 1989's titular mission; it's awash in late-'80s pop nostalgia without quite sinking into cliché. (See also: "I Wish You Would," which comes a few tracks later and literally nabs the air-hockey snare effect from "She Drives Me Crazy.")
Sell it in one tweet:
15. YEASAYER, "AMBLING ALP" (2010)
Yeasayer followed up a 2007 breakthrough with the clamorous, heavy psychedelia of Odd Blood. Most of the album stretches to the future more than it recalls the past, but "Ambling Alp" is the exception: It's all thick, booming drums and interlocking synth lines from 1986. A neatly placed falsetto and fist-pumping refrain—"You must stick up for yourself, son / Never mind what anybody else does"—made the song a hit on the summer 2010 festival circuit...but it could've been even bigger 25 years earlier.
Sell it in one tweet: