Carnival Cancels Cruises, 'May Have No Choice' But to Pull Out of U.S.
Carnival Cruise Line, a subsidiary of British-American operator Carnival Corporation, has canceled sailings from the U.S. through June because of the COVID-19 pandemic.
The company's president said the line "may have no choice" but to pull out of voyages from the United States altogether because cruises remain suspended in U.S. waters under an order from the Centers for Disease Control and Prevention.
Christine Duffy, president of Carnival Cruise Line, said in a statement on Tuesday: "While we have not made plans to move Carnival Cruise Line ships outside of our U.S. homeports, we may have no choice but to do so in order to resume our operations which have been on 'pause' for over a year."
The company's announcement—which followed an earlier decision to extend the pause to the end of May—came on the same day that Disney Cruise Line also canceled sailings from the U.S. through June.
Carnival operates from 20 U.S. ports along the east and west coasts as well as the Gulf of Mexico, Puerto Rico and Hawaii. Passengers affected by the cancellations can claim future cruise credit plus an onboard credit package, or opt for a full refund.
Final payment deadlines for July sailings have been extended to May 31. Passengers can also cancel without penalty, said Carnival.
"We know that this is very disappointing to our guests who continue to be eager to sail, and we remain committed to working with the administration and the CDC to find a workable solution that best serves the interest of public health," Duffy said.
The CDC said on Tuesday that it was working with the industry to allow cruises to resume by following the phased approach in its latest order.
The agency said in a statement: "This goal aligns with the desire for resumption of passenger operations in the United States expressed by many major cruise ship operators and travelers, hopefully by mid-summer."
This does not mean cruises will definitely restart in the summer. A CDC spokesperson, Caitlin Shockey, told USA Today it was "dependent on cruise lines working through the phases of the CSO [conditional sailing order]."
On Monday, the Cruise Lines International Association, which represents cruise travel agents and agencies, renewed its call for the CDC order to be lifted.
The association urged "the [Biden] administration to consider the ample evidence that supports lifting the CSO this month to allow for the planning of a controlled return to service this summer," in a statement.
The industry came to a halt last year when the CDC issued a "no sail order" for cruise ships on March 14, 2020. The agency said at the time it had "reason to believe that cruise ship travel may continue to introduce, transmit, or spread COVID-19."
On October 30 last year, the CDC issued its "framework for conditional sailing order," outlining its phased approach for resuming cruises.
Passenger operations remain suspended during the initial phases of the order, which could be in place until November 1 this year.
On April 2, the CDC unveiled a new phase, providing technical guidelines for cruise ship operators in U.S. waters and local health authorities.
Outside U.S. waters, the CDC recommends that "all people avoid travel on cruise ships, including river cruises." It said: "That's because the chance of getting COVID-19 on cruise ships is high since the virus appears to spread more easily between people in close quarters aboard ships."
The Cruise Lines International Association has described the latest CDC guidelines as "unduly burdensome" and "largely unworkable," adding that they "seem to reflect a zero-risk objective rather than the mitigation approach to COVID that is the basis for every other US sector of our society."
The association claimed that nearly half a million workers and tens of thousands of businesses in the U.S. were "continuing to financially suffer."
It added: "More sailings originating in the Caribbean and elsewhere are likely to be announced, effectively shutting American ports, closing thousands of American small businesses, and pushing an entire industry off-shore."
Three of the country's major cruise ports are in Florida: the Port of Miami, Port Everglades in Fort Lauderdale and Port Canaveral in Brevard County.
In late March, Florida Gov. Ron DeSantis also called on the CDC to rescind its order during a roundtable discussion with industry executives.
He recommended that Florida's seaports receive $258.2 million from the state's share of the president's COVID-19 relief bill to account for their losses.
He said at the time: "The cruise industry is essential to our state's economy and keeping it shut down until November would be devastating to the men and women who rely on the cruise lines to provide for themselves and their families."
Newsweek has contacted the office of DeSantis, the Port of Miami, the Canaveral Port Authority, Port Everglades and the Florida Department of Transportation for comment.
In late March, two Carnival-owned lines announced COVID-19 vaccination requirements for some of their British cruises. Princess and P&O are limiting some sailings to U.K. residents who have received a COVID-19 vaccine.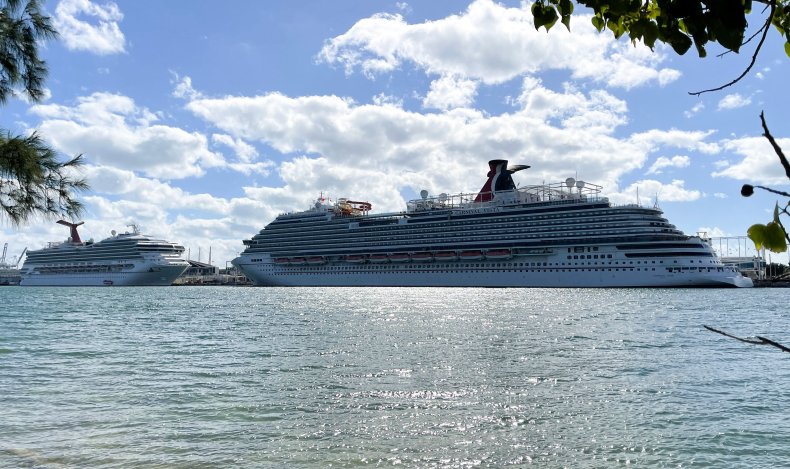 The wider picture
Coronavirus has infected more than 133.2 million people, including over 30.9 million in the U.S., since it was first reported in Wuhan, China.
More than 2.8 million people have died worldwide and more than 75.7 million have recovered as of Thursday, according to Johns Hopkins.
The graphic below, produced by Statista, shows the total number of COVID-19 vaccine doses distributed and administered in the U.S.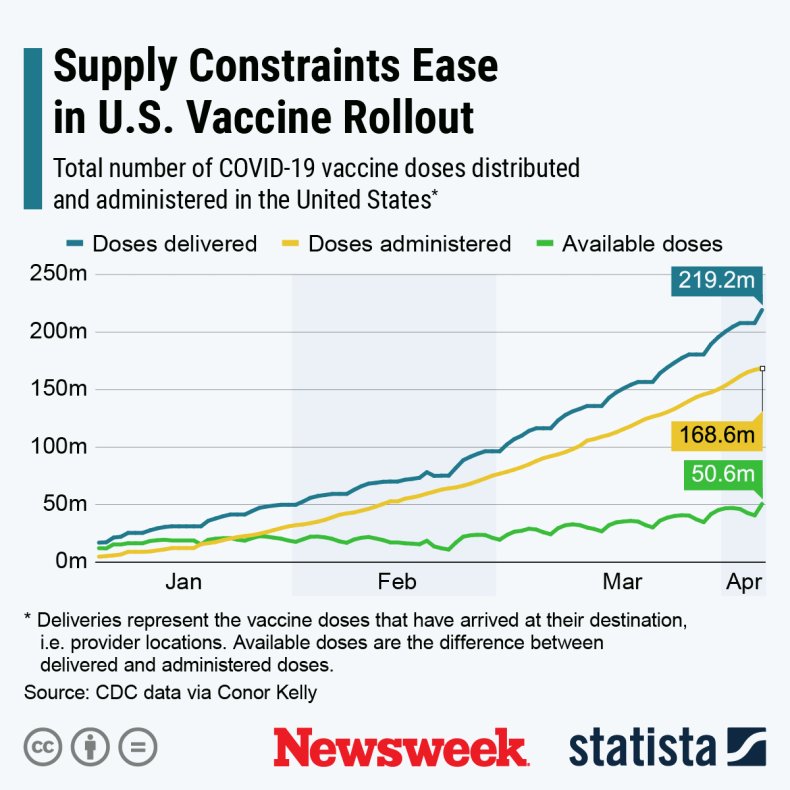 Newsweek, in partnership with NewsGuard, is dedicated to providing accurate and verifiable vaccine and health information. With NewsGuard's HealthGuard browser extension, users can verify if a website is a trustworthy source of health information. Visit the Newsweek VaxFacts website to learn more and to download the HealthGuard browser extension.