'Castlevania': Why Is the Show Ending After 4 Seasons and Will There Be a Spinoff?
Castlevania's fourth and final season has now arrived on Netflix, bringing the epic vampire anime saga to an end. Though these final 10 episodes are expected to close the stories of characters like Trevor Belmont (Richard Armitage) and Alucard (James Callis), the creators of the show have been hinting that the world of Castlevania will continue in some form.
Why is Castlevania ending?
Two factors are at play when it comes to Castlevania coming to an end: Netflix's cancelation policies and the controversy around the series' creator Warren Ellis.
Netflix generally cancels all but its biggest shows after three or four seasons, or about 30 episodes. Castlevania's fourth season brings the episode total to 32.
There are a number of reasons (as previously explored by Newsweek) why all but the biggest shows like Stranger Things and The Crown end around the 30-episode point. For the most part, this is because Netflix is a business dependent on getting new people to subscribe to the service. And past a certain point, a show does not tend to bring in new viewers—if one has not watched a show like Castlevania in the four years it has been on Netflix already, it is thought, then one is unlikely to start doing so after four seasons.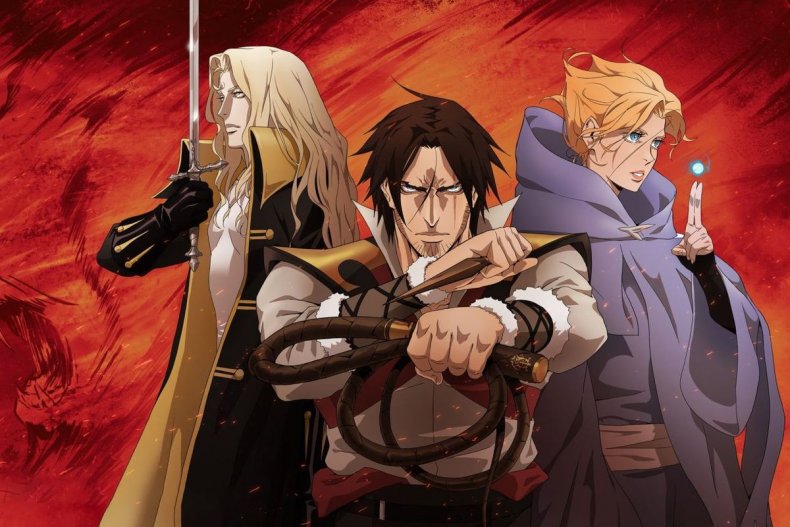 The cancelation of Castlevania was announced in April 2021, nine months after several women accused Warren Ellis of sexual misconduct.
In a now deleted statement on his Twitter feed, Ellis denied he had "ever consciously coerced, manipulated or abused anyone, nor have I assaulted anybody," and added: "I have always tried to support women in their lives and careers, but I have hurt many people that I had no intention of hurting. I apologise."
Will there be a Castlevania spinoff?
There have been various hints that Netflix may be working on a new show set in the world of Castlevania, but without the involvement of Ellis.
Though the writer reportedly finished work on Castlevania Season 4 before stepping away from the project, The Hollywood Reporter reported in July 2020 that he would not be involved in any future projects related to the show.
In April 2021, when it was announced that Season 4 would be the final one, it was reported by Deadline that Netflix was interested in a spinoff. Though set in the world of the video game adaptation, this would be a show with an entirely new set of characters.
This seems to have been confirmed by Netflix when the streaming service tweeted the Deadline article from the account formerly known as NX on Netflix, Netflix Geeked.
The news was also confirmed by producer Kevin Kolde, who told Monsters and Critics: "In the future, we're definitely looking at continuing the Castlevania universe." He added that he was unwilling to offer specifics at this point, and Netflix has made no official announcements.
Castlevania Seasons 1 to 4 are streaming now on Netflix.