Cat Doing the Moonwalk to 'Smooth Criminal' Has Internet in Hysterics
He may be remembered as one of the greatest dancers of all time, but Michael Jackson has nothing on this cat.
A Scottish fold "dancing" to the 1980s hit "Smooth Criminal" is taking over the internet, with Instagram users dubbing the clip "a masterpiece."
Released in 1988, "Smooth Criminal" was the seventh release from Jackson's album Bad. The track only reached No. 7 on the Billboard Hot 100 in the U.S., but it topped the charts in Belgium, Iceland, Spain and The Netherlands. Newsweek ranked the tracks for Bad's 30th anniversary in 2017 and also placed "Smooth Criminal" at No. 1.
Despite the catchy tune, the track deals with some dark subject matter. The lyrics describe an attack on a woman in her apartment by a "smooth criminal" and unsuccessful attempts to resuscitate her.
It is probably best known for the line "Annie are you ok?" Annie refers to the doll Resusci Annie, which is used in CPR training and was modeled on the death mask of an unidentified drowning victim in 1800s London.
"Smooth Criminal" had a nine-minute long music video that premiered on MTV. It was the video that introduced Jackson's iconic dance move the "45-degree lean," with the help of Superman (1979) special effects artist Colin Chilvers.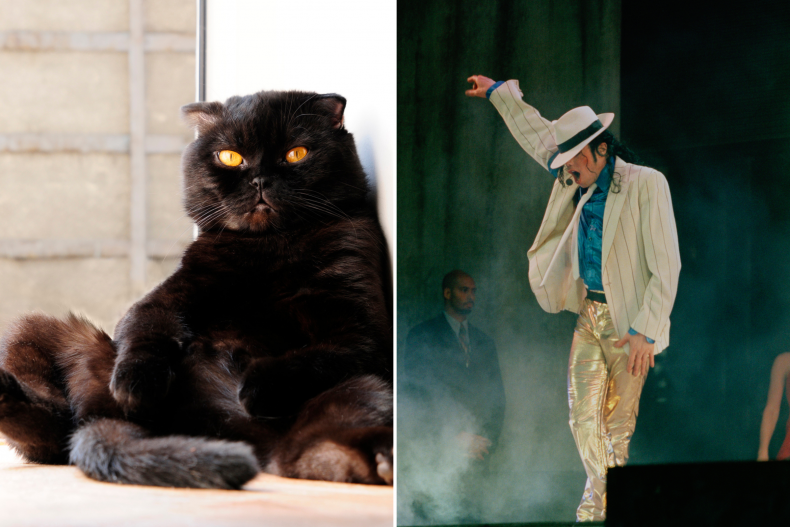 A star in his own right on social media, Seamus the Scottish fold (@seamus_the_scotish_fold) has 158,000 followers on Instagram alone. For the clip posted to Instagram on August 15, his owner has stitched together various videos of Seamus to create the perfectly timed music video.
Seamus has been living with his owner Mike in Fort Lauderdale, Florida since a call from a local vet encouraged Mike to adopt the then an 8-month-old rescue from Kuwait.
"The rescue group had brought Seamus to a local veterinarian who we happened to know," Mike told Newsweek.
"She called us and suggested we come see him. We had just lost our dog Buster about a month or so prior.
"We were not in the market for another pet but we went anyways just to see what was so special about him. My wife was more open to expanding our furry family than I was.
"I have to admit, once I saw those big yellow eyes and that adorable face I was all in. We had him home the next day."
The social media response to Seamus has been incredibly positive, with Mike getting messages every day from cat lovers thanking him for the content.
"Many people have said how just watching Seamus has helped them get through a rough day or difficult periods in their lives," he said.
"I had no idea how much he would connect and how much he would mean to so many people."
In the first scene of his Micheal Jackson-inspired dance routine, Seamus can be seen bobbing his head in a kitchen chair, before the video jumps to him "head-banging" by the back door of the family's home.
Other clips include Seamus moonwalking, jumping around to the beat, and fighting with his brother Opie in time with the lyrics "you've been struck by a smooth criminal."
"This is a masterpiece," said malakaiblxck.
"The moves are uncanny," wrote austinkramer.
"So smoooooooth, Seamus!! You da man!!" commented adventureswithfriday.
While lexisbrumback called the video "the best thing I've ever seen."
This isn't the first time Seamus's moves have won the internet's heart. TikTok users recently dubbed a video of him meowing in sync with Freddy Mercury as "glorious," while a clip of him attacking bubble wrap to Guns N' Roses' "Welcome to the Jungle" was described as "too good."
Update 09/29/22 03.18 a.m. ET: This article has been updated to include a quote from Seamus' owner.
Do you have funny and adorable videos or pictures of your pet you want to share? Send them to life@newsweek.com with some details about your best friend and they could appear in our Pet of the Week lineup.