Woman Shares Her Feline's 'Cattitude' As he Appears To Answer Her Back
Many cat owners know the struggle of being woken up in the night by their restless pet. While the cat can find a nice spot to sleep all day, owners are left stifling yawns and drinking endless amounts of coffee the next morning.
Michigan-based Denise is kept very busy by her two cats, Kona and Kai, but sometimes an energy-filled day isn't enough to prevent one of them from getting a case of the zoomies at night.
On February 10, Denise shared a video to the @konaandkai67 TikTok account, which the exhausted owner took the morning after being kept awake throughout the night by Kona. Denise can be heard asking Kona if he was playing at 2am as the cat kept her "up all night". The hilarious cat persistently whines back to his owner, not showing much remorse for his actions.
Denise told Newsweek: "I have two cats named Kona and Kai. They're from the same litter and I rescued them both from a local shelter.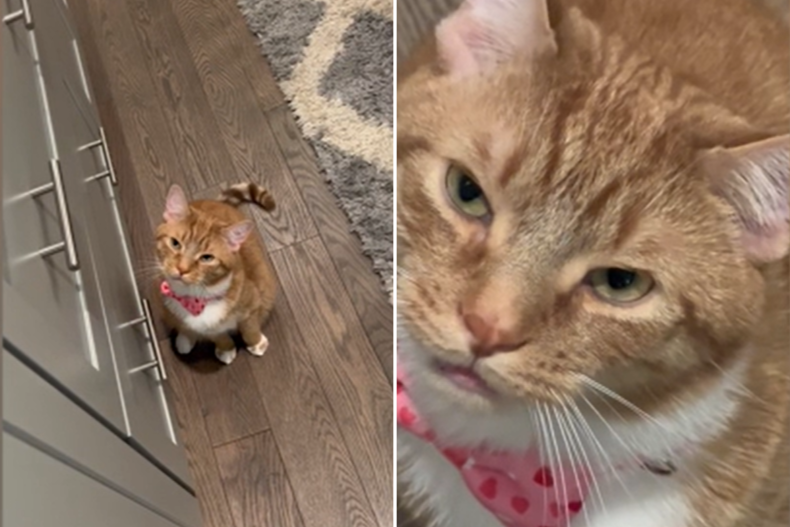 "As far as how long I was kept awake, it was on and off throughout the night. When it first started, he had the zoomies for around an hour. They have these episodes fairly regularly, but normally I'm not kept up all night. I actually enjoy hearing them race through the house usually."
The website Fetch by WebMD highlights a cat's "natural instinct to hunt" at night, as they would in the wild. Despite this instinctive behavior, there are ways for cat owners to stop their pets from continuing the frustrating cycle.
Fetch suggests keeping the cat awake throughout the day with play, tiring them out enough for a restful night. Feeding the cat more throughout the day can also keep them up and help them sleep better at night too. An important suggestion is not to reward their nocturnal antics with attention, as this will encourage them to carry on doing it.
Since posting the video on the cats' TikTok account, it has already amassed 4 million views and 620,000 likes. The video, which was titled "cattitude", has struck a chord with many fellow cat owners who have experienced their own sleepless nights at the hands of their nocturnal cat.
The video, which was captioned with "you gonna keep me up again", shows Kona wearing his bow tie, barely able to keep his eyes open after a hectic night. Fortunately for him he can sleep it off during the day, until the next night comes and more playtime beckons.
Speaking about the reaction the video has received, Denise said: "It's my second highest viewed video on TikTok. We just celebrated 500,000 followers and I attribute hitting that milestone to this video blowing up so much.
"Honestly, I was surprised at the reaction to this video, I didn't expect it to do this well. People seem to love it!"
That is certainly true as among the thousands of comments on the video, with many TikTok users admired Kona's nonchalant response to his owner. One person commented on the video saying: "Not a single regret."
Another person lauded Kona's guilty conscience, writing: "He says, of course I was playing at 2 am, that's what us kitties do."
Do you have funny and adorable videos or pictures of your pet you want to share? Send them to life@newsweek.com with some details about your best friend and they could appear in our Pet of the Week lineup.