Fluffy Cat Reacts to Shower Time With 'Pure Rage' in Hilarious Clip
A feisty cat left internet users howling in laughter after his owner showed off just how much he hates bath time with his angry meows.
In the now-viral TikTok video, uploaded to the platform on February 24 by user Arden Freese (@ArdenMFreess), the fluffy tabby cat named Pancake can be seen and heard constantly meowing loudly in protest at his owner who's holding him above a kitchen sink. The cat appears to be getting washed, something that he's clearly not a fan of as evidenced by his persistently aggressive noises.
While she hovers him over the sink, Freese attempts to soothe Pancake by repeating, "it's okay, buddy" while kissing his head. Making light of the chaotic moment, the TikToker captioned the video: "How's your Friday going?"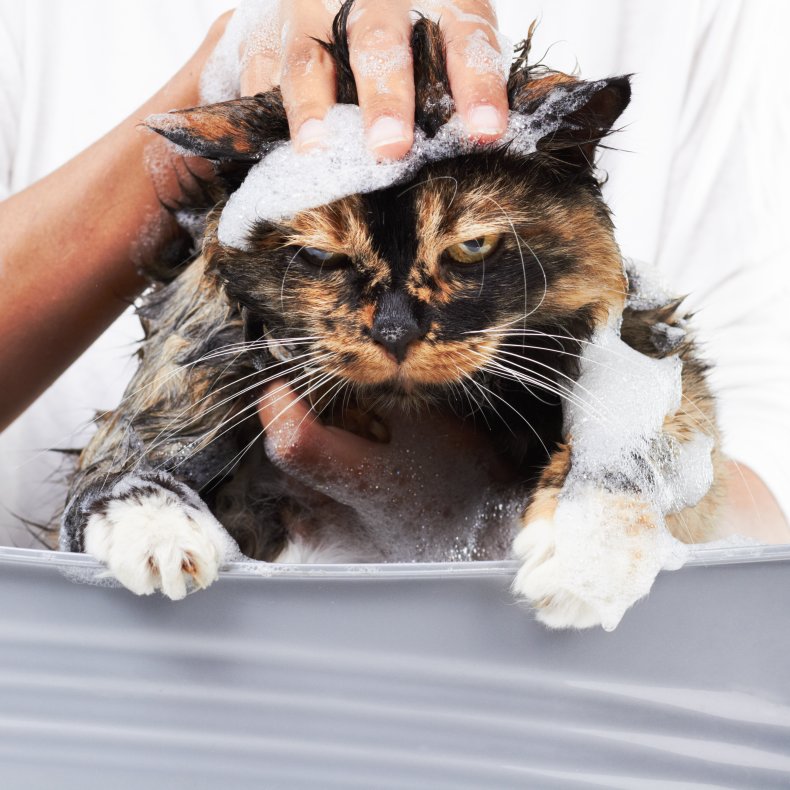 Since it was uploaded to the TikTok, the funny video has been viewed over 10 million times, liked by 1.6 million TikTok users and commented on over 6,700 times. The TikTok account is dedicated to documenting Pancake's funny antics.
What Do the Comments Say?
Most TikTok users amused by the post appear to relate to how much the cat hates being washed.
"That is a meow of pure rage and betrayal," one user wrote. "He's actually being so good. My cat would've scratched himself down the drain," another commented.
Another commenter wrote: "My cat would have murdered me and then somehow not let my spirit pass on and get stuck in purgatory."
How Often Should You Wash Your Cat?
According to the American Veterinary Medical Association, at least 25.4 percent of U.S. households now own a cat.
The pet care company Purina says that cats don't typically require baths, especially not near as often as dogs do, but that in the case of some exceptional circumstances, a wash may be necessary to help rid their fur of anything unpleasant they may have rolled in. Baths are also a good way of keeping your cat's fur smooth and avoiding matting.
"In general, cats should be given a bath once every 4 to 6 weeks, depending on how often they groom themselves, and the environment they're usually in," Purina says on their website. "If your cat is more outdoorsy and soils itself while playing, it's a good idea to help with the grooming process as they alone won't be able to properly get cleaned. The same applies when the cat is either elderly or overweight."
"Hairless breeds, however, require more frequent grooming due to their production of excess oils, so you should consider giving them a bath once per week," it added.
Newsweek reached out to @ArdenMFreess via Instagram for comment.
Do you have funny and adorable videos or pictures of your pet you want to share? Send them to life@newsweek.com with some details about your best friend and they could appear in our Pet of the Week lineup.