Rottweiler and Kitten Who Are Best Friends Enjoy 'Lazy' Morning Cuddles
A rottweiler has taken on a maternal role for a rescue kitten by helping him settle into his new home, and they're even proving to be adorable cuddle buddies every night.
After Bec Daniels rescued Bruno the kitten recently, she thought he might find it hard settling in at first, but with her female rottweiler, Isla, available to lend a helping paw, Bruno has managed to find his feet very quickly.
The American Kennel Club describes rottweilers as "a gentle playmate and protector," because they love nothing more than protecting family or other animals. However, the "world-class guardians" also have a playful side.
Daniels, who lives in Western Australia, shared the viral video on her TikTok account (@beckkyd). It shows Bruno getting ready to sleep after a busy morning, but rather than finding a nice warm spot in his bed, he won't sleep anywhere other than beside Isla.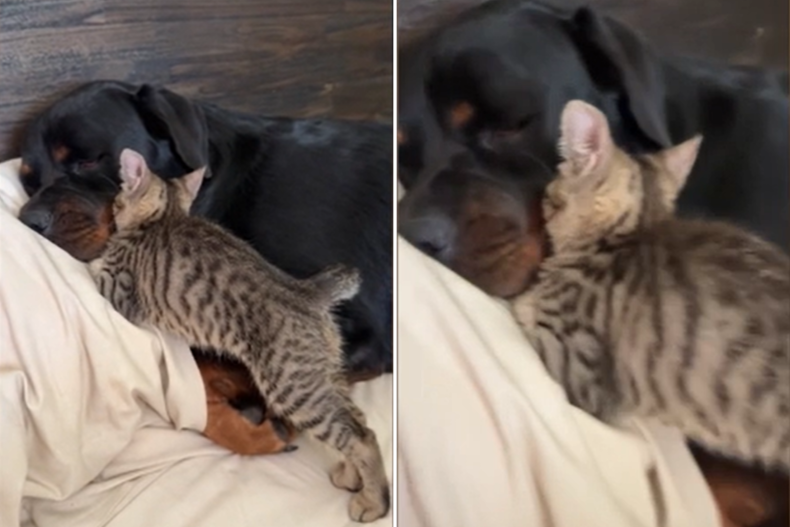 Isla was fast asleep as Bruno gently curled up on top of her, which is something the duo now do regularly according to Daniels. The adorable video showed what a "Lazy Sunday" looks like for the sweet pair.
Bruno and Isla have gone viral since the video was shared on March 5, leaving people mesmerized by the bond between the big dog and the small kitten.
Daniels spoke to Newsweek about how Isla's behavior challenges the aggressive stereotype of rottweilers.
"Bruno is a rescue kitten and he's taken a liking to our 2-year-old Rottweiler, Isla, who has taken on the motherly role.
"They have a very special bond and love to chase each other around the house and play together. Isla isn't aggressive towards him at all, she's super gentle.
"Rottweilers are great dogs, and they aren't always the aggressive breed people think they are."
The pair spend "every single day together" as Daniels adds that the only time they're apart is when Isla goes outside.
"When Isla is asleep, Bruno will curl up and snuggle into her. If Bruno is sleeping in the lounge then Isla will climb up and sit with him, making sure she doesn't sit on him.
"I've been absolutely amazed by their bond. I could sit for hours and watch them together. Lots of people have commented on TikTok about how gentle and cute they are together."
The sweet video has attracted over 1.2 million views, 70,000 likes and more than 900 comments from doting TikTok followers who can't get enough of the rottweiler and kitten duo.
One doting person commented: "That's the sweetest thing I've seen, how cute."
Another comment reads: "This needs a cuteness warning label."
Do you have funny and adorable videos or pictures of your pet you want to share? Send them to life@newsweek.com with some details about your best friend and they could appear in our Pet of the Week lineup.