CDC Mask Guidelines for Outdoor Use as Joe Biden Announces New Rules for Vaccinated People
President Joe Biden is expected to announce new guidance from the U.S. Centers for Disease Control and Prevention in his remarks on the state of the COVID-19 pandemic on Tuesday.
The new rules are expected to include recommendations for the activities fully vaccinated people can resume, including "unmasking outdoors," a federal official told CNN.
The language of the new "interim public health recommendations" is still being finalized and is also expected to include guidelines for health care settings, a federal official told CBS News.
The CDC's current guidelines for wearing masks outdoors states: "Masks may not be necessary when you are outside by yourself away from others, or with people who live in your household.
"A mask is NOT a substitute for social distancing. Masks should still be worn in addition to staying at least six feet apart, especially when indoors around people who don't live in your household," the health body adds.
The CDC currently also advises that masks "should be worn any time you are traveling on a plane, bus, train, or other form of public transportation" traveling to, within or out of the country, as well as in U.S. transportation hubs such as airports and stations.
On Monday, Dr. Anthony Fauci, Biden's chief medical advisor, said: "I can again safely say that really, really soon we're going to be seeing some guidelines that are going to be coming out from the CDC about the wearing of masks and vaccinated versus unvaccinated individuals," at a virtual event hosted by the Harvard Chan School of Public Health.
"The risk of infection outside is really minimum. If you're vaccinated, and you're outside, it's even less," Fauci said.
Last Thursday, CDC director Dr. Rochelle Walensky told NBC's Today show that the health body will be "looking at the outdoor masking question" but bearing in mind that "we still have people who are dying of COVID-19."
Noting the country had recorded 57,000 cases and 733 deaths a day earlier, the director warned last Thursday: "While we are really trying to scale up vaccination, we have the complex message that we still have hotspots in this country."
Total confirmed cases in the U.S. have surpassed 32.1 million, with at least 572,702 total reported deaths, as of Tuesday, according to Johns Hopkins University.
The seven-day average of cases has been declining from mid-January and flattened out from late February. Meanwhile, the seven-day average of deaths decreased from late January, according to data compiled by Worldometer.
More than 95.8 million people (around 29 percent of the U.S. population) have been fully vaccinated, as of Monday, according to the latest report from the CDC.
Statewide mask mandates have been lifted in at least a handful of states amid the ongoing pandemic, while some are considering slowly easing requirements.
Last Wednesday, the office of North Carolina Gov. Roy Cooper said the state is expecting to lift its mask mandate and ease other public health recommendations "once two thirds of adult North Carolinians have received at least one vaccine dose and if trends remain stable."
Also last Wednesday, New York City Mayor Bill de Blasio hinted at a potential easing of mask requirements after June. "Continue to wear their masks and I'll keep saying it, at least through June," the mayor said while speaking about the city's vaccine rollout.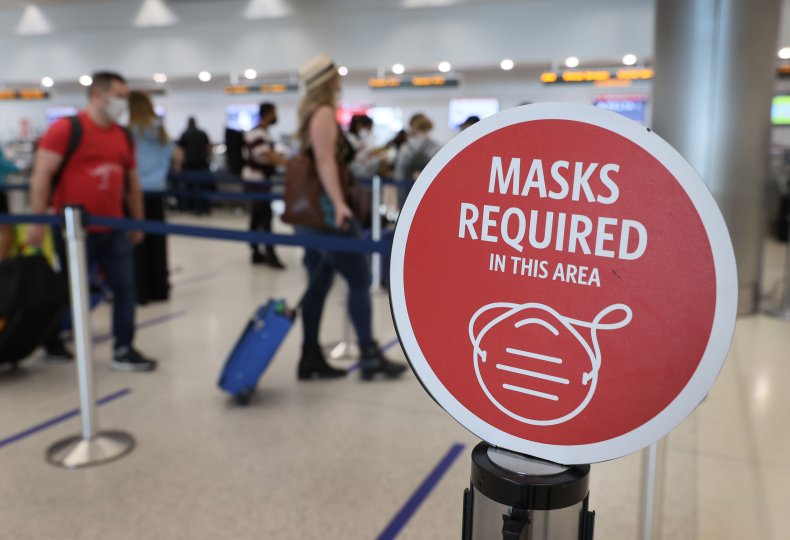 The wider picture
Coronavirus has infected more than 147.9 million people since it was first reported in Wuhan, China. More than 3.1 million people have died worldwide, and more than 85.6 million have recovered as of Tuesday, according to Johns Hopkins.
The graphic below, produced by research provider Statista, shows the spread of COVID-19 cases across the U.S.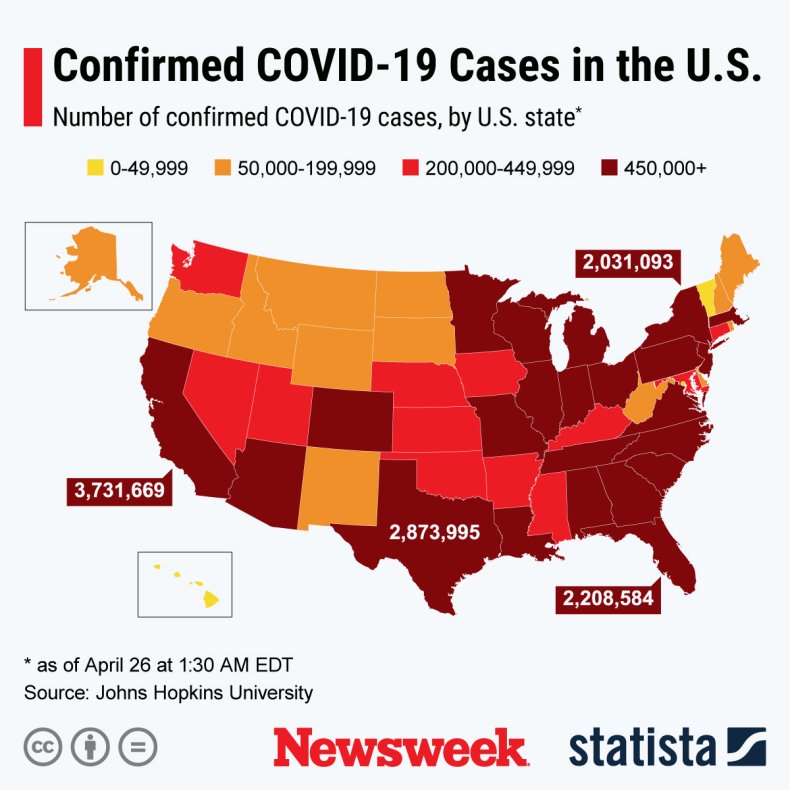 The graphic below, also produced by Statista, shows the total number of COVID-19 vaccine doses administered per 100 people across different countries.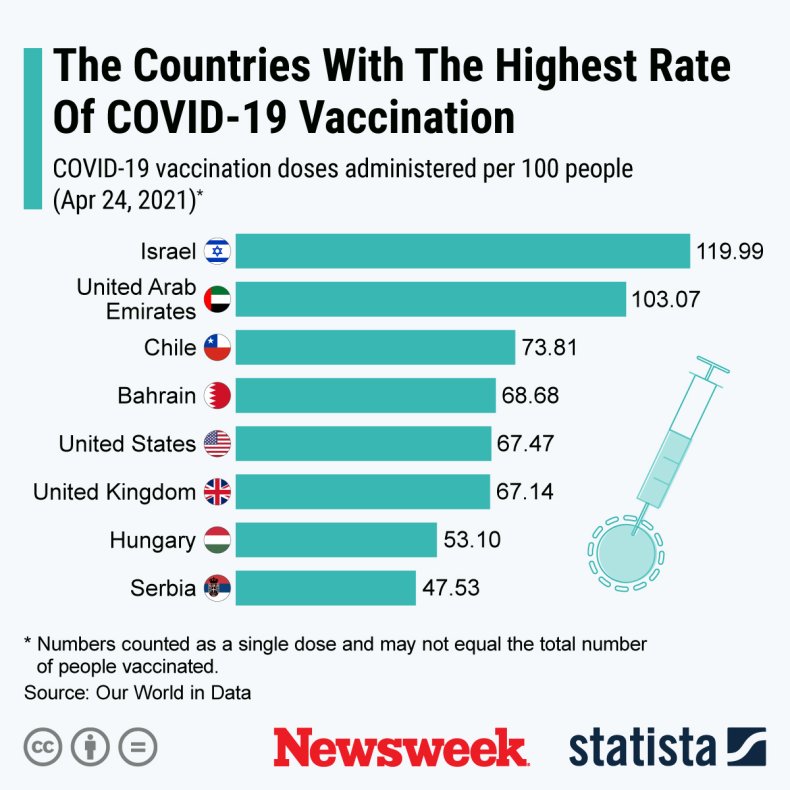 Newsweek, in partnership with NewsGuard, is dedicated to providing accurate and verifiable vaccine and health information. With NewsGuard's HealthGuard browser extension, users can verify if a website is a trustworthy source of health information. Visit the Newsweek VaxFacts website to learn more and to download the HealthGuard browser extension.