Cease-And-Desist For Pro-Johnny Depp YouTuber Targeting Heard PR Team
A prominent YouTuber and dedicated Johnny Depp fan has been sent a cease-and-desist letter after she accused Amber Heard's publicist of being behind a pro-Heard Twitter account.
Laura Bockoven makes regular YouTube videos defending the Pirates of the Caribbean star amid his legal battles against ex-wife Heard.
Last week, law firm Bergeson LLP sent the cease-and-desist letter to Bockoven, saying she falsely claimed that a Twitter account that regularly defends Heard in viral threads belongs to Crisanta White, a publicist at Shane Communications.
Shane Communications was the company hired by Heard to manage her public relations during the defamation trial against Depp. The company still represents the Aquaman actress.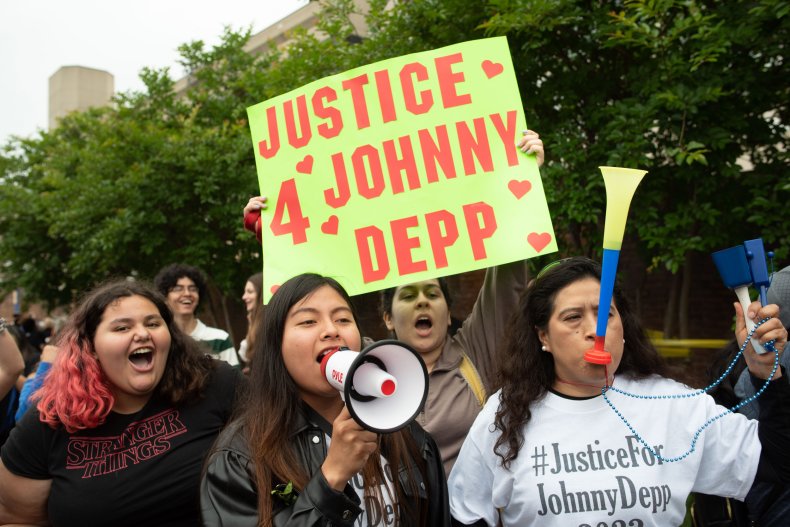 Bockoven had claimed that White was behind the account with the username @k4m1laa who recently went viral following the unsealing of court documents that painted Depp in an unfavorable light.
White has since said Bockoven's claims constitute harassment and that she and her family have been targeted by Depp fans.
"The unfounded online harassment has gotten out of hand with addresses of my loved ones being posted on the internet. So for the record, I am not Kamilla, nor have I ever communicated with this page," White said in a statement published on her website.
She later added: "I have always prided myself on having an outstanding reputation. In turn, I am taking legal action against Laura."
Bockoven boasts more than 72,000 followers on Twitter, and more than 18,000 subscribers on YouTube.
"This you Kamilla?" Bockoven tweeted last week, along with an article announcing that White had been hired by Shane Communications.
Bockoven and her followers went on to compare a drawing of a Black woman on @k4m1laa's profile to a photo of White.
In the cease-and-desist letter, obtained by NBC, Shane Communications wrote: "Ms. White has no relation to 'Kamilla's' Twitter account. Ms. White has never posted to @k4mil1aa and does not know the identity of the real 'Kamilla.'"
The added: "We are hard pressed to understand why you think Ms. White is Kamilla. Is it because both women are African-American? Regardless, your false accusation against Ms. White has resulted in a steady stream of harassment and threats by people who believe your claim and are likeminded with respect to the Johnny Depp v. Amber Heard defamation case."
Bockoven could not be reached for comment.
This latest Depp-Heard related conflict comes a week after more than 6,000 pages of pre-trial documents were unsealed, with legal experts agreeing that they did not present the actor in a favorable light.
Some of the findings in the documents include accusations of photo editing on Depp's part; claims that he suffers from erectile dysfunction that would lead to him becoming violent; and claims that Depp attempted to use Heard's stint as a stripper against her in court.