Every Celebrity Who's Spoken Up About Roe v. Wade Abortion Rights
The Supreme Court's reported move to overturn Roe v. Wade has prompted a host of celebrities to speak out on abortion rights across social media.
As an array of stars attended the Met Gala on Monday night, news broke that the landmark 1973 ruling that legalized abortion across the U.S. may be repealed, garnering support from a number of conservative figureheads.
Citing a leaked first draft majority opinion written by Justice Samuel Alito, Politico reported the George W. Bush appointee as stating: "We hold that Roe and Casey must be overruled. It is time to heed the Constitution and return the issue of abortion to the people's elected representatives."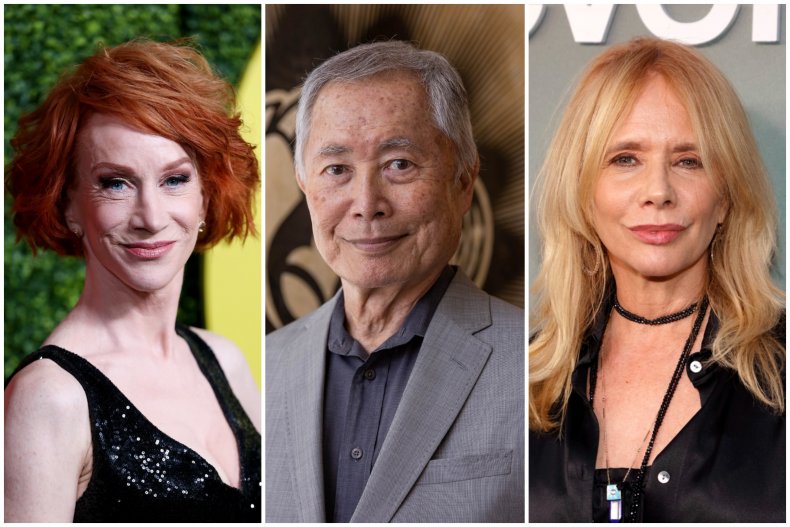 The 98-page document is not the final say, and its release during a pending case, a legal challenge in Mississippi, was a first in the high court's modern history, Politico said. The court's decision is not expected for a few months.
While the potential move has been celebrated by conservatives, it has also been decried by many on the other side of the political aisle, including celebrities, who took to Twitter to make their feelings known after the news broke.
Star Trek actor George Takei tweeted that the "extremist, religious, radical right must be stopped," adding: "Those motherf*****s really did it. First they came for Black voters, then they targeted LGBTQ+ families. Now, women of America, they're overruling Roe v. Wade.
"We have to unite and strike back. Take to the streets. Overwhelm them at the ballot box. They have gone too damn far."
"Those justices lied in their confirmation hearings about Roe being settled law," Takei added. "That is grounds to impeach them, or at least to expand the court to counter the effect of their blatant and intentional deception."
Sharing a photo of Hillary Clinton—who was defeated by Donald Trump in the 2016 presidential election—Kathy Griffin also expressed her opposition to the news.
"Roe v Wade has been overturned," she wrote. "Yes I know. Stay in my lane. Well I'd love to be posting about the met gala but this is the only attendee I care about. President Hillary Clinton never would've let Roe be overturned."
The comedian also responded to a tweet from Clinton, who wrote in reaction to the report: "Not surprising. But still outrageous. This decision is a direct assault on the dignity, rights, & lives of women, not to mention decades of settled law.
"It will kill and subjugate women even as a vast majority of Americans think abortion should be legal. What an utter disgrace."
"We will fight again. 2022," said Griffin in response.
Ever Carradine, who plays Naomi Putnam in The Handmaid's Tale—which tells the story of a sexist dystopian society—reacted by using one of the terms used in the popular show as she wrote: "Under His Eye."
"I'm already on this show. I don't want to live it," Carradine added in another tweet.
"Trust women. Vote," Carradine went on. "Trust women trust women trust women. And vote. And trust women to make decisions about their bodies."
She added: "Quoting my cousin here 'Just because you have a uterus does not mean that the state gains ownership over you when you become pregnant.'"
Author Don Wimslow tweeted: "In light of the days tragic events with SCOTUS and #RoeVsWade please BLOCK every person who told you to calm down, not to be so negative or alarming and that everything was going to be okay. We are so far from F okay we would need a map to get back. Get angry. Stay angry. Vote!"
Actress Rosana Arquette responded by saying that she has already dealt with the social consequences of her convictions, writing: "I've lost many people in my life for standing up to these fascists. And I will continue doing so."
"Get your Boots off our wombs," the Desperately Seeking Susan star wrote in an earlier tweet, later adding: "President Biden must add NON COMPRISED Judges to SCOTUS."
Lynda Carter retweeted comments criticizing the move, and also showed her support to political activist Olivia Julianna, who stated: "As an abortion rights activist here in TX I can tell you nation wide we've been preparing for Roe V Wade to fall. We knew this was coming and we are prepared to fight for bodily autonomy. Do not give up. Please keep fighting with us."
Wonder Woman star Carter responded by saying: "Never give up."
While West Side Story star Rachel Zegler—who is celebrating her 21st birthday on May 3—did not directly comment, she retweeted a statement that read: "overturning Roe v. Wade is a death sentence for actual, living people all over the country. grouping any of this systemic violence under the guise of 'pro-life' is hauntingly ironic."