Censorship and Corruption: What's Going On at South Africa's Public Broadcaster?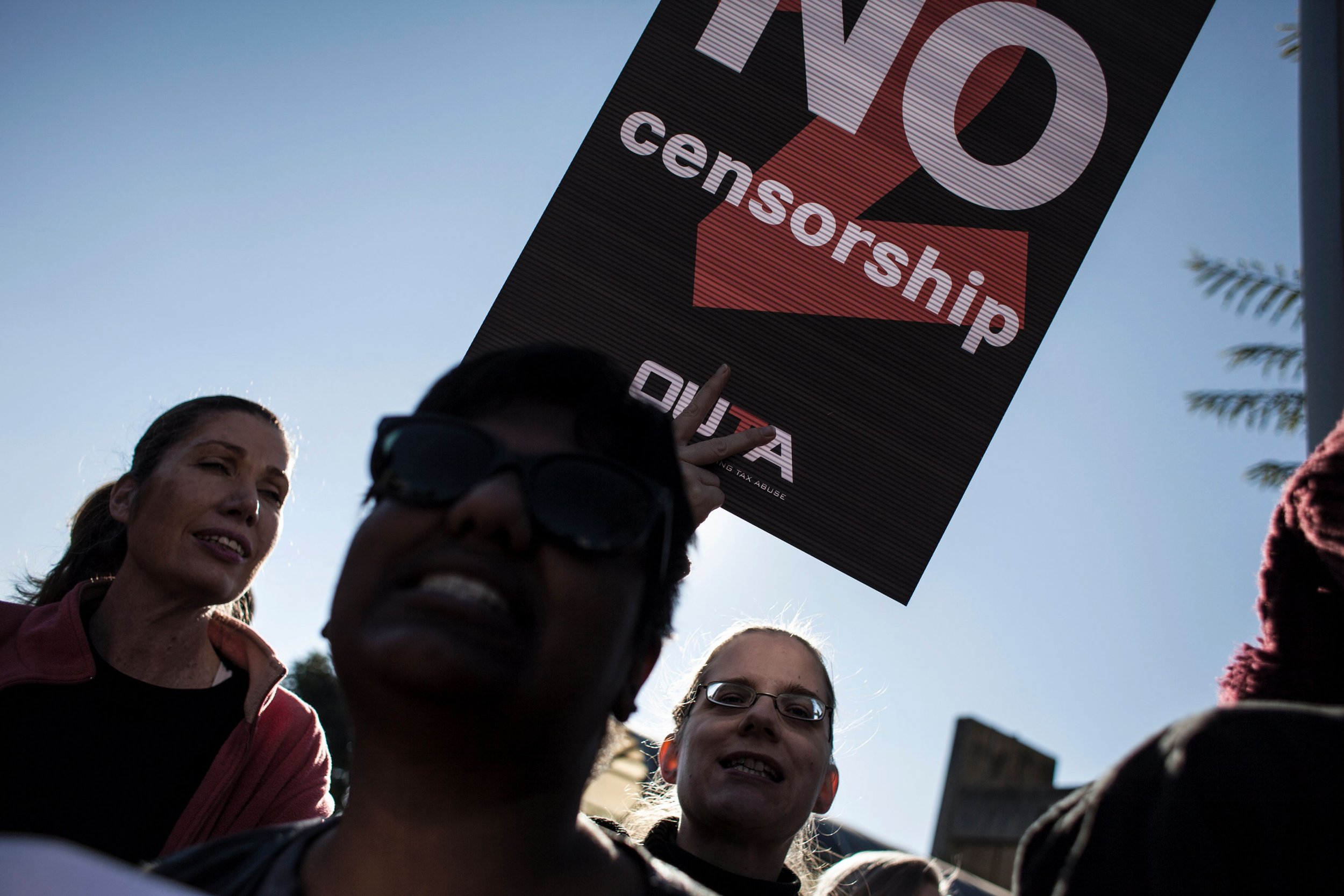 Things aren't going too well for South Africa's public broadcaster.
The country's parliament is holding an enquiry into the South African Broadcasting Corporation (SABC) amid allegations of censorship, government interference and preferential treatment for a chief operating officer who seemingly lied about his qualifications but is in favor with President Jacob Zuma.
Newsweek takes a closer look at the scandal.
Why is the SABC in trouble?
For a variety of reasons, many of which relate to Hlaudi Motsoeneng, who took up the acting role of chief operating officer at the SABC in 2011. Motsoeneng introduced what became known as a "sunshine news" quota at the SABC, which required the majority of news coverage to be positive.
This policy came into sharp relief earlier in 2016, when the SABC refused to cover violent protests across the country. Protesters in South Africa's northern Limpopo province torched more than 20 schools in a dispute over district boundaries in May, while people also took to the streets and clashed with security forces in Pretoria in June ahead of local government elections in August.
In a statement, the SABC said they were not going to "provide publicity to such actions that are destructive and regressive," with Motsoeneng suggesting that broadcasting footage of protesters would encourage copycat acts.
How did people in South Africa react?
Lots of them reacted with indignation. The South African National Editors' Forum said the policy smacked of apartheid, the political system of racial segregation that was abolished in South Africa in 1994, when "the apartheid regime blamed media...for spreading nationwide uprisings" and "a picture of false peace was being manufactured." The acting chief executive of the SABC, Jimi Matthews, resigned in June, saying that the corporation's policies had "compromised the values I hold dear."
A group of journalists spoke out against the censorship policy and were sacked. In July, a labor court ruled that the group—who have become known as the SABC 8—were unlawfully dismissed and should be reinstated.
What has the parliamentary enquiry found so far?
While the enquiry is still in its early stages, there have already been some juicy allegations. One of the SABC 8, Vuyo Mvoko—who was formerly a contributing editor at the corporation—claimed that the network had directed money towards a rival network, ANN7, owned by the Guptas, a family with close links to Zuma. The motive behind this alleged transfer of funds is unclear, but other SABC journalists have claimed that Motsoeneng acted with impunity at the SABC, knowing that his role was protected by the highest echelons of South Africa's government.
Who's in trouble?
Motsoeneng, of course. A South African high court ruled on Monday that he should not occupy any position at the SABC and barred him from entering the corporation's premises. The main opposition party, the Democratic Alliance, filed a case against Motsoeneng in October after he was appointed as the SABC's group executive of corporate affairs. This appointment came despite another court ruling in 2015 that Motsoeneng should never have been appointed as the SABC's chief operating officer in the first place; a 2014 report by South Africa's then public protector, Thuli Madonsela, found that Motsoeneng had lied about his academic qualifications and had received irregular salary increases at the network.
Also under the spotlight is South Africa's communications minister, Faith Muthambi. The parliamentary enquiry grilled her on Wednesday, with MPs asking why she oversaw Motsoeneng's permanent appointment as chief operating officer and accusing her of holding editorial sway over the public network. "I don't have any influence in the SABC's editorial decision," Muthambi said, according to Reuters. But MPs from her own party, the governing African National Congress (ANC), said Thursday that they suspected her of misleading the enquiry, South African news site Times Live reported.
What happens next?
The SABC will resume its enquiry in January and is due to present its findings to parliament on February 28. The findings are likely to be explosive and add to the woes of an embattled ANC government who are already dealing with a fragile economy and a president who can't seem to stay out of the media's glare for very long.