Chair of Congressional Black Caucus Says She Does Not Think Defunding Police Is 'the Appropriate Thing to Do'
Representative Karen Bass, chair of the Congressional Black Caucus, has said that she does not think defunding police is the appropriate way to reform what many see as systemic racism in the U.S. justice system.
"I don't think that's the appropriate thing to do," Bass, a Democrat from California, said during a Tuesday interview with CNN. Bass was discussing legislation put forward by her caucus to reform policing across the country in the wake of the high profile death of George Floyd, a black man, which has spurred massive demonstrations across the country and around the world.
Bass suggested, however, that the legislation "speaks to" some of the concerns put forward by those calling for the defunding of police. She explained that the legislation would give grants to community-based organizations to "come up with innovative solutions to address problems in the community." The congresswoman said there is "an opportunity" to look at existing problems and possibly find "different solutions rather than policing."
Democrats on Monday unveiled a 136-page bill titled the Justice in Policing Act 2020. The legislation, which was led by the Congressional Black Caucus, would make it easier to prosecute police officers for alleged misconduct in civil court, and includes many reforms that activists have long been pushing for. Bass told CBS News on Monday that the legislation had more than 200 co-sponsors in the House and Senate.
While large protests calling for police reform and raising concerns about what many see as systemic racism have taken place in all 50 states, it's unclear whether the Republican-controlled Senate and President Donald Trump will support the legislation.
White House Press Secretary Kayleigh McEnany said on Tuesday during a press briefing that Trump was "looking at a number of proposals, but there are some nonstarters in there," when she was asked about the proposed legislation.
Multiple high-level Trump administration officials have said publicly in recent days that they do not believe there is a problem with systemic racism in policing. The president suggested last week that the best way to address inequality in society was to focus on economic recovery. Newsweek reached out to the White House for additional comment but did not hear back by publication time.
Trump has strongly criticized calls for defunding the police. On Tuesday, he posted a quote to Twitter which said: "Democrats & Activists call to Defund Police Departments. They've gone so far Left that they eat their young." He tagged journalist Miranda Devine, the New York Post and Fox News morning show Fox & Friends in the post.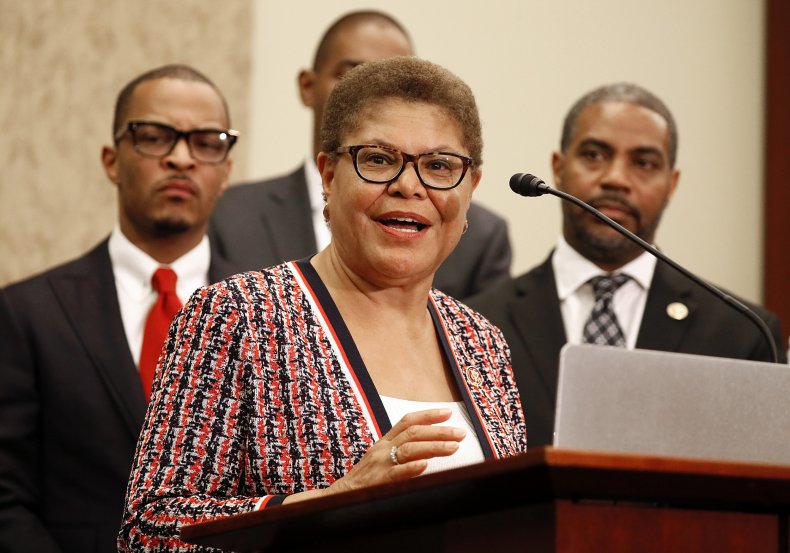 Some members of the Congressional Black Caucus have expressed an openness to calls to defund the police. Democratic Senator Kamala Harris of California noted in a Monday interview that her support for such calls depends on how "defunding the police" is defined.
"We need to reimagine how we are achieving public safety in America," Harris said. The senator suggested that there are instances across the country where resources given to police could be better served if they were redirected to different initiatives.
Representative Ilhan Omar, a Democrat from Minnesota, has backed the plan by the Minneapolis City Council to disband the local police department. "The Minneapolis Police Department has proven themselves beyond reform. It's time to disband them and reimagine public safety in Minneapolis." she tweeted on Friday.
In a Monday tweet, the congresswoman added: "Reimagining the role of police means building a system that prioritizes community investment."
Newsweek reached out to press representatives for Omar to comment on Bass' remarks, but they had not responded by the time of publication.