'Vote, Vote': Chants Break Out During Pittsburgh's Tree of Life Synagogue Memorial Service
The rabbi who led the memorial service for the victims of the Pittsburgh synagogue massacre called for political leaders to "stop the words of hate," as chants of "Vote, vote..." broke out from the crowd.
Rabbi Jeffrey Myers told the crowd gathered Sunday at the University of Pittsburgh's Soldiers and Sailors Memorial Hall to honor the 11 people who were killed in the mass shooting that "words of hate are unwelcome in Pittsburgh. It starts with the people in this room."
"Ladies and gentlemen, it has to start with you as our leaders," Myers said to loud applause, prompting the chants of "Vote, vote..." to break out from some sections, reported CBS Pittsburgh.
Around 2,500 people were gathered inside the auditorium, with around 1,500 more outside, listening to the service from loudspeakers. The chants likely referred to the upcoming midterm elections in November.
"Stop the words of hate," Myers added. "My mother always taught me, if you don't have anything nice to say, say nothing.
"If it comes from you, Americans will listen, but let's not forget one really important thing. Independent of what happens tonight, independent of what any of our elected officials choose to do from here on, it's us. We the people."
Robert Bowers has been charged with 29 federal counts in connection with the shooting, including 11 counts of using a firearm to commit murder and obstructing the exercise of religious beliefs resulting in death. He is alleged to have shouted "All Jews must die!" while carrying out the attack.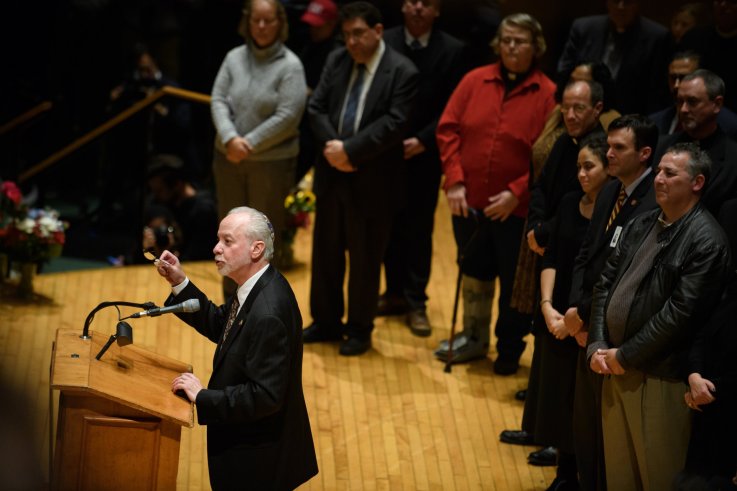 Also during the service, Rabbi Jonathan Perlman, while holding back tears, said the attack "will not break" the city of Pittsburgh nor those who live there.
"It will not ruin us. We will continue to thrive and sing and worship and learn together and continue our historic legacy in the city with the friendliest people that I know," Perlman added, reported Reuters.
Pittsburgh Mayor Bill Peduto also said during the service that Saturday's shooting was "the darkest hour in our city's history."
As well as the 11 dead, aged between 54 and 97, six people were injured in the attack, including four police officers.
In the wake of the shooting, President Donald Trump has blamed the media for sowing "division and hatred" in the country. "It is their Face & Dishonest reporting which is causing problems far greater than they understand!" he wrote on Twitter Sunday.
The Anti-Defamation League (ADL) described the massacre as "the deadliest attack on the Jewish community in the history of the United States."
"It is simply unconscionable for Jews to be targeted during worship on a Sabbath morning, and unthinkable that it would happen in the United States of America in this day and age," ADL CEO Jonathan Greenblatt added in a statement.
"Unfortunately, this violence occurs at time when ADL has reported a historic increase in both anti-Semitic incidents and anti-Semitic online harassment. As we mourn those lost and search for answers, ADL will remain steadfast in its mission to fight anti-Semitism wherever and whenever it may occur."
'Vote, Vote': Chants Break Out During Pittsburgh's Tree of Life Synagogue Memorial Service | U.S.