Charlie Cox Confirmed as the MCU's Daredevil — But Is He In 'Spider-Man: No Way Home?'
After months of speculation, Charlie Cox has finally been confirmed to reprise his role as Daredevil in the MCU, according to Kevin Feige.
The announcement from the Marvel Studios President comes after many had predicted the actor would appear in the upcoming Spider-Man: No Way Home, which will also see the return of classic villains from previous Spider-Man movies.
The trailer for Spider-Man: No Way Home has been scoured for details and Cox even had to confirm to Newsweek that his forearms aren't featured despite social media speculation.
With the next Marvel movie around the corner, fans are anticipating the return of many characters, including Cox as the blind lawyer Matt Murdock, aka Daredevil.
What has Kevin Feige said about Charlie Cox?
While doing press for Spider-Man: No Way Home, Feige confirmed to CinemaBlend that the character of Daredevil would be played by Cox, though he stopped short of confirming when exactly he will return.
The Marvel Studios boss said: "If you were to see Daredevil in upcoming things, Charlie Cox, yes, would be the actor playing Daredevil. Where we see that, how we see that, when we see that, remains to be seen."
Cox played Matt Murdock in the Marvel Netflix show Daredevil for three seasons, and fans have been clamoring for him to officially join the MCU ever since. All three seasons of Daredevil, and the team-up event The Defenders are available to watch on Netflix now.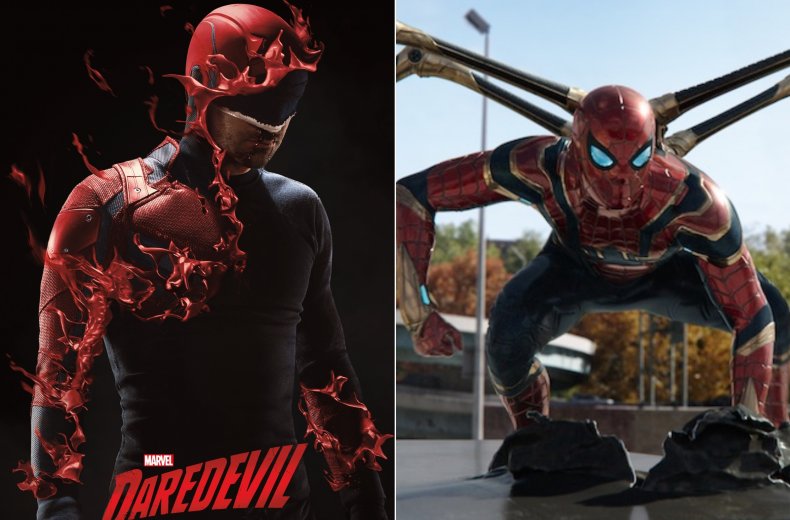 Will Charlie Cox be in Spider-Man: No Way Home?
Despite months of rumors and conjecture, Marvel have yet to confirm whether Cox will appear in Spider-Man: No Way Home.
When the first trailer dropped for the new Spider-Man movie, fans believed Cox' forearms could be seen in an interrogation scene with Peter Parker. While promoting his show Kin, Cox flat out denied the rumor to Newsweek — but that's not to say he doesn't appear elsewhere in the movie. If Cox were to return as Daredevil, it brings into question the fate of other Netflix Marvel characters like Jon Bernthal as The Punisher, Mike Colter as Luke Cage, Krysten Ritter as Jessica Jones and Finn Jones as Iron Fist.
A recent episode of Hawkeye on Disney+, very much part of the Marvel Cinematic Universe, featured a glimpse of a character which many viewers thought could be Vincent D'Onofrio who played the villain Kingpin in Daredevil.
It's been confirmed that characters from two previous iterations of Spider-Man movies would be returning for the new movie. Jamie Foxx, Alfred Molina, Willem Dafoe, Thomas Haden Church and Rhys Ifans all played various Spider-Man villains in the past and are set to do so again in Spider-Man: No Way Home.
While many previous villains are returning, social media has been alight with talk of former Peter Parkers returning to their roles. Marvel have not commented on speculation that Tobey Maguire or Andrew Garfield could return, but Garfield did tell Newsweek that he hopes fans aren't disappointed with the end result
All fans' questions will finally be answered when Spider-Man: No Way Home arrives into movie theaters on Friday December 17, 2021.