Charlie Kirk Denounces Man Asking About Killing People He Says Stole Election
Charlie Kirk, founder of the conservative student group Turning Point USA, has denounced a question asked by a member of his audience over when Republicans should use guns and "kill these people" over false election fraud claims.
Kirk, a Newsweek contributor, was taking questions at the Nampa Civic Center in Nampa, Idaho, as part of his Exposing Critical Racism speaking tour when a man warned him that he wanted to ask him something "a bit out of the ordinary" and that he should "prepare himself," before openly calling for the killing of Democrats.
The man asked Kirk when should people start shooting those who stole the 2020 Election, pushing the so-called "Big Lie" that Donald Trump lost to Joe Biden because of widespread voter fraud. The false claims are still being peddled by Trump and his supporters, including Kirk, despite no evidence proving the election was rigged nearly one year since the vote took place.
"At this point, we're living under a corporate and medical fascism. This is tyranny. When do we get to use the guns?" the man asked, prompting cheers and applause from the crowd.
"That's not a joke, I'm not saying it like that. I mean, literally, where's the line? How many elections are they going to steal before we kill these people?"
In response, Kirk immediately condemned the comments while urging those who cheered the remarks to stop.
"Now, I'm going to denounce that and tell you why. Because you're playing into all their plans, and they're trying to make you do this," Kirk said.
"They are trying to provoke you, and everyone here, they are trying to make you do something that will be violent that will justify a takeover of your freedoms and liberties, the likes of which we have never seen," he added.
"We are close to having momentum to be able to get this country back on a trajectory using the peaceful means that we have. To answer your question, and I just think it's overly blunt, we have to be the ones that do not play into the violent aims and ambitions of the other side."
Kirk goes on to suggest that as conservatives in Idaho "outnumber the liberals eight to one" that they should "use that muscle peacefully through local government through city council" in order to achieve state sovereignty and fight against the Democrats.
"So what is the line? I think we're at the teetering edge of a regime that knows good and decent Americans are going to get to the place in the movie Network, 'I'm mad as hell, and I'm not going to take it anymore,' right?
"Well, guess what? Know that there's a deeper game at play. Understand the psychological warfare that's being played here. They're trying to animate you.
"They're trying to get you to do something that then justifies what they actually want to do. So what's the solution? We need to start to demand Idaho to be Idaho, and the federal government can stay out of the state of Idaho for just about everything."
Just prior to the question about whether people should be killed over the election, Kirk answered a question from another person who asked if there was voter fraud, why were dozens of cases trying to prove it thrown out, including some by Trump-appointed judges.
In response, Kirk described many of the lawsuits as "poorly written" and "filed at the last minute." He went on to suggest a link between the COVID-19 pandemic and the existence of election fraud, while implying the ballot count in Arizona could still be proven illegal despite the recent audit coming up with no evidence of widespread voter fraud.
"We are not going to lose focus on this and we are going to name the names and find the criminals that pulled this off in the 2020 election," Kirk added.
Kirk has been contacted for further comment.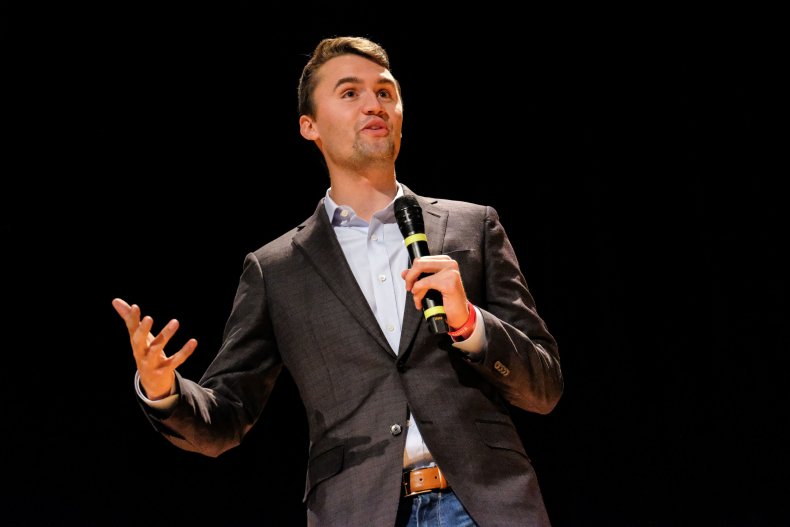 Correction 10/27/21, 4:10 a.m. ET: This article has been corrected to state that the event was held at the Nampa Civic Center in Nampa, Idaho and not Boise State University.