Donald Trump Asks Supporters for $45 Each to Help 'Solve the Election Fraud'
Members of Donald Trump's mailing list have been asked to contribute $45 each to "solve the election fraud of 2020," despite no evidence of mass voter fraud.
Team Trump's pleas for funds on Sunday evening came only days after the former president insisted Republicans "will not be voting" in the 2022 midterm and 2024 general elections until the supposed voter fraud is "solved."
Trump has repeatedly pushed the narrative that voter fraud was behind his electoral defeat to Democrat Joe Biden in November 2020, despite no evidence to support the claim.
Multiple lawsuits alleging widespread fraud were rejected in the weeks following the election after attorneys for Trump offered no substantive evidence.
More recently, a hand recount in Maricopa County, Arizona, during an audit which concluded in September found no evidence of mass voter fraud. Since the audit, which was funded largely by Trump supporters, the ex-president has switched his attention to calling for a review of Arizona's Pima County's election results.
A message sent on behalf of Trump told supporters "we need at least $45 from EACH Patriot reading this email" in order to "defend our elections from the lying Left and WIN BIG in 2022 and then again in 2024."
Trump has yet to confirm whether or not he will run in 2024, despite much speculation; but, the former president has returned to holding campaign-style rallies in recent months, most recently addressing crowds in Des Moines, Iowa, on October 9.
Any campaign is likely to bring high costs.
About $6.6 billion was spent on campaigns of presidential hopefuls in 2020—more than the previous two presidential elections combined. For Team Trump, that included more than $8 million on merchandise such as MAGA hats.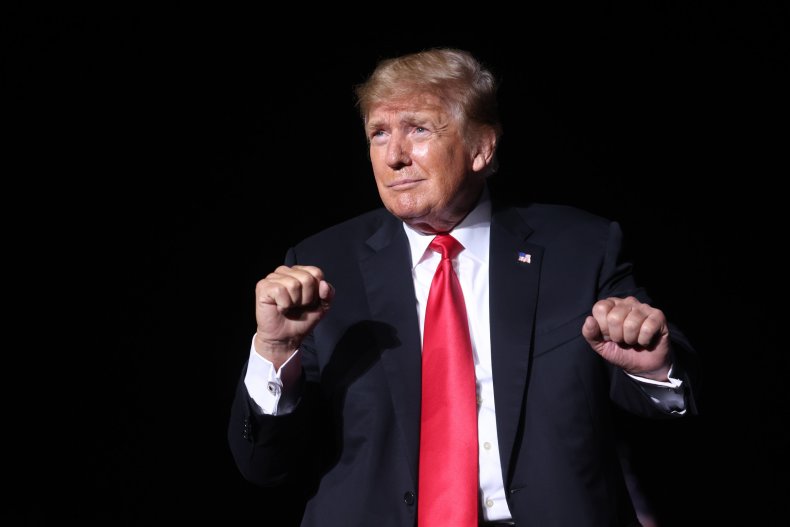 The 75-year-old can still count on continued widespread support among Republicans, while Joe Biden's recent difficulties have led to the president's approval rating flagging.
Recent polling suggests that Florida Governor Ron DeSantis could be best placed to challenge Trump, should both seek a race to the White House in 2024.
But David A. Bateman, an associate professor at Cornell University's Department of Government, previously told Newsweek that any other Republican contenders would find it difficult to challenge Trump.
"No-one else has replicated Trump's unique appeal. None of his imitators have any of the bullying instinct and cruel wit that allowed him to not only get coverage but to be seen as 'telling it like it is' through lies and insults," Bateman said.
However, the professor warned that GOP voters may also be seeking a fresh face.
"In 2024 he'll be neither a novelty as in 2016 nor an incumbent as in 2020. He'll be a loser from the past, a twice-impeached president," Bateman said.
"It's not an absurd argument to make to a GOP primary audience that maybe they need someone who can actually win more votes than the alternative."