Trump Switches Arizona Audit Focus to Pima County, Demands Biden Win Be Decertified
After the controversial audit of Arizona's Maricopa County, former President Donald Trump has now switched his attention to calling for a review of the southwestern state's Pima County's election results.
Trump and his allies continue to insist that he lost the 2020 election to President Joe Biden in Arizona, and in other key battleground states, due to widespread voter fraud. The former president and his supporters have not provided evidence substantiating this extraordinary allegation, and their claims have been readily discredited by both conservative and liberal election experts.
In a Friday evening statement, Trump claimed that there were "fictitious" votes in Pima County—Arizona's second-most populous after Maricopa.
"A new analysis of mail-in ballots in Pima County, Arizona means the election was Rigged and Stolen from the Republican Party in 2020, and in particular, its Presidential Candidate. This analysis, derived from publicly available election data, shows staggering anomalies and fictitious votes in Pima County's mail-in returns, making it clear they stuffed the ballot box (in some precincts with more ballots than were ever sent!)," Trump claimed in a statement posted to Twitter by his spokesperson Liz Harrington.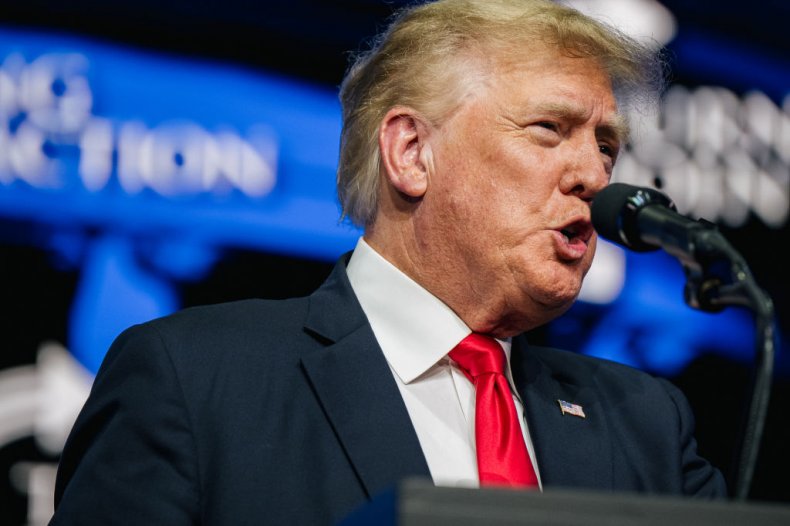 Trump went on to insist that a "new Election should immediately take place or the past Election should be decertified and the Republican candidate declared the winner."
However, Pima County Administrator Chuck Huckelberry quickly dismissed Trump's allegations.
"Pima County conducted a free, fair, secure, and accurate election. The results were publicly audited via hand count by the County's Republican and Democratic parties, and the results were certified by the Pima County Board of Supervisors and Arizona Gov. Doug Ducey," Huckelberry told Phoenix NBC News affiliate KPNX 12.
The county administrator explained that it "may be the only County in Arizona with such a multi-partisan commission whose sole role is to advise the County Board of Supervisors and the Elections Department on the conduct and security of county-administered elections."
Arizona's state Senate Republicans hired Florida-based Cyber Ninjas to conduct a widely criticized audit of Maricopa County's election results back in the spring. The company's final report, which was mocked by election experts, actually found a slight increase of votes for Biden and a negligible loss of votes for Trump.
Prior to that partisan audit, Maricopa County carried out multiple non-partisan audits that reaffirmed the initial results. The county's Republican leaders have repeatedly rejected the claims of fraud and manipulation, slamming the misinformation being spread by Trump and his associates.
Arizona Governor Ducey, a Republican, has rejected calls to decertify the 2020 election. He has pointed out that this would not be legal and that all the audits which have been conducted reaffirmed Biden's victory.
"When it comes to the audit, like the three audits that preceded it, it's now over. The outcome stands, and the 2020 election in Arizona is over," Ducey wrote in a September 24 tweet.
"There will be no decertification of the 2020 election. The audit does not call for one, and even if it had, there is no lawful way to decertify. As we have every step of the way, Arizona will follow the law," the GOP governor added.
Dozens of election challenge lawsuits filed by Trump and his allies have failed in state and federal courts across the country. Even judges appointed by Trump and other Republicans have rejected the allegations of widespread fraud. Meanwhile, audits and recounts in key battleground states—including in areas where the election was overseen by pro-Trump Republicans—have consistently reaffirmed Biden's victory.
Former U.S. Attorney General William Barr, who was widely viewed as one of Trump's most loyal Cabinet members, asserted that there was "no evidence" to substantiate the extraordinary claim.
Additionally, the Cybersecurity and Infrastructure Security Agency at the Department of Homeland Security, which was led by a Trump appointee at the time, said late last year that there was "no evidence that any voting system deleted or lost votes, changed votes, or was in any way compromised."
Newsweek reached out to Trump's press office for comment but did not immediately receive a response.