Charlie Kirk Says Democratic Senator Kyrsten Sinema 'More of a Republican Than John McCain'
Conservative commentator Charlie Kirk said Arizona Senator Kyrsten Sinema, a Democrat, is "more of a Republican than John McCain ever was" while speaking at a rally in Arizona.
Kirk praised Sinema for her opposition to ending the filibuster, despite calls from many in her own party to do so. "At least she's holding the line on the filibuster," he said.
He made the comments while speaking at the "Rally to Protect Our Elections," ahead of a speech by former President Donald Trump. The remarks were tweeted by Jeremy Duda, a reporter at Arizona Mirror, and others.
Sinema's office did not immediately return a request for comment Saturday evening.
Sinema, a moderate Democrat from swing-state Arizona, has been one of two Democratic senators, along with West Virginia Senator Joe Manchin, who have been vocal in their opposition of ending the filibuster.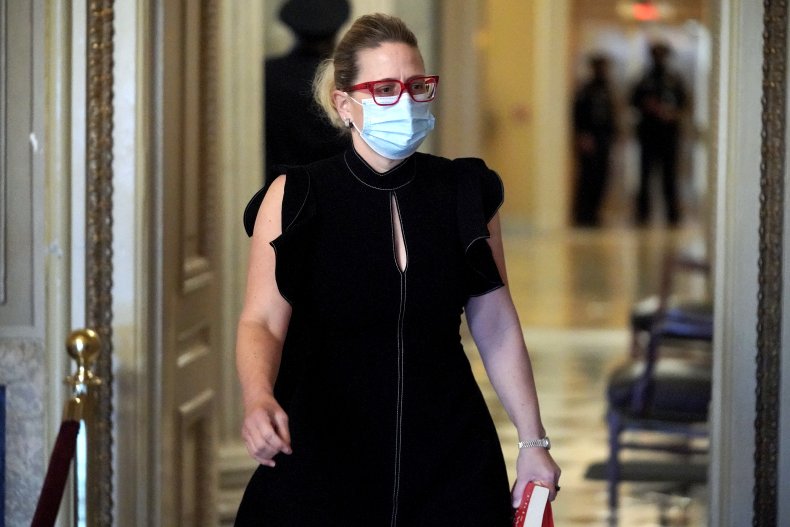 Sinema penned a Washington Post op-ed in June defending her opposition, arguing that bipartisan cooperation is "the best way to achieve durable, lasting results."
"I understand bipartisanship seems outdated to many pundits," she wrote. "But the difficult work of collaboration is what we expect in Arizona. And I still believe it is the best way to identify realistic solutions — instead of escalating all-or-nothing political battles that result in no action, or in whipsawing federal policy reversals."
She pointed to Senate Democrats using the filibuster in September 2020 against a COVID-19 relief bill "that many Democrats viewed as inadequate."
"Sometimes, the filibuster, as it's been used in previous Congresses, is needed to protect against attacks on women's health, clean air and water, or aid to children and families in need," she wrote.
Democratic colleagues in the Senate have been critical of Sinema's stance on the filibuster.
Senate Majority Leader Chuck Schumer called out Sinema and Manchin for their position during an interview with SiriusXM's The Joe Madison Show Thursday.
"We have all but two Democrats who have said they would not use the filibuster on voting rights. There may be a few others who haven't taken a position, but two said no. They're Senator Manchin and Senator Sinema," he said. "I have told them, we have to get this done. Everything should be on the table."
Sinema has also faced pressure from some of her constituents over the issue.
A Data for Progress poll from February in Arizona showed that 61 percent of respondents said passing major legislation is more important than preserving traditional Senate procedures, including the filibuster.
Progressive Democrats have voiced support for ending the filibuster, arguing it is racist and a roadblock to advancing Biden's legislative agenda.