A doctor caring for two children with complex medical needs in Memphis, Tennessee, blamed the national baby formula shortage for both children requiring what should have been avoidable hospital treatment.
Dr. Mark Corkins, a pediatric gastroenterologist at Le Bonheur Children's Hospital, is treating the pair, who are not related. When Newsweek asked whether the situation made him angry as a doctor, to see children made sick due to a supply chain issue rather than a medical emergency, he replied: "I am angry to be put in a situation that I can't 'fix' for my patients no matter how hard I try. But my primary emotion is sadness, that parents and patients can't get the formulas that were working so well for them."
The shortage of baby formula that has left desperate parents facing empty shelves in supermarkets was sparked in part by manufacturer Abbott's February recall of several of its brands. It came as an investigation was launched over fears that bacteria, which had been linked to babies' illnesses and deaths, may have been present in the products.
When told of the situation involving the young patients in Memphis, Abbott spokesperson Vicky Assardo told Newsweek: "We are sorry to hear this and our hearts go out to these families. We know millions of parents and caregivers depend on us and we're deeply sorry that our voluntary recall worsened the nationwide formula shortage. Our number one priority is getting infants and families the high-quality formulas they need, and we look forward to working with the FDA to quickly and safety re-open the facility."
Corkins' young patients are currently being treated with intravenous fluids and extra nutritional support until the formula is back in stores. Both children, one of whom is a toddler while the other is pre-school age, are now in stable condition after they became sick when their parents were no longer able to feed them EleCare Jr formula, which is made by Abbott.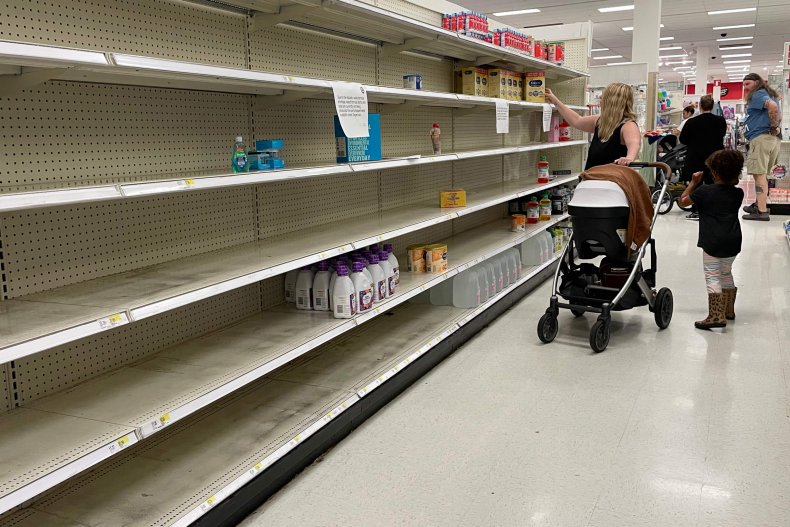 However, the Centers for Disease Control and Prevention "concluded its investigation with no findings of a link between Abbott formulas and infant illnesses," the company announced this week.
Abbott announced plans on May 16 to resume production of its baby formulas but said it could take up to 10 weeks before new supplies hit the shelves. "After FDA approval, Abbott could restart the site within two weeks; from the time of restart it would take six to eight weeks before product is available on shelves," a company statement said.
The continued delay of up to 10 more weeks before stores are fully stocked with formula again has sparked fears that more children could become sick and require hospital treatment in the meantime.
But, Corkins said: "We have been transitioning multiple patients [to other products] because the special formulas we use in these patients are gone. I hope we have most of them transitioned at this point. Although we have been getting some calls gradually coming in of patients that had some stored-up formula that they were using and are now running out, I'm hopeful we can hold out until we get the Abbott formulas back."
In the meantime, Corkins says parents should not dilute formula or use a homemade formula to feed their children. He advised families to speak with their doctor if they are concerned about their children's nutrition.
Corkins told local news channel Action News 5: "This is a crisis for us in health care. This is not every child, not normal children, but literally, the formula recall has led to these children requiring hospitalization."
Mothers across the country who have been moved by the plight of parents struggling to get a hold of baby formula are donating their own breast milk to feed the infants. Demand is soaring at human milk banks, which screen the donors and test the donated milk to make sure it is safe to distribute to babies in need.
Update 5/24/22, 11:54 a.m. ET: This article was updated with a comment from Abbott.
Uncommon Knowledge
Newsweek is committed to challenging conventional wisdom and finding connections in the search for common ground.
Newsweek is committed to challenging conventional wisdom and finding connections in the search for common ground.
About the writer
Get in touch with Chloe Mayer by emailing c.mayer@newsweek.com