What Would Have Happened in 'Sabrina' Part 5 if Netflix Didn't Cancel It
Chilling Adventures of Sabrina is the latest show to be canceled by Netflix, though it does not quite have the satisfying ending that CAOS fans were hoping for. The cast and crew did not know the show was not coming back when they were filming the current season, so they were starting to plan exactly what would happen in Season 5/Part 5.
Though viewers will not get to see how the adventures of Sabrina (played by Kiernan Shipka) and the rest of Greendale continue on Netflix, Season 5 will continue in a new form according to showrunner Roberto Aguirre-Sacasa.
The Riverdale and Sabrina boss tweeted: "Thank you for all the love, #sabrinanetflix fans. Part Four is our best yet and Part Five, 'Witch War,' would've been AMAZING. To be continued in the pages of #CAOS comic book..."
This tweet included an image previewing an upcoming comic book storyline, which seems to tease a Riverdale and Sabrina crossover, with the Greendale gang racing off against the comic book versions of Archie, Jughead, Veronica and co.
Though this seems to suggest that Part 5 of the Netflix show would have been an epic crossover, there are questions over how feasible it would have been to have the whole Riverdale cast appear in Sabrina on top of their lengthy shooting schedule for their own show and the other projects that stars like KJ Apa and Lili Reinhart are involved in—and that's before we even get into the problems of the rights issues in getting the characters from a CW show appear in a Netflix series, even if Netflix is the international home of Riverdale.
Some fans may be surprised to learn that the makers of Sabrina did not know that the show was canceled when they were making Part 4, as it ends in a pretty final way, with Sabrina dead, seemingly for good this time.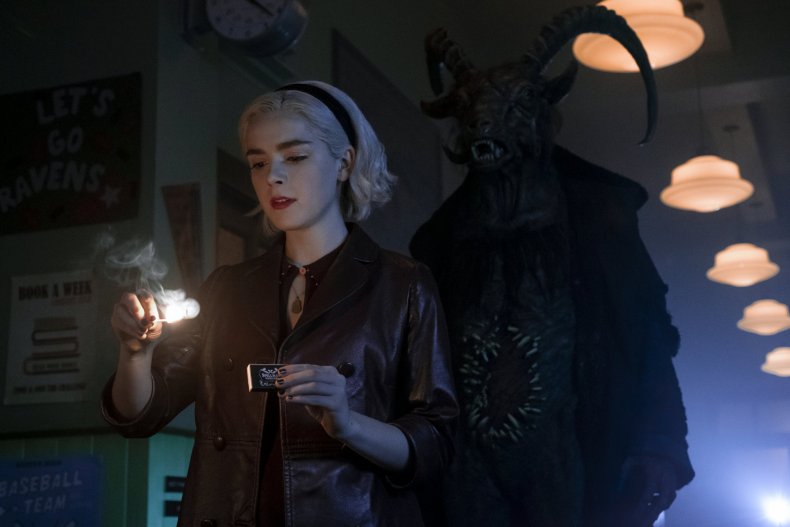 However, Shipka told a roundtable of journalists, "they didn't know if it was ending or not, so I didn't feel like a lot of liberty to take a bunch of stuff."
She added said to Entertainment Tonight Canada: "I will say I think she's [Sabrina's] pretty savvy and could find her way back to Greendale if she chose to...Anything is possible in the world of Sabrina."
If the show did continue, a large chunk of it would surely explore how Sabrina gets back to Greendale, which might have taken precedence over any crossover. Perhaps the show would have taken a leaf from Buffy the Vampire Slayer, another show that continued the story in a series of comic books after the show was canceled, and also brought back its main character from the afterlife.
Chilling Adventures of Sabrina Parts 1 - 4 are streaming now on Netflix.