What China-Belarus Deals Mean for Ukraine
Eyes have been on Beijing this week as President Xi Jinping of China hosted Belarusian counterpart Alexander Lukashenko to lay the foundations for a partnership that could have far-reaching implications for the Eurasian region, including most immediately in Ukraine.
Minsk finds itself deep in Moscow's sphere of influence and has suffered at the hands of Western sanctions for supporting Russia's military campaign against Ukraine, now in its 13th month. Lukashenko, shunned by major capitals because of his allegiance to Russian President Vladimir Putin, may now have a meaningful hedge against the Kremlin in the form of Beijing.
The Belarusian leader has steadily earned Xi's trust through his government's diplomatic coordination with Beijing at multilateral institutions. Belarus votes closely with Russia at the United Nations but is also part of a bloc that sides with China against international scrutiny of its human rights record.
Lukashenko was rewarded on Tuesday for his willingness to toe Xi's line on major issues, including Beijing's treatment of Uyghurs in Xinjiang and its attempts to isolate democratically governed Taiwan, when the two countries officially upgraded the status of their bilateral ties to an "all-weather comprehensive strategic partnership."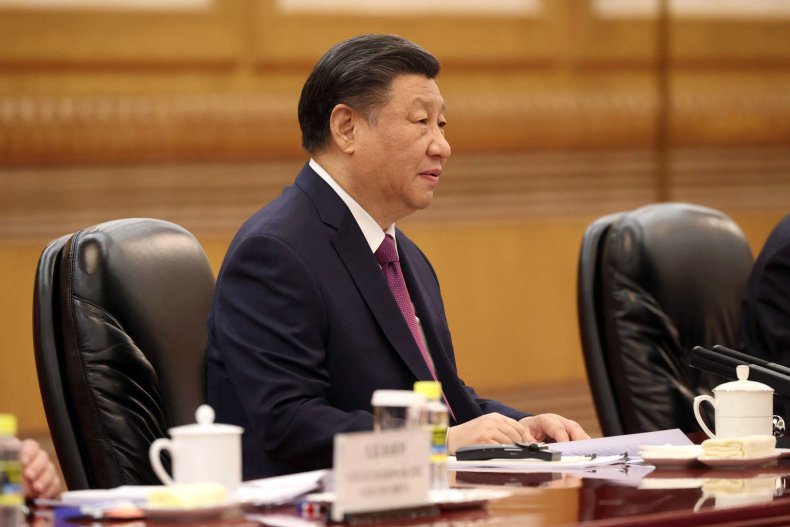 Sergei Aleinik, Belarus' foreign minister, said Lukashenko and Xi oversaw the inking of nearly four dozen agreements worth $3.5 billion during the three-day state visit. The deals were comprehensive, covering everything from defense and security to education exchanges and Chinese investments.
Xi, who said China and Belarus were "defenders of international fairness and justice," called on the countries to support one another's "core interests" and "oppose external interference in domestic affairs."
The China-Belarus agreements were signed with a view to modernizing the Belarusian economy and upgrading its manufacturing base with the transfer of industrial know-how.
"Lukashenko stated that Belarusian manufacturers are interested in studying the 'competencies and technologies of Chinese companies in the formation of a component base, the production of engines, transmissions, axles, other components, and assemblies,'" said a report on Wednesday by the Institute for the Study of War, a Washington-based think tank.
The deals "may facilitate Russian sanctions evasion by channeling Chinese aid to Russia through Belarus," it said. "ISW previously assessed that China may clandestinely transfer military or dual-use equipment to Russia via Belarus."
Xi shares many of Putin's grievances against the West, but hasn't exposed China to the type of direct involvement in Ukraine that Lukashenko has allowed, with Russian forces launching strikes from Belarusian territory.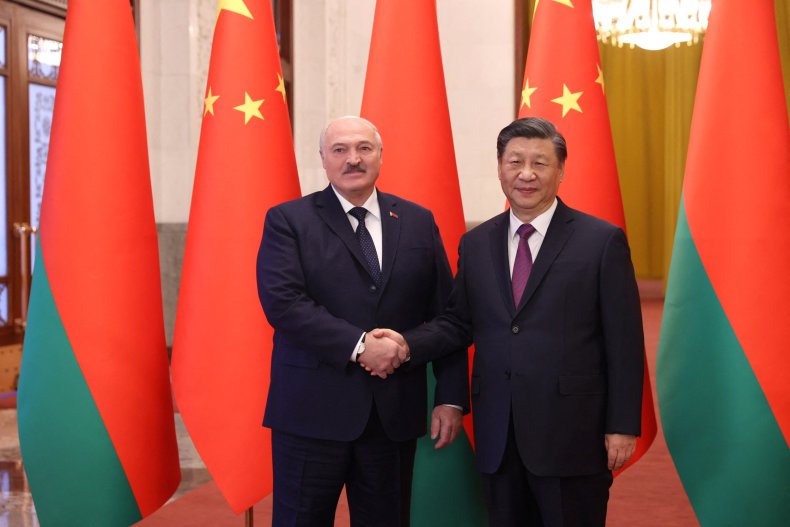 Western officials say Chinese state-owned companies have already transferred equipment and other hardware to Russia's defense industry. Earlier this week, the United States sanctioned Chinese satellite firm Spacety for allegedly supplying battlefield imagery to the Russian private military contractor Wagner Group.
U.S. officials believe China is contemplating providing lethal arms to Russia in a move that would greatly undermine Beijing's claim to neutrality in Ukraine. Privately, senior Chinese officials have strongly denied the allegations, although their public assurances have been more ambiguous.
"It would be a huge surprise if they start to deliver weapons to Russia," Oleg Ignatov, a senior analyst at the Crisis Group think tank in Brussels told Newsweek.
He's skeptical China would engage in what would amount to a significant policy shift.
"Technically it's possible. Not only aid, but so-called parallel imports," he said. "But if we are talking about military aid, it's too complex a scheme. Why not send it directly? Belarus doesn't have a border with China."
Ignatov argues Lukashenko, who is heavily dependent on Putin, is driven by self-preservation.
"Lukashenko's interest is not to be involved in the war and to find alternative ways to support his economy," Ignatov said.
"He doesn't want to be annexed by Russia. And he's the main proponent of Belarusian independence," Ignatov said. "China is also not interested in any conflict between Russia and Belarus. Maybe they feel it's time to help Lukashenko, to make him a little bit stronger in dialogue with Russia, and to show Russia that China is not interested in transforming Belarus into some kind of second Ukraine."
Lukashenko offered more legitimacy to Xi's position when he backed China's February 24 peace proposal, which called for a cease-fire on the ground in Ukraine and the resumption of dialogue for a negotiated settlement.
"Lukashenko said that his country totally agrees with and supports China's position and a proposed political resettlement of the Ukraine crisis, which are significant to resolving the crisis," Belarus' Belta state news agency said.
"'Immediate cease-fire' is a ticking time bomb. The Russian Federation insists on this in order to 'freeze the conflict,' maintain control over occupied territory and rebuild military power," Mykhailo Podolyak, an adviser to Ukraine's President Volodymyr Zelensky tweeted on Tuesday. "In 9 years, we learned the bloody price of a 'cease-fire.' There can be no 'peace plans' before the withdrawal of [Russian troops]."
Do you have a tip on a world news story that Newsweek should be covering? Do you have a question about China? Let us know via worldnews@newsweek.com.