China Raises Questions With Coy Remarks About Weapons for Russia
On the anniversary of the invasion of Ukraine, Western officials are once more warning about the prospect of Chinese weapons transfers to Russia, with Beijing's public and private denials seemingly raising more questions than answers.
At the annual Munich Security Conference that concluded one week ago, China's top foreign affairs official, Wang Yi, was confronted by American and European counterparts. There was new information that Beijing's needle may be moved by Moscow's ongoing stalemate in Ukraine.
Western diplomats including Secretary of State Antony Blinken didn't go into detail about the type of lethal arms China could send to its neighbor.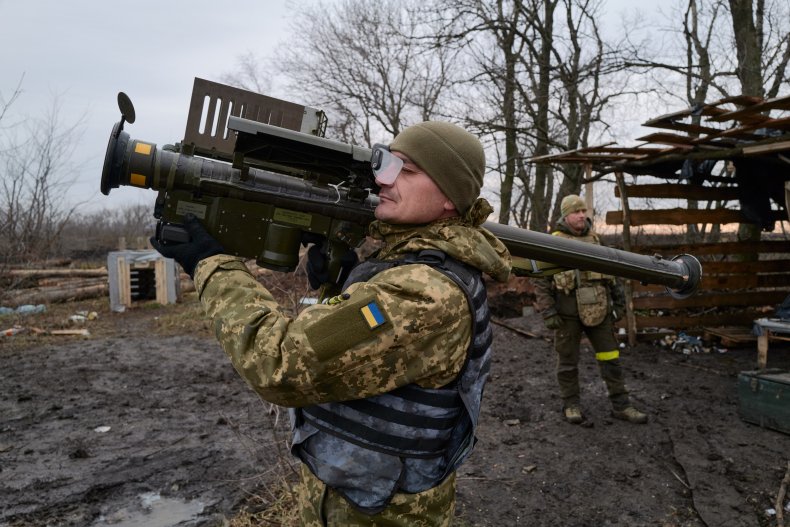 Russian forces have reportedly targeted Ukraine's civilian infrastructure with a large numbers of Iranian Shahed-136 drones in the past year. However, they may have exhausted their stockpile, according to an assessment by Britain's Defense Ministry.
Rep. Michael McCaul of Texas, the Republican lawmaker who chairs the House Foreign Affairs Committee, told ABC News on Sunday that U.S. intelligence pointed to the possible transfer of Chinese unmanned aerial vehicles to Russia. This was the first public corroboration of a recent German magazine report that said the same.
"We have intelligence that's been reported that they are contemplating sending 100 drones into Russia. We also know they're buying all their energy from them, economically supporting them," McCaul told Martha Raddatz on the This Week program.
The congressman said he wasn't able to discuss "other lethal weapons" China was considering sending to Russia. However, McCaul added that the potential development was "very disturbing."
Germany's Der Spiegel wrote in a report last week that a Chinese drone maker was in talks with Moscow to mass-produce 100 "kamikaze drones" for Russia, each capable of carrying a warhead of up to 110 pounds. Delivery to the Russian Defense Ministry could happen as early as April 2023, the magazine said.
In a press conference on Friday, China's Foreign Ministry spokesperson Wang Wenbin denied knowledge of the Der Spiegel report. He said, however, there had been "a great deal of disinformation about China" in recent weeks. "China has always taken a cautious and responsible approach to military exports and does not provide any arms sales to conflict areas or warring parties," he said.
However, the ministry omitted Wang's response from its official transcript of the regular press conference. This move is usually reserved for politically sensitive subjects that Beijing believes could cause controversy among its domestic public, which is largely supportive of Moscow's war aims.
At a similar media briefing on Monday, spokesperson Mao Ning said: "On the Ukraine issue, China has actively called for peace and promoted negotiations to push for a political solution to the crisis. The U.S. side has no right to point fingers at China-Russia relations, and we will never accept coercion or pressure from the U.S."
Beijing's handling of the apparent public denial raises questions about its private assurances, too. Josep Borrell, the European Union's foreign affairs chief, said his Chinese counterpart Wang Yi told him in Munich that China was "not providing arms to Russia" and "will not provide arms to Russia."
"That is what he told me, stressing clearly that this is a principle of the foreign affairs policy of China," said Borrell. "Nevertheless, we have to remain vigilant. But, as far as I know, there is no evidence that China has been doing what they claim not to be doing."
Charles Dunst, deputy director of research at The Asia Group, a Washington-based consultancy, told Newsweek that China's leaders may still be caught in two minds.
"The removal of this text from the official transcript could possibly suggest that Beijing is considering offering some kind of assistance to Russia—as the Biden administration says—and does not want to be hemmed in or confronted by its own rhetoric," said Dunst, whose recent book, Defeating the Dictators: How Democracy Can Prevail in the Age of the Strongman, is a thoughtful intervention in an era the U.S. president has described as one of democracy vs. autocracy.
Earlier Sunday, Jake Sullivan, President Joe Biden's national security adviser, told ABC's Raddatz that the United States was "watching closely." "We know they haven't taken it off the table. And we are sending a clear message, as are our European allies, that this would be a real mistake because those weapons would be used to bombard cities and kill civilians, and China should want no part of that."
Also last week, in a seemingly contradictory message, Biden told ABC's David Muir: "We haven't seen it yet, but I don't anticipate a major initiative on the part of China providing weaponry to Russia."
On February 24, on the one-year mark of the conflict, China published a 12-point peace proposal that failed to directly support Ukraine's territorial integrity or name Russia as the aggressor in the war. The plan was welcomed in Moscow, met with cautious optimism in Kyiv, but has largely been dismissed by the West. It has thrown its weight behind President Volodymyr Zelensky's own 10-point "peace formula" instead.
Do you have a tip on a world news story that Newsweek should be covering? Do you have a question about China? Let us know via worldnews@newsweek.com.
Update 2/27/23, 9 a.m. ET: This article was updated with comment from Charles Dunst.