China Feels Squeeze From Both Sides of Ukraine
A year into Russia's war in Ukraine, few are still wondering what China knew about the invasion and when. As President Vladimir Putin vows to finish a fight he says was started by the West, questions now turn to Chinese leader Xi Jinping and what he will do next to prevent Moscow's stuttering military adventure from undercutting Beijing's own grand plan.
Chinese officials remain perplexed by the heavy scrutiny their country—not a direct party to the ongoing conflict—has received in the last 12 months. The microscopic attention stems from China's overt political support for Russia and the unabashed sympathy it has shown toward Putin and his reasons for going to war, all while refusing to openly acknowledge Ukraine's victimhood status.
Having won over large swathes of the developing world with their "pro-Russia neutrality," Chinese officials are still struggling to convince key figures in Brussels and Washington that Beijing can meaningfully contribute to ending the crisis. With its criticism of Western military aid to Kyiv further hollowing out its vague references to United Nations principles, China now wants Ukraine to sue for peace.
In a 12-point position paper published on the anniversary of the invasion, Beijing sought to bring Moscow and Kyiv to the negotiating table. The peace plan largely repeated 12 months of familiar talking points, including calls for a cease-fire, which would leave Russian troops in occupied territories, and an end to any sanctions not approved by the U.N. Security Council, of which Russia is a veto-wielding member.
In the document, China reached for other low-hanging fruit such as opposition to nuclear war and encouraging dialogue and restraint, without naming an aggressor and still nodding to Russia's "legitimate security interests and concerns."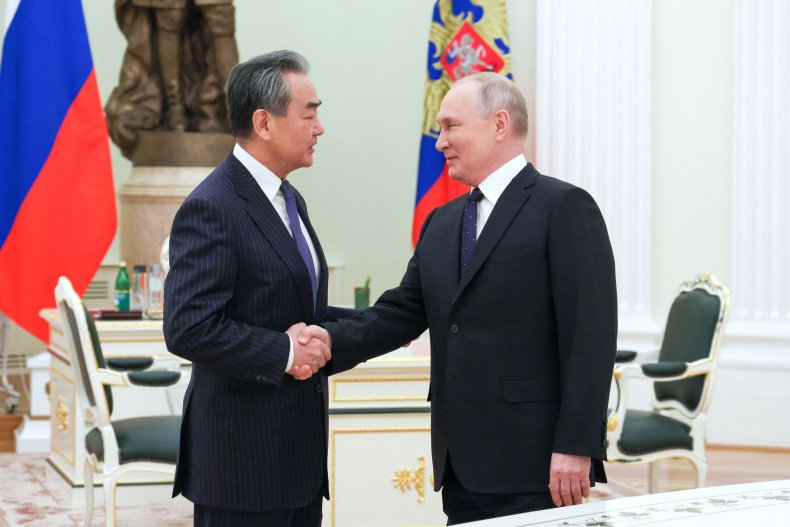 Earlier in the week, in a clear rejection of the West's appeals to sideline Russia, Xi dispatched Wang Yi, the Communist Party's foreign affairs chief, to Moscow for meetings in the Kremlin. They included talks with Putin, who hailed "new frontiers" in the bilateral relationship, which Wang said would not be influenced by "pressure from third parties."
The pair discussed Xi's state visit to Russia in spring, which would come after he extends his title as president of China for a third five-year term. That trip could in theory be used to iron out Moscow's end of the Chinese peace proposal. Critically, Xi has spent the last 12 months lending an ear to Putin while ignoring calls from Ukrainian counterpart Volodymyr Zelensky. The circumstances have done little to convince Kyiv's backers that Beijing can act as an honest broker in the matter.
As early as March 2022, during three-way talks with President Emmanuel Macron of France and Chancellor Olaf Scholz of Germany, Xi urged the Western leaders to pursue "equal dialogue between the European Union, Russia, the United States and NATO," in one of the earliest signs that China was comfortable with Ukraine's fate being decided on its behalf.
"China doesn't see Ukraine at all. It takes into consideration only the positions of its junior partner, Russia, and the U.S.," said Oleksandr Merezhko, a member of Zelensky's Servant of the People party who chairs the foreign affairs committee of the Ukrainian parliament.
"Beijing has completely lost its credibility. Especially when Beijing is calling upon Western countries to stop providing weapons to Ukraine, pro-peace in China's understanding means 'peace' on Moscow's conditions," Merezhko told Newsweek.
China's proposition is indeed a palatable one for Moscow. Russia's Foreign Ministry spokesperson Maria Zakharova welcomed Beijing's initiative but said it would entail Kyiv's recognition of "new territorial realities."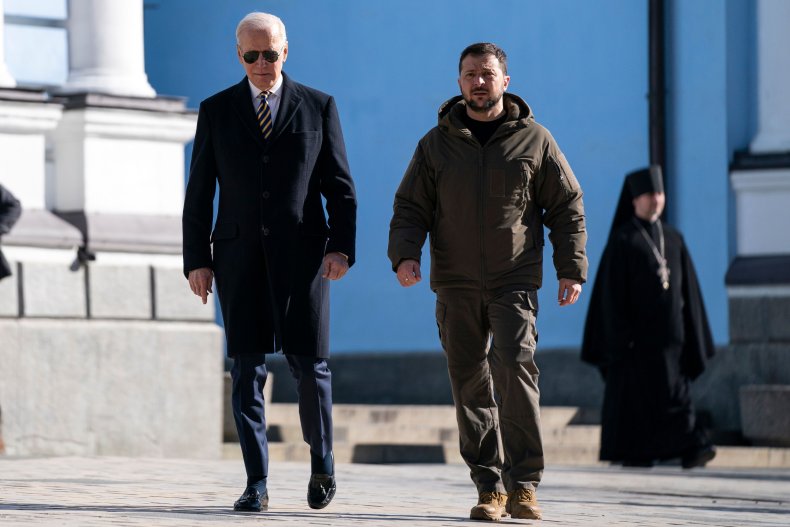 The plan also comes into direct competition with Ukraine's own "peace formula," a 10-point blueprint announced in November that includes the withdrawal of Russian forces, the restoration of Ukraine's pre-2014 borders, and the establishment of a Euro-Atlantic architecture to guarantee Ukraine's security. It has been described as flexible, allowing countries the freedom to commit to food or energy security, for example, while avoiding politically charged topics like a tribunal for Russian war crimes.
At a press conference marking one year of war, Zelensky said it was "a good thing" that China was talking about Ukraine, but more important was "what comes next." "What they are saying looks like respect for territorial integrity. It doesn't mention the country, but it's our territorial integrity that has been breached," he said through an interpreter.
"There are some things that make sense to me. There are things that I disagree with, that I think the entire world disagrees with. But nonetheless, this is at least something," said Zelensky. He plans to meet with geopolitically distant leaders including Xi to get them onside, he said, without elaborating.
Buoyed by President Joe Biden's recent visit to Kyiv, Ukraine's leader said earlier in the week that he expected the international community to back his peace plan. He received that support from the U.N. General Assembly on February 23, when 141 member states adopted a resolution underscoring "the need to reach, as soon as possible, a comprehensive, just and lasting peace in Ukraine" in line with the U.N. Charter.
Russia and six others voted against the non-binding text, which also called for the immediate, complete and unconditional withdrawal of Russia's forces from Ukraine. China was among 32 countries to abstain.
Any peace plan or cease-fire that results in a new demarcation "isn't about peace, but about freezing the war," Mykhailo Podolyak, an adviser to Zelensky, tweeted in an apparent response to the Chinese proposal. Ukraine's position was unchanged—the withdrawal of Russian troops "to the borders of 1991," he said.
Eyes on Beijing
Russia's trade with China has soared in light of sweeping Western sanctions on the former, Chinese customs figures showed. Two-way turnover rose nearly 35 percent year-on-year as the Chinese economy became a substitute market for Russian crude oil, natural gas and coal, underwriting the Kremlin's financial losses.
When Putin and Xi met virtually for their annual year-end talks in December, the Russian leader said commercial ties between the neighbors would reach their 2024 target of $200 billion "ahead of schedule."
However, what separates China from India and other opportunistic buyers of cheaper Russian energy, apart from Beijing's sponsorship of Moscow at multilateral institutions, is renewed concern in the West about the potential transfer of Chinese weaponry.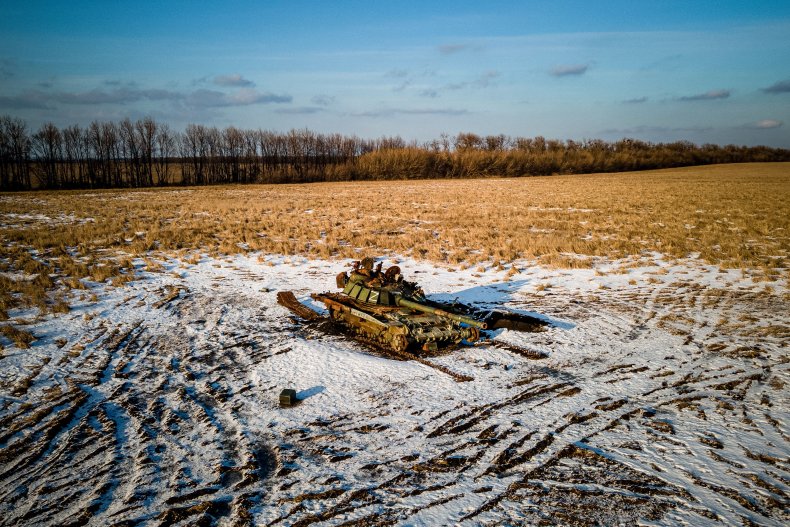 Russia's spring offensive is spooling up slowly, according to Western and Ukrainian officials, designed to finally achieve one of the prime goals of the full-scale invasion: control of Donetsk and Luhansk regions.
Moscow's forces have been mauled by a year at war. Elite formations have been hollowed out, modern equipment destroyed or captured, and arsenals depleted. Russia needs help to maintain its costly war of attrition. It has already reportedly acquired Iranian drones, Belarusian equipment and ammunition, and weapons from North Korea.
In a repeat of the opening days of the invasion, China this week faced fresh allegations it could soon supply Russia with warfighting materials to aid its drawn-out offensive in Ukraine. U.S. officials led by Secretary of State Antony Blinken said they had information China was "strongly considering providing lethal assistance to Russia."
America's top diplomat corroborated recent customs data analysis that showed non-lethal forms of so-called "dual-use" equipment were flowing into Russia via Chinese state-owned companies. The Chinese Foreign Ministry objected to what it said was American finger-pointing aimed at dictating Beijing's ties with Moscow.
"We are increasingly concerned that China may be planning to provide lethal support for Russia's war," said Jens Stoltenberg, NATO's secretary-general, in a coordinated message that could see Western officials strategically disclose intelligence like the U.S. did in the buildup to Russia's attack in February 2022. Speaking in Tallinn, Estonia, later in the week, Stoltenberg also poured cold water on China's peace plan, saying it "doesn't have much credibility" because of Beijing's failure to condemn Moscow's invasion.
It's a tricky situation for Ukraine, which counted China as its largest trading partner before the war, and for Zelensky, who in the past year has underlined the complexity of the issue. "We have a significant commodities turnover with China. It's not only about the war. We are countries that are interested in preserving our economic relations."
"I really want to believe that China is not going to supply weapons to Russia. This is very important. This is priority number one for me, and I'm doing my best to prevent that from happening," said Ukraine's president, who warned of the risk of World War III.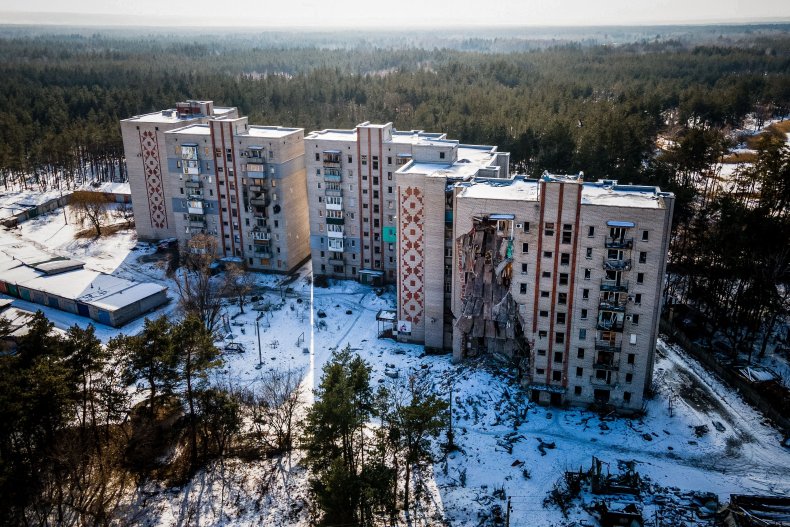 Wang Wenbin, China's Foreign Ministry spokesperson, denied knowledge of a report by Germany's Der Spiegel magazine that said a Chinese drone maker was in talks to deliver 100 unmanned aircraft to Russia by April. "China has always taken a cautious and responsible approach to military exports and does not provide any arms sales to conflict areas or warring parties," he said in remarks that were later omitted from the ministry's official transcript.
Wang, the Chinese top diplomat, gave similar assurances to the EU's foreign policy chief, Josep Borrell, on the margins of the recent Munich Security Conference. "We had a frank conversation in Munich, and he was very clear. I can repeat his words: that 'China does not provide arms to countries at war,' and they 'are not providing arms to Russia,' and they 'will not provide arms to Russia,'" Borrell said.
"I'm afraid the more Ukraine is winning the war, the more China will help Russia," said Merezhko, who is among a small caucus in Kyiv advocating for a pivot away from Beijing toward democracies in Asia. On this shift, he said: "I cannot say that I'm in the majority now, but someone has to be the first to start this process of awakening."
Yurii Poita, director of the Asia section at the Kyiv-based New Geopolitics Research Network, believes Ukraine's optimistic outreach to China has failed and the room for cooperation is shrinking. "Ukraine needs to find the most optimal formula for its relations with China, without illusions, without false expectations."
"Ukraine should reassess the relationship in order to make it clearer and bring it in line with reality: What it could be, where are the limitations, where are the green lights, where are the red zones, and what Ukraine can achieve on the ground," Poita told Newsweek.
Tug of War
Early expectations of Chinese neutrality proved to be misguided. The "no limits" partnership Xi and Putin declared just 20 days before the invasion was evidence that China and Russia had already leaned into one another. When the shooting started, Beijing simply stood its ground as the Overton window of global discourse shifted around it.
This month, Biden drew unusually sharp words from Beijing after the American president said his Chinese counterpart had "enormous problems" at home, and that, as a result of personal warnings to Xi about likely consequences for his economy, China was "not all in" with Russia's war in Ukraine.
"Beijing worries about a total defeat of Moscow, which would leave China without its most powerful and committed partner in global affairs," said Jacob Stokes, a senior fellow at the Center for a New American Security. "Total defeat could also threaten Vladimir Putin's rule. And Xi Jinping cannot be certain that the next Russian leader would prioritize relations with China to the degree Putin has."
"At the same time, China wants to avoid becoming the target of additional sanctions and technology controls from democratic countries for its support to Russia. Beijing also appears to genuinely want to avoid the use of nuclear weapons," Stokes told Newsweek.
"China, surprisingly, is not a concern" for Ukraine's public at present, Bohdan Yaremenko, a former diplomat and now a member of the Ukrainian parliament's foreign affairs committee, told Newsweek. "From the point of view of public opinion, it's a distant country, represented by Chinese goods, but not by Chinese foreign policy."
"It's clear that everything the president and the Ministry of Foreign Affairs are trying to do right now is to do nothing that could provoke China to take a more pro-Russian stance," said Yaremenko. "If China became heavily involved, it would make a lot of difference for us, and the situation would become much more dangerous."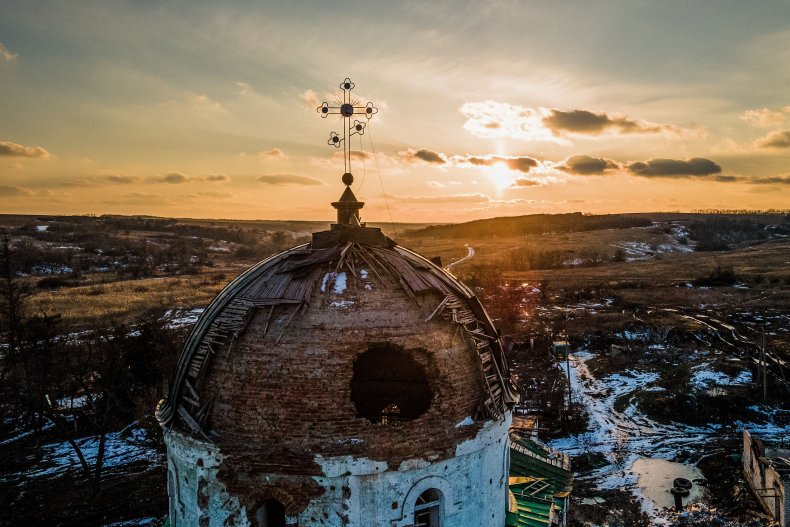 "The root of China's Russia policy can be found in Washington," said Xu Guoqi, a professor of history at the University of Hong Kong. "Since 2017, when the U.S. started to treat Beijing as a major challenger and opponent by launching a trade war, chip war and other hostile policies, Beijing naturally chose to have closer relations with the U.S.'s opponent, Russia."
"In its own national interest, Beijing still prefers to have a stable relationship with Washington. But if the U.S. treats China as an enemy, it will definitely get an enemy," he told Newsweek.
The backing China's leaders, diplomats and state-owned media offer their Russian peers largely amounts to "lip service," Xu argued. "From whatever perspective, Beijing's official policy toward Russia's war in Ukraine is a mistake. It was conceived with wrong understanding, mistaken judgment and miscalculation. It will not serve China's national interests in a long term."
Meanwhile, China's reluctance to exert pressure on Russia will please Moscow, which will take any help it can get, even at the risk of becoming the "junior partner" in the relationship, said Oleg Ignatov, a senior analyst at the Crisis Group.
"Russia is promoting the narrative that this is a conflict not only between Russia and the West, but for a new multipolar world. Of course, for them, China is a very important player and power broker, a part of this multipolar world with Russia," Ignatov told Newsweek.
"If China becomes part of this conflict to help Russia, it means China would be in a tug of war with the West also. For the Russians, it would be maybe the best scenario," he said. "I'm very skeptical because this would be a huge shift in China's policy towards Russia and towards the conflict."
Xi's Big Ask
Only weeks ago, China was said to have embarked on a charm offensive after emerging from three years of pandemic self-isolation. But a series of recent missteps related to its high-altitude balloon flight over the continental U.S. have undermined what some in Washington saw as a marked change in tone.
In Brussels, too, Beijing continues to underestimate the impact of its pro-Russia leanings, according to Noah Barkin, managing editor of the Rhodium Group's China practice. "China's refusal to condemn Russia's invasion, and its support for Moscow's narratives around the causes of the war, have seriously damaged what was already a strained relationship with Europe."
"Nascent attempts by China to reengage with Europe have run up against a wall so far because they have been primarily rhetorical and lacking in substance," he told Newsweek. "It will take more than dulcet diplomatic tones from Beijing to fundamentally change the dynamics of an increasingly troubled relationship with Europe."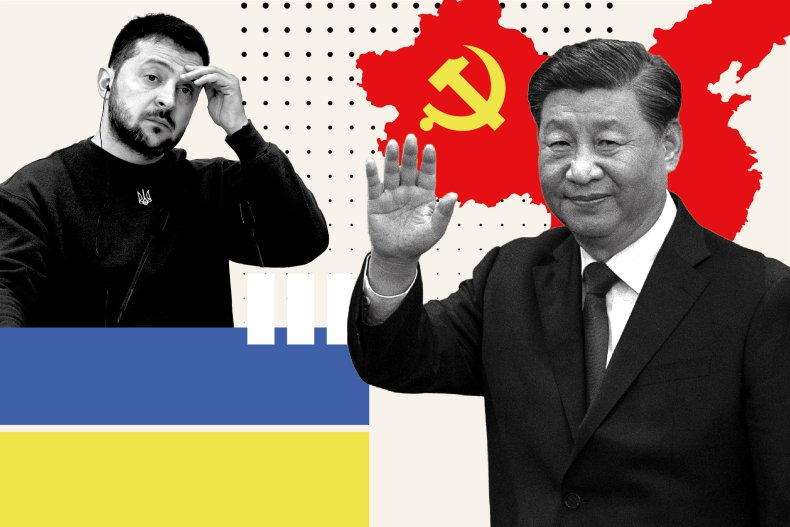 On the ground in Ukraine, China has also missed easy opportunities to improve its standing among the population. The Chinese government sent $2.1 million worth of humanitarian aid to the country in March 2022. Taiwan, by contrast, said its public and private contributions have totaled $41 million.
So when China says it has played a "constructive role" in helping to resolve the conflict, "literally, it means China will wait until the dust settles," said Xu.
"If China really wants to play a constructive role in resolving the war in Ukraine, Xi should convince Putin to seek a rapid end to his brutal and unprovoked misadventure. But China is unlikely to do that," Stokes said.
Beijing's fence-sitting on Ukraine goes back to Putin's annexation of Crimea in 2014. China is no longer the country it was a decade ago, but it's still juggling seemingly irreconcilable goals: It wants to keep intact its strategic alignment with Russia while earning a reputation as an impartial peacemaker.
At once toeing the line of American and allied sanctions and railing against them as an example of Western overreach, China also seeks to persuade the developing world that, under Beijing's model, there exists an alternative to U.S.-led power politics.
Zelensky may be content with the status quo, but Xi's choices will limit China's participation in important sectors of Ukraine's postwar economy when the country moves to rebuild. And Kyiv's Western backers are likely to have a say on the matter.
"It's logical. If the U.S. is the main investor in Ukraine's victory and the survival of Ukraine as a nation, why should China pick fruits from this tree while paying nothing?" Poita said.
Barkin added: "Will Kyiv say no to Chinese money? Probably not. But will there be any appetite for giving Russia's main geopolitical partner a key role in rebuilding Ukraine's infrastructure, particularly in sensitive areas like telecommunications? This is very hard to imagine."
Do you have a tip on a world news story that Newsweek should be covering? Do you have a question about the Russia-Ukraine War? Let us know via worldnews@newsweek.com.