Putin Is Testing the Limits of China's Friendship
Russian President Vladimir Putin may be stress-testing the limits of his friendship with his Chinese counterpart Xi Jinping this week after taking the first steps in formally annexing pro-Russian regions in eastern and southern Ukraine.
Each of the occupied regions of Luhansk, Donetsk, Kherson and Zaporizhzhia declared landslide victories on Tuesday after holding controversial referendums to become Russian federal subjects. The pro-Kremlin leaders of Luhansk and Donetsk—whose independence was recognized by Putin in February as a pretext for a full invasion—have asked the Russian president to begin accession procedures.
The voting, which began last week, was called a "sham" by the United States and slammed as "illegal" by the European Union. The United Nations also dismissed the results, saying it remained "fully committed to the sovereignty, unity, independence and territorial integrity of Ukraine, within its internationally recognized borders."
Putin's move could be no less contentious for China, which swears by the sacrosanctity of territorial integrity to uphold its own claims and doesn't speak lightly of self-determination, the principle cited by Russia's leader for backing Ukraine's breakaway regions.
Zhang Jun, Beijing's U.N. envoy, told a gathering of the Security Council that "the sovereignty and territorial integrity of all countries should be respected," and "the legitimate security concerns of all countries should be taken seriously"—the latter a familiar nod to the Kremlin's grievances against NATO expansion.
Amid calls in the West for harsher punishment against Moscow, Zhang said "political isolation, sanctions and pressurization will only lead to a dead end," before renewing calls for peace talks.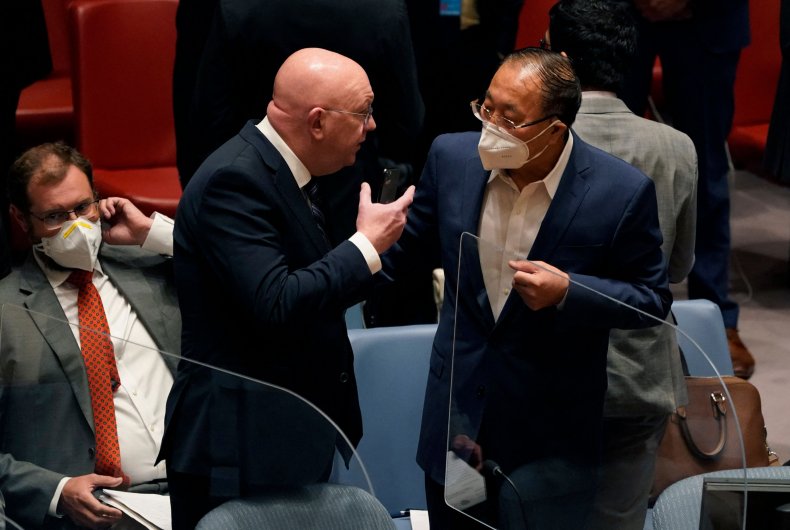 As Russian forces amassed on Ukraine's borders in early February, Xi hosted Putin in Beijing, and the two leaders cemented their strategic ties with a 5,000-word joint statement. The communiqué declared a "no limits" partnership between the two nations and "no forbidden areas" of cooperation.
The two presidents exchanged in-person pleasantries earlier this month when they met in Central Asia, and, deservedly or not, China has risked furthering its pro-Russian reputation with its largely noncommittal stance on the war, even as Putin casually makes nuclear threats.
However, precedent suggests Xi won't easily support Russia's latest round of territorial expansion. Beijing didn't follow Moscow's recognition of Abkhazia and South Ossetia, the pro-Russian regions in Georgia, following the Russo-Georgian War in 2008. China also hasn't recognized Russia's annexation of Crimea via a status referendum in 2014—the same playbook being repeated this week.
China's ambassador abstained when the U.N. Security Council voted to condemn Russia in March 2014. Qin Gang—the Chinese foreign ministry spokesperson who's now China's top envoy in Washington—explained at the time: "China always respects the sovereignty and territorial integrity of all countries. That is a basic diplomatic principle that has long been upheld by China."
"We believe that due to complex historical and practical factors, we should take everything into consideration when dealing with the Ukraine issue," said Qin, who called China's position "fair and objective."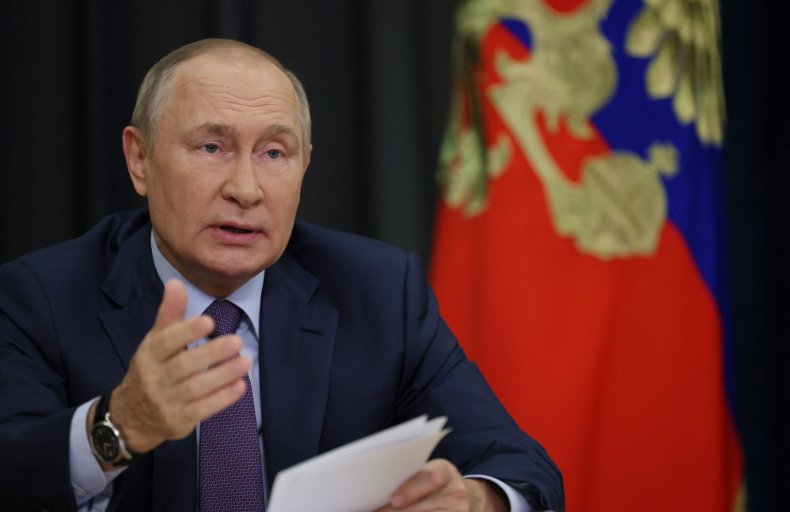 Putin's instrumentalization of referendums and the principle of self-determination directly pushes up against Beijing's concerns about regime security, the strength of its own unsettled claim to Taiwan, and potentially unpredictable implications for other wantaway regions including Xinjiang, Tibet and Hong Kong.
"The obvious problem for [Chinese] diplomacy here is that recognizing these 'referendum' results would create a precedent Beijing doesn't want (i.e., for potential future recognition of Taiwan based on a referendum there that doesn't go, shall we say, the [Chinese Communist Party's] way...)," Sheena Greitens, an assistant professor at the LBJ School of Public Affairs at the University of Texas at Austin, observed in a tweet.
"In other words, this may end up being a hard limit on that 'no-limits' partnership (even in terms of diplomatic/rhetorical support, where China's been pretty supportive of Russia)—as it creates direct problems for one of China's most important interests: Taiwan," she said.