China Censored Eurovision LGBT Performances. The Song Festival Fought Back
The European Broadcasting Union (EBU), which operates the Eurovision Song Festival, terminated its partnership with Chinese channel Mango TV on Thursday after two semi-final performances were censored.
The Chinese state broadcaster, which is run by central China's Hunan province, faced criticism on social media for blurring LGBT rainbow flags and for completely cutting out two performances.
One was Ireland's entry "Together," which featured a choreography involving two male dancers enacting a love story, and the other was that of the heavily-tattooed Albanian singer Eugent Bushpepa, whose body art offended the country's censors.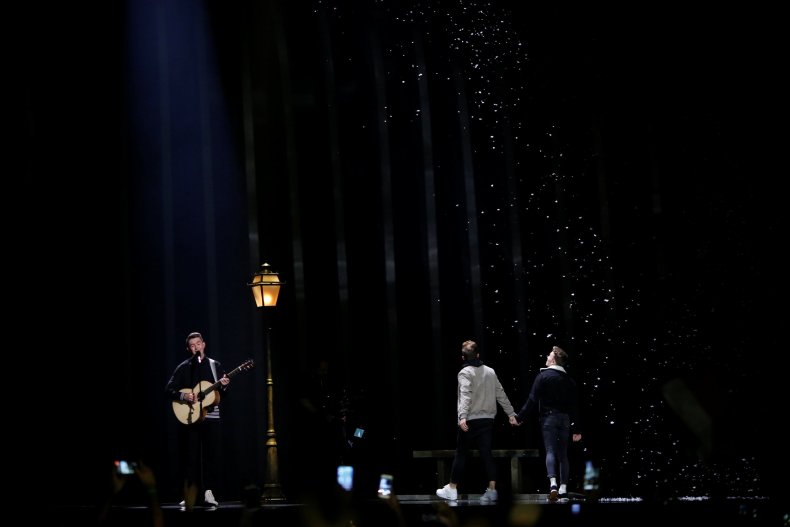 "This is not in line with the EBU's values of universality and inclusivity," the EBU said in a statement explaining its decision to cut ties with the Chinese channel, preventing it from showing Thursday's second Semi-Final and Saturday's Grand Final shows.
"Together" singer Ryan O'Shaughnessy welcomed the decision. "They haven't taken this lightly, and it's a move in the right direction," he told BBC presenter Rylan Clark-Neal in an interview on Thursday. "This is Eurovision—it's inclusive of every single person," the presenter agreed.
Europe's most dramatic music competition has a long, proud history of championing diversity. It first hosted an openly gay participant in 1997, and a year later it would crown its first LGBT winner, Israeli transgender singer Dana, whose song "Diva" swept the top prize.
While political messages are officially banned from the show, performers have found other ways to show support for progressive causes. Finnish singer Krista Siegfrids kissed her female backup singer at the end of her song "Marry Me" performed on May 18, 2013—the same day French President François Hollande signed into law the same-sex marriage bill that had divided the country.
The following year, Austria's drag queen performer Conchita Wurst caused outrage in Russia simply by sporting a beard as well as long hair, make-up and a glamorous dress. Her epic ballad "Rise Like a Phoenix" went on to win the competition that year, gathering international acclaim.
China decriminalized homosexuality in 1997 and removed it from a list of mental illnesses in 2001, but the country's LGBT community still faces discrimination. A 2016 U.N. report titled "A National Survey on Social Attitudes Towards Sexual Orientation, Gender Identity and Gender Expression (SOGIE)" found that only 5 percent of China's LGBT community is publicly gay. The country has also yet to outlaw forced gay conversion therapy.
New rules regulating online content published last year listed homosexuality as an "abnormal sexual behavior" subject to censorship. Last month, the LGBT community scored a rare victory against censorship when the microblogging platform Weibo reversed a ban on LGBT content on its platform.