China Warns of 'Cold War' After US-India Talks, Pakistan Protests Terror Accusations
China has warned that the United States is pursuing another Cold War in its talks with India, which Pakistan also protested as a result of a longstanding territorial and human rights dispute.
U.S. Secretary of State Mike Pompeo and Defense Secretary Mark Esper "reiterated their commitment to further strengthening the U.S.-India partnership" alongside India's top diplomat Subrahmanyam Jaishankar and defense chief Rajnath Singh during a visit Tuesday commemorating the U.S.-India 2+2 Ministerial Dialogue in New Delhi.
This bond, they said, was "anchored in mutual trust and friendship, shared commitment to democracy, converging strategic interests, and robust engagement of their citizens."
Among the topics discussed, according to Pompeo, were the two countries' struggles to contain national COVID-19 outbreaks—by far the worst two in the world—as well as "confronting the Chinese Communist Party's threats to security and freedom, to promoting peace and stability throughout the region."
The remarks spoke to a growing trend in U.S. engagement in Asia as part of a "free and open Indo-Pacific" strategy backed by fellow Quadrilateral Security Dialogue members Australia, India and Japan. Unlike Canberra and Tokyo, New Delhi has no formal alliance with Washington but mutual tensions with Beijing, including a deadly India-China border clash in the Himalayas, have brought the two closer together.
On Tuesday, they signed the Basic Exchange and Cooperation Agreement (BECA), which allows for the mutual sharing of geospatial intelligence.
This builds upon several prior pacts: the Industrial Security Annex (ISA) to the India-U.S. General Security of Military Information Agreement (GSOMIA), the Logistics Exchange Memorandum of Agreement (LEMOA) and the Communications Compatibility and Security Agreement (COMCASA).
Chinese Foreign Ministry spokesperson Wang Wenbin addressed the U.S.-India developments during his daily press conference on Wednesday.
"We always hold that bilateral relations between countries should be conducive to regional peace, stability and development and should not undermine the legitimate rights and interests of any third party," Zhao said. "All visions on regional cooperation should be in line with the trend of the times, which is peace, development and win-win cooperation."
When it came to Washington's approach, he said the opposite was true, calling it part of an "outdated Cold-War mindset, confrontation between blocs and geopolitical rivalry."
"What it upholds is nothing but the dominating role of the United States and its hegemonic system," he told reporters. "We urge certain U.S. politicians to reject the Cold-War and zero-sum game mentality, and stop making erroneous moves like hyping up the so-called 'China threat,' sowing discord between regional countries, and undercutting regional peace and stability."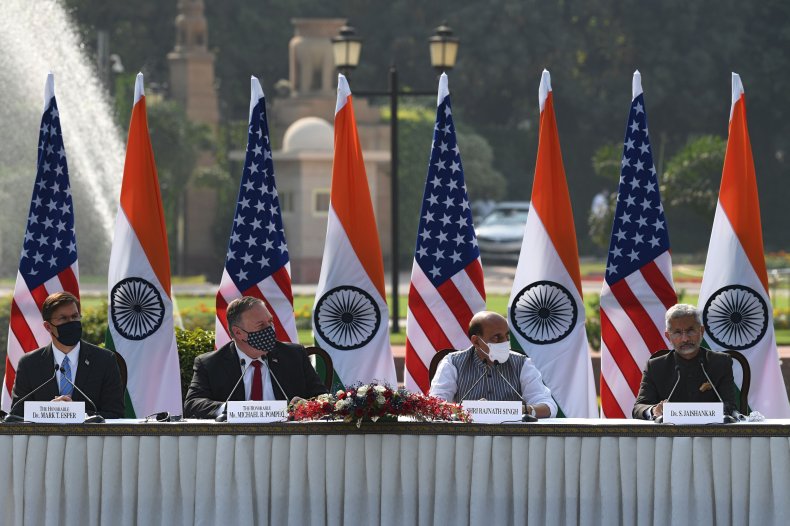 As for the standoff at the disputed boundary between China's Aksai China and India's Ladakh, Zhao said the issue was between the two countries alone and, today, is "generally stable at the moment" due to both sides remaining in constant dialogue.
The ill-defined, highlands border, where India and China have accused one another of attempting to alter "the status quo" since May, again made headlines last week when a People's Liberation Army soldier apparently helping a local herd yak strayed across the Line of Actual Control.
India offered medical attention to the soldier and then returned him.
The incident occurred a week after Chinese and Indian military commanders gathered for their seventh round of talks in which they "agreed to earnestly implement the important understandings of the leaders of the two countries, not to turn differences into disputes, and jointly safeguard peace and tranquility in the border areas, according to a statement sent to Newsweek by an Indian defense official.
But Pompeo has painted this truce and all other apparently peaceful ambitions of Beijing as part of a plot to assert claims to contested territories throughout region, and to dominate across the globe.
"When it comes to the Chinese Communist Party, the entire world is the frontline," Pompeo told India's Times Now network on Tuesday, referencing Chinese President Xi Jinping's Belt and Road Initiative, a series of infrastructure and investment projects across the globe.
Zhao noted that the Belt and Road Initiative today has partnered with up to 138 countries and 30 international organizations and accused Pompeo of mischaracterizing China's intentions.
"Unfortunately for Pompeo, he was not born into the right era. Today, the trend for peace, development and win-win cooperation is invincible," Zhao said. "Poverty and backwardness is no longer the synonym for any country, nor is development and strength the exclusive prerogative of any country."
He called on the U.S. secretary to work with Beijing rather than confront it.
"Pompeo's malign lies and smears can neither erase the fact that China is committed to peaceful development and win-win cooperation nor stop the momentum of the Chinese people's pursuit of national rejuvenation," Zhao said. "China is an opportunity, not a threat, a partner, not a rival."
In a statement sent earlier this month to Newsweek, the Chinese embassy in Washington previously accused Pompeo of "reckless smearing and groundless accusations" against China in response to his calls for closer Quad ties to counter Beijing.
Still, the four countries were set to drill together at sea for the first time under the framework of the Malabar naval exercises.
Also lashing out at Tuesday's joint consultations between Washington and New Delhi was Pakistan, a close partner of China that has its own bloody border battle with India in Kashmir.
In their joint statement, the U.S. and Indian officials condemned a number of Islamist militant groups and then "called on Pakistan to take immediate, sustained and irreversible action to ensure that no territory under its control is used for terrorist attacks, and to expeditiously bring to justice the perpetrators and planners of all such attacks, including 26/11 Mumbai, Uri, and Pathankot."
Islamabad has denied supporting Islamist groups that have staged attacks, including a bombing last February that killed 40 Indian paramilitary personnel and triggered the two nuclear-armed South Asian rivals' first cross-border strikes in decades.
"We reject the Pakistan-specific reference in the 'Joint Statement,' issued by India and the U.S. after their '2+2 Ministerial Dialogue,' as unwarranted and misleading," a Pakistani Foreign Ministry spokesperson said in a statement sent to Newsweek.
"We take strong exception to Pakistan-related assertions made in the selective and one-sided Joint Statement, devoid of meeting the 'objectivity criteria.'" it added.
The statement shifted attention to the human rights situation in India-administered Kashmir, where last August the central government rescinded the region's semi-autonomous status and instituted a lockdown still in place today.
The Pakistani Foreign Ministry called failing to recognize reported abuses there "tantamount to abdication of international responsibility."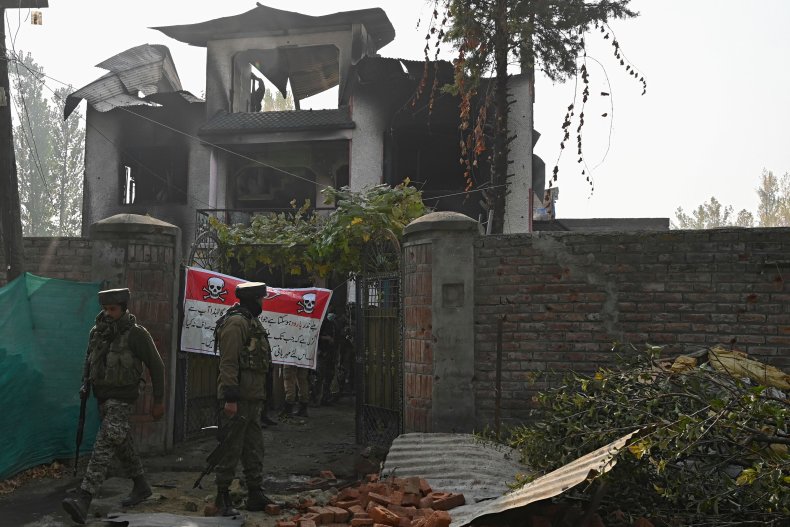 The remarks also defended Islamabad's counterterrorism record, its struggles with militant groups at home and urged regional countries to remain objective without taking sides.
"It is important that partner countries take an objective view of the issues of peace and security in South Asia and refrain from endorsing positions that are one-sided and divorced from ground realities," the statement said.
But as the U.S. and India grew closer, both China and Pakistan too showed signs of a more intimate alignment.
Hervé Lemahieu, director of the Asian Power and Diplomacy Program at the Lowy Institute in Sydney, told Newsweek that, while he observed "a more profound realignment of India's position in the region from a kind of conventionally normal line sitting on the fence approach," Beijing and Islamabad were also being more proactive.
"The primary strategic concern in Pakistan is still India," he said. "Your enemy's enemy is your friends and logic that prevails there, and that is really what is driving the closer relationship between China and Pakistan."
And this relationship has manifested itself in various ways, including more joint military cooperation, Belt and Road Initiative projects such as the country's first metro line that began operations Sunday in Lahore, as well as cultural links demonstrated by China's decision to release a Pakistani film in its cinemas for the first time in four decades.
At Islamabad's embassy in Beijing, ambassador Moin ul Haque said Wednesday that China sympathized with the people of Kashmir due to a shared contempt for invaders.
"The true meaning and the significance of the Kashmiris' epic struggle for dignity and freedom could be better understood by China which itself had a long struggle against foreign occupation and imperialism, and has a proud history of supporting oppressed people and cause of liberty and freedom in the world," the embassy quoted Haque as saying.