US, China's Geopolitical Battle for Asia Shapes New Power Dynamic for Region
The United States and China are locked in a power struggle over Asia, where both countries have expanded their influence in recent years. President Donald Trump is pushing to build on increasingly robust partnerships with the likes of Australia, India and Japan to gain the upper hand in a feud that has divided and reshaped the region.
Trump's bold approach presents opportunities—and risks.
With a divisive U.S. election just two weeks away, the geopolitical battle for the Indo-Pacific is dominating the foreign policy track of both candidates, as well the attention of regional countries of the Quadrilateral Security Dialogue who seek to avoid submission to and escalation with China as they also pursue their own separate interests.
The Quad was established in 2004 but given new life under Trump in 2017. Since then it has become a driving force that presents an informal challenge to an increasingly powerful China without the overt commitments of an official military alliance.
Jason Davidson, a professor at University of Mary Washington and author of America's Entangling Alliances, said that "the most fundamental trend since the creation of the Quad in 2004 is China's rise combined with its increasingly assertive behavior."
He said that some disputes such as China's claims of sovereign power over the South China Sea and Taiwan do not directly affect the Quad, yet they have weighed in, regardless. Other difficult issues such as Chinese claims to the Japan-controlled Pinnacle Islands, Australian allegations of Chinese espionage and illicit political influence, and the deadly border clashes between China and India have directly roped in the foursome.
Davidson drew a partial comparison to the decades-long struggle between the United States and the Soviet Union.
"Some features of the world today look like the early Cold War: two powerful countries that each see each other as threatening," Davidson told Newsweek. "That kind of environment tends to lead to alliance formation, as the big powers want to keep smaller states out of their adversary's orbit, and the smaller states want protection."
But there's at least one fundamental difference, and that's the robust economic interdependence between Washington and Beijing.
"The dense bilateral economic relationship between the U.S. and China is one thing that makes their relationship different from the one the U.S. had with the USSR during the Cold War," Davidson said. "It means that there are powerful forces in both countries that favor peaceful relations."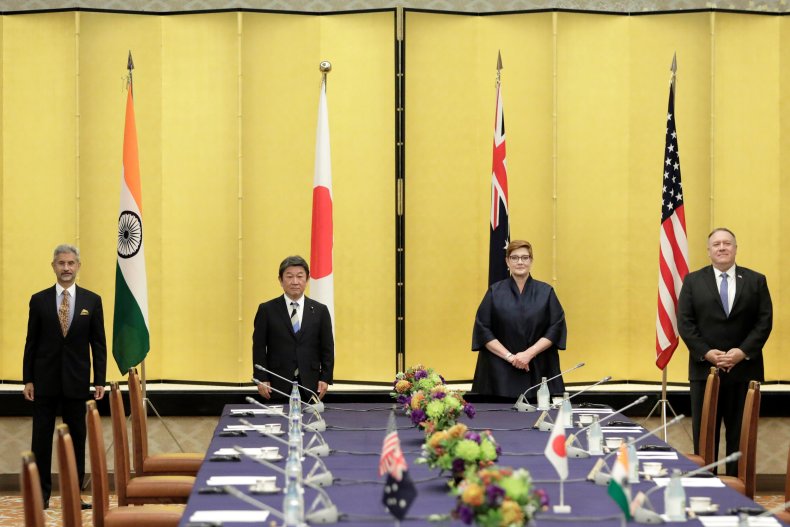 It also exposes some challenges for the U.S. in mobilizing other countries, especially as Trump administration officials portray the conflict as an ideological one.
"General Secretary Xi Jinping is a true believer in a bankrupt totalitarian ideology," Secretary of State Mike Pompeo proclaimed during his milestone speech that attempted to pit the "freedom-loving nations of the world" against China in June.
"It's this ideology, it's this ideology that informs his decades-long desire for global hegemony of Chinese communism," Pompeo said. "America can no longer ignore the fundamental political and ideological differences between our countries, just as the [Chinese Communist Party] has never ignored them."
Rather than export Chinese-style communism, however, Beijing has launched investments worldwide. Chinese President Xi Jinping's Belt and Road Initiative, an intercontinental span of projects providing nations with crucial infrastructure works, has seen agreements struck across Asia, sprawling into Africa, Europe and even Latin America.
Trump's trade war, on the other hand, has antagonized at least as many regional partners as it has attracted.
"The entire China strategy, if you can even call it that, that the Trump administration has put in place, over its first four years, it's led to a deterioration in U.S. standing in the region," Hervé Lemahieu, director of the Asian Power and Diplomacy Program at the Lowy Institute in Sydney, said. "So you just don't see how any of that is necessarily working."
Earlier this week, Lemahieu's team released the latest version of the Asia Power Index, a comprehensive ranking of 25 nations in the region, as well as self-ruling, China-claimed Taiwan, and their standing based on eight measures of power—cultural influence, economic capability, military capability, resilience, future resources, economic relationships, defense networks and diplomatic influence.
Once again the U.S. came in first at 81.6, but it saw the biggest drop in its score of any country, narrowing its lead on China's 76.1—no change from last year. Much of this drop was attributed to the vastly different handling by the two superpowers of the COVID-19 pandemic, the phenomenon that rocked the globe and affected all categories studied by the Lowy Institute.
The index scores for Japan and India also fell, though maintained their respective positions at third and fourth. Australia, now at sixth place, was one of only three countries whose score rose, alongside Vietnam and Taiwan. At fifth is China's close strategic partner, Russia, which also lost points this year.
Lemahieu said he factored the Quad's tightening ties into their scores, especially defense networks, all of which improved for the Quad with the exception of the U.S.
"The urgency with which Australia and I think India and Japan have committed themselves to strengthening the Quad is significant," he told Newsweek, "and that's because the threat perception of China has been embraced."
The theme of shoring up military support to regional allies and partners as a means of "countering Chinese aggression" featured heavily in U.S. Defense Secretary Mike Esper's comments earlier this week to the Atlantic Council think tank.
Among the ten goals of a new Defense Department plan were to "focus the Department on China" and "updating our key war plans" along with "establishing realistic joint war games, exercises, and training plans, and developing a modern joint warfighting concept that will ultimately become doctrine."
Taking note of this rhetoric, Chinese Foreign Ministry spokesperson Zhao Lijian responded in comments sent to Newsweek by Beijing's embassy in Washington.
"Like we said repeatedly, China has never had the intention to challenge or replace anyone," Zhao said. "What we care about most is to improve our people's well-being, what we value the most is to realize the renewal of the Chinese nation, and what we aspire for the most is world peace and stability."
He accused the U.S. of deliberately manufacturing a feud with China, a strategy he said was doomed to fail.
"The United States' attempt to make China its rival is a serious strategic miscalculation that puts its strategic resources in the wrong domains," Zhao said. "It does no good to bilateral mutual trust and cooperation, and it doesn't help safeguard regional and world peace and stability."
In contrast, Zhao said his own country's policy toward the U.S. "has been highly stable and consistent" and urged "some U.S. politicians to denounce the outdated Cold-War mindset and zero-sum game mentality, view China, China-U.S. relations and China-Russia relations in an objective and rational manner, and work with China to get the China-U.S. relationship back on the right track featuring coordination, cooperation and stability."
While Washington may have adopted the most outspoken path against Beijing, a growing number of regional countries have also expressed criticism of what Zhao characterized as "the renewal of the Chinese nation."
Association of Southeast Asian Nations (ASEAN) states like Indonesia, Malaysia, the Philippines and Vietnam have protested Chinese actions across the South China Sea.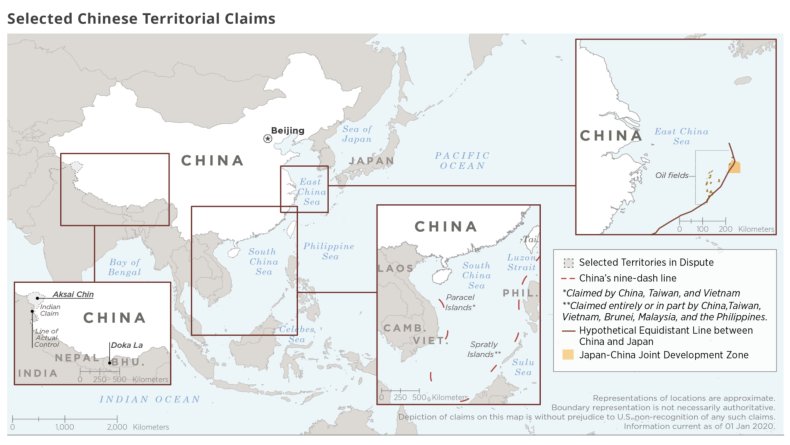 To challenge China here, the U.S. military has conducted an increasing number of "freedom of navigation" operations in disputed areas, especially in the South China Sea. From January through August of this year alone, the U.S. conducted seven such operations there, "challenging the excessive claims of multiple entries," a Pentagon spokesperson told Newsweek.
With such claims surrounding contested island groups, the spokesperson said "China has attempted to claim more internal waters, territorial sea, exclusive economic zone, and continental shelf than it is entitled to under international law."
Shoring up naval power speaks to Washington's paranoias about a future where Beijing dominates maritime trade. These concerns have been expressed by groups such as the U.S. Navy League, a national association supportive of a strong seaborne force for the U.S.
Its latest report, entitled "China's Use of Maritime for Global Power Demands a Strong Commitment to American Maritime," warns of such an outcome.
"Through its state-owned enterprises, China has, in the past two decades, managed to dominate the world's core maritime industries, namely shipbuilding, majority ownership of oceangoing commercial ships and ownership or part ownership of marine terminals at key ports on strategically important trade lanes," the report said.
Should war ever break out, the result could be disastrous, the Navy League warned.
"China can shape global trade to its liking in times of peace and, in times of conflict, leverage an overwhelming advantage in global maritime logistics built up primarily at the expense of U.S. importers," the report said.
Reached for comment about an increasing U.S. focus on China's naval power, the National Security Council referred Newsweek to the Pentagon's latest annual report on Chinese military capability. The study found a quickly-closing gap between the U.S. and China, which has already surpassed the U.S. in three crucial categories—land-based conventional ballistic and cruise missiles, integrated air defense systems and the sheer size of its navy.
China's rapid military rise is part of Xi's vision for a "world-class" military by 2050.
The Trump administration, for its part, devised the Battle Force 2045 plan to substantially expand the U.S. Navy and help enforce the "Free and Open Indo-Pacific" vision shared by Australia, India and Japan. To demonstrate their shared commitment to this cause, the four nations' navies will drill together for the first time in the Malabar naval exercises next month.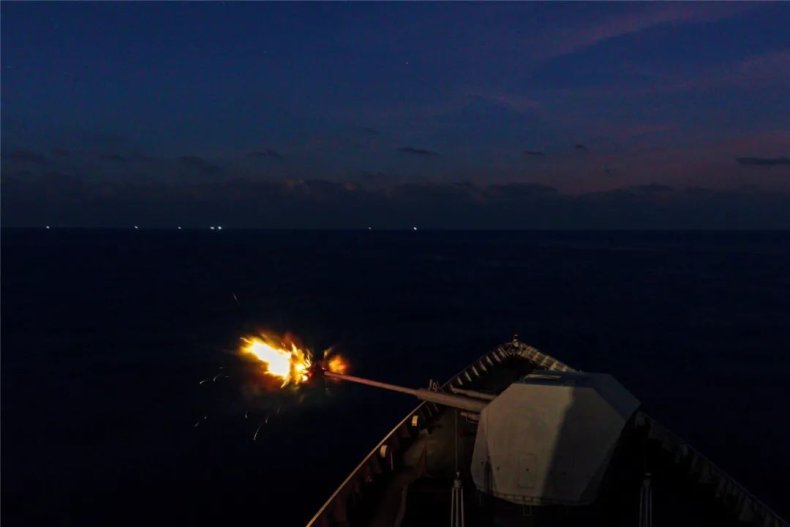 Deakin University's Chengxin Pan said such actions demonstrate how the Quad has evolved in recent years, and send an increasingly overt signal to China.
"You might say that the Quad has 'matured' over the years, becoming clearly something it was always (if initially implicitly) designed to be, namely, a more or less maritime-focused military quasi-alliance against China," Pan told Newsweek.
"It has matured in terms of its high ministerial level meeting mechanisms, its greater focus on maritime military containment (e.g., the Malabar navy exercise), and its more explicit designation of China as its intended target," he said.
But most partner countries do not acknowledge countering China as the goal.
"The Japan-Australia-India-U.S. framework is a forum in which we have a wide range of discussions to promote concrete cooperation to address common challenges such as the promotion of a 'Free and Open Indo-Pacific', quality infrastructure, maritime security, counter-terrorism, among others," the Japanese Foreign Ministry told Newsweek in a statement. "As such, it does not focus on a particular country."
Despite "various issues of concern," the statement described ties between Tokyo and Beijing as "one of the most important bilateral relationships for Japan."
As such, Pan said there's more to the story as China's role in the region goes far beyond simply enhancing its power projection in contested areas like the South China Sea. Ultimately, individual nations—including Australia, India and Japan—were bound to negotiate their relationships with China on an individual basis.
"Regional countries have and will continue to manage this complex China challenge mostly in their own ways and for their own national interests, which are not always aligned with U.S. interests," he said. "Even U.S. interests cannot be entirely defined by an anti-China agenda."
In a time where U.S. leadership is increasingly in question in the face of global issues like COVID-19, climate change, and economic and racial inequality, Pan said great powers like Washington and Beijing have a unique opportunity to shun the warmongering of past eras to build a more sustainable, collaborative future for Asia and the world beyond.
"Based on the global challenges alone, the two powers have more in common than their differences," Pan told Newsweek. "And in any case, those challenges are not amenable to the solution of old-style military alliance politics."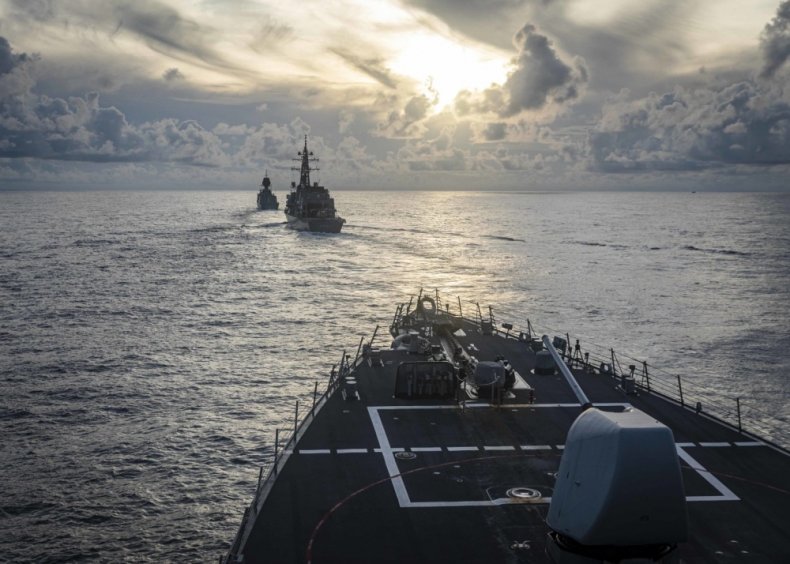 This article has been updated to include a statement by the Japanese Foreign Ministry.