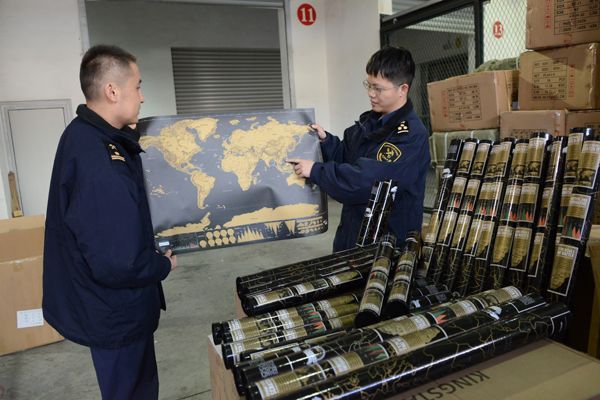 China has destroyed tens of thousands of maps depicting borders not recognized by Beijing, which maintains a tight grip on how international boundaries are portrayed within the country.
At a press conference last week held jointly by the Chinese Ministry of Natural Resources, customs officials and the province of Shandong's Ministry of Natural Resources, Anti-Vice Working Group and Provincial Press and Publication Bureau, authorities said 803 boxes containing 28,908 "problematic" maps were confiscated and destroyed. Among the reasons for their disposal were "problems such as border marking errors," according to the ministry.
The ministry's Geographic Information Management division, which is tasked with approving documents like maps, described the cache as the largest in recent history.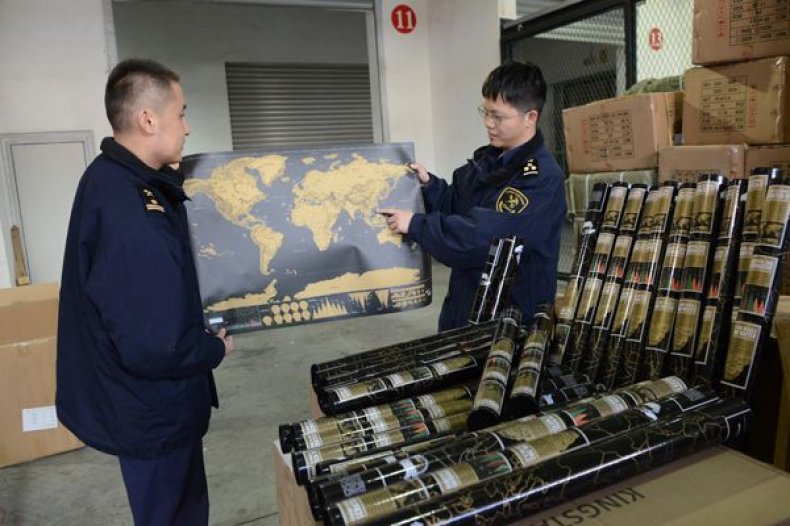 China is involved in a number of overlapping border disputes, especially with India and Taiwan, the self-ruling island state that the Communist-led mainland has claimed as its own since expelling a rival nationalist government there in 1949. To the west, Beijing has feuded with New Delhi over the Aksai Chin region, which borders India-administered Kashmir—a source of Indian dispute with Pakistan—and China's Xinjiang province, as well as a separate strip of land in India's far east, called Arunachal Pradesh and considered part of a larger South Tibet by Beijing.
China has repeatedly vowed to reassert control over Taiwan through diplomacy or by force. In facing New Delhi, Beijing has engaged in three limited military conflicts in the past five decades, and a standoff with India threatened to bring a fourth amid a dispute over the contested border between China and Bhutan in summer 2017.
The Chinese government has also laid sweeping claims to the South China Sea and has been accused by Pacific countries and the U.S. of militarizing islands to enforce these claims. The region has been the site of tense encounters between U.S. and Chinese vessels, and, as recently as Sunday, the Pentagon defied Chinese warnings by sending Navy and Coast Guard ships through the Taiwan Strait.
Washington further challenged Beijing's positions last year by passing the Taiwan Travel Act, to boost non-formal diplomatic ties with Taipei, and the Reciprocal Access to Tibet Act, which restricts travel to the U.S. for Chinese officials allegedly involved in limiting foreigners' access to Tibet, where the CIA has previously supported separatist undercurrents.
China has deeply criticized both pieces of legislation, and a Chinese Foreign Ministry spokesperson called the latter "a serious violation of the basic norms governing international relations" during a press conference Tuesday.
"It grossly interferes in China's internal affairs and sends utterly wrong signals to the separatist forces of 'Tibetan Independence,' severely undermining China-U.S. exchange and cooperation. China firmly opposes that," Geng Shuang told reporters, criticizing the State Department's recently released annual human rights report. "The so-called U.S. reportbased on the above-mentioned act is in total disregard of facts and full of bias. China will by no means accept it."
"I must emphasize that Tibetan affairs are purely China's internal affairs, where no foreign interference is allowed to meddle," he added. He later urged "the U.S. to fully recognize the high sensitivity of Tibet-related issues, take concrete measures to remove the negative impact produced by the above-mentioned report, and stop using Tibet-related issues as a tool to interfere in China's internal affairs, so as to avoid damaging our bilateral relations, exchange and cooperation."
Secretary of State Mike Pompeo recently said that China was "in a league of its own when it comes to human rights violations," including alleged abuses against minority communities in Tibet and Xinjiang, where more than 1 million people are estimated to be held in extrajudicial "re-education centers."
Chinese Foreign Ministry spokesperson Lu Kang reacted by advising "the U.S. to reflect upon their own human rights situation at home and deal with their own issues first," such as "shocking gender discrimination" and "immigration tragedy."