Beijing 'Has No Real Friends,' Says Mike Pompeo's Top China Adviser
China "has no real friends" because it is "making life difficult for the whole world," a key adviser to former Secretary of State Mike Pompeo has said.
The remarks by Miles Yu, who was principal China policy adviser in the Trump administration's State Department, were given to Radio Free Asia on Tuesday in response to a speech made earlier by Chinese foreign minister Wang Yi.
Wang called for a reset of relations between Beijing and Washington, but he also listed several demands which needed to be met in order to create the "necessary conditions" for cooperation going forward.
Among Beijing's conditions were "mutual respect" for one another's policies, as well as a lifting of the United States' tariffs and sanctions against Chinese goods and companies. The diplomat also wanted Washington to stay out of Beijing's "internal affairs," referring to scrutiny of its policies in areas relating to Hong Kong, Xinjiang, Taiwan and more.
"Wang Yi's remarks had no bottom line and were illogical," said Yu, who is a senior fellow at the Hudson Institute and professor at the United States Naval Academy.
In his speech urging the U.S. and China to "restart mutually beneficial cooperation," Wang had repeated the Chinese government's view that the Trump administration's policies toward Beijing were needlessly tough and unfair.
Yu, who was Pompeo's top policy planner on China-related matters, said Beijing blaming the U.S. for a downturn in bilateral ties "doesn't make any sense."
"China is making life difficult for the world, so China doesn't have many friends," Yu told U.S. government-funded RFA. He said China's poor relations extend beyond America.
"China basically has no real friends, even in Europe and among neighboring countries," he added. "Blaming this on the U.S. is like a thief crying foul of thieves. It doesn't make any sense."
Washington has clashed with Beijing on a range of issues, from improper trade practices and allegations of industrial espionage, to human rights violations in Xinjiang and its draconian policies in Hong Kong.
The view of China as a malign actor is one of the few areas of bipartisan consensus on Capitol Hill. The same concerns that emerged during the presidency of Donald Trump still remain under Joe Biden.
"The Chinese government has shown it lacks a bottom line in areas like Hong Kong, Xinjiang and Taiwan. It will stop at nothing," Yu said.
"Large-scale theft of American trade secrets, obstructing international attempts to trace the origin of the pandemic and cracking down on pro-democracy activists beyond its borders—these are not part of China's internal affairs," he continued.
Yu said many of Beijing's actions were "incompatible with international norms." By calling for mutual respect, the Chinese government "wants the international community to turn a blind eye," he added.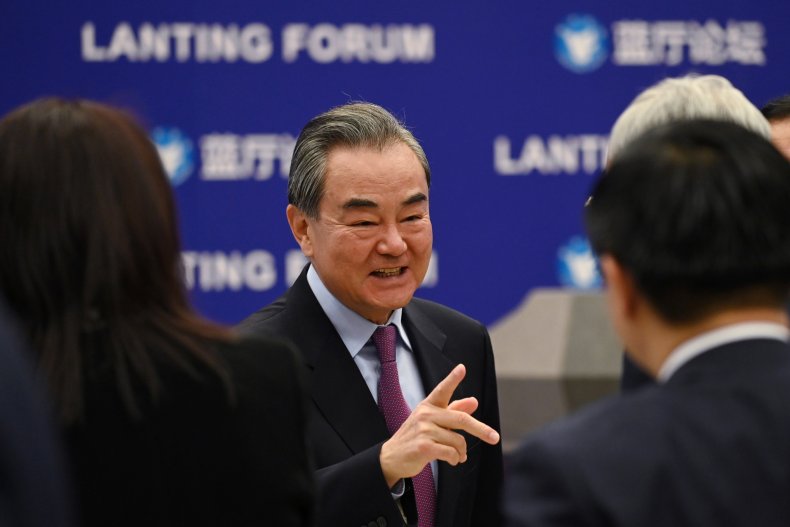 Born in China, Yu has been described by Chinese state media outlets as an "anti-China hawk" and a "fanatic" who helped inform much of the previous administration's policies.
Yu insisted a reverse of Washington's China policies was "impossible."
During Tuesday's address at the Lanting Forum—an event organized by China's Ministry of Foreign Affairs—Wang said relations between China and the U.S. were at the lowest ebb since diplomatic ties were formalized 42 years ago.
He blamed the Trump administration for "distorting" Beijing's intentions and taking measures to "suppress and contain" China. Washington needed to "abandon biases" and "give up unwarranted suspicions" to ensure a return to healthy bilateral ties, Wang said.
The Chinese foreign minister's remarks "reflect the continued pattern of Beijing's tendency to avert blame for its predatory economic practices, its lack of transparency, its failure to honor its international agreements and its repression of universal human rights," State Department spokesperson Ned Price told reporters in Washington on Monday.
He added: "We'll continue to stand up for our democratic values when human rights are being violated in Xinjiang, Tibet, or elsewhere in China, or when autonomy is being trampled in Hong Kong."
China's foreign ministry responded Tuesday by denying Price's characterization and repeating parts of Wang's speech.